Value your team – five ways to show them you care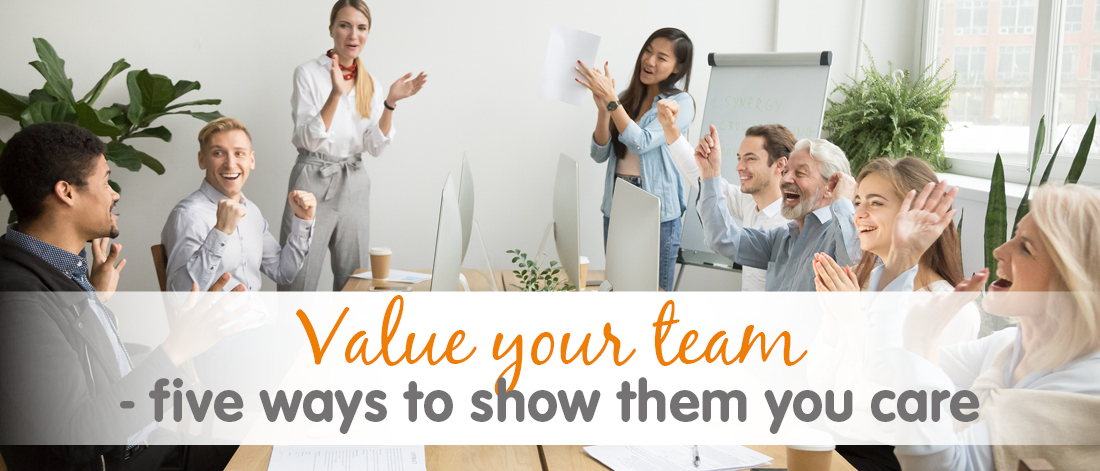 The Get Ahead team has been growing steadily over the ten years we've been running. Now, in addition to our virtual assistants, we also have an ever-growing team of regional directors. The regional directors are all experienced people managers who have come away from the conventional workplace to run their own teams of virtual experts and manage client accounts. Valuing all the members of the Get Ahead family is an important part of our business – we've thrived and grown in the last decade because we've invested in our team.
In this blog, we look at why your team is important, and some ideas for showing them how much you value them.
Why is your team important?
Everyone can do something but no one can do everything. Any individual contribution depends on other members of the team to make it into the finished product or service. That applies to team members at the coal face, and those in management.
Your team is also valuable. Your business has recruited them, trained them and embedded them in the company culture so that they can deliver work that grows your business. And of course you can't deliver core business without a tidy filing system, a fast internet connection and a great accounts department. Everyone in your organisation counts, and if you lose one of them, you have to begin all over again.
Ways of showing your team you value them
Many businesses are sticking with working from home, while others are adopting a hybrid working model, combining home and office working. This makes in-person recognition harder – fortunately, there are still ways to celebrate team and individual achievements. Here are some ideas:
Social media shout-outs
Use your social media channels to post about a team member on their birthday, or if they've achieved something above and beyond. Tag them, share a photo if you think they'll appreciate it, and talk about what it is that makes you value them.
Get together if you can
Some organisations like to have a regular country walk in the spirit of team development and staff wellbeing, but you could also meet for drink. Teams are still getting together over Zoom, and a new sector of online entertainment emerged during the pandemic in line with this trend.
Say thank you in public
All the team at Get Ahead receive a monthly email from owner Rebecca Newenham. Rebecca uses her monthly email for practical communication but also to celebrate the work we've achieved that month. She names the team members who contributed to the contracts, awards and client successes – a public recognition of hard work. We're not the only business that does this, and we've seen the benefits first-hand.
Say thank you in private
In some situations, a small, quiet thank you can mean more than public recognition. Maybe if someone were particularly tactful during a difficult meeting, or stepped in when a colleague was off sick, you might want to contact them individually to thank them. As with all praise, it's important to be specific. Don't just thank them; instead, acknowledge how challenging it was, praise their professionalism and let them know what an asset they are to the team.
Make it count
Making your praise count is key, underpinning it with genuine appreciation for your team's efforts. A birthday shout-out on its own can ring hollow, but within the culture of a valued team, it's the beautiful moment when the boss shows that they value someone's efforts as a worker while also valuing them as a person. If you're consistent in your approach to praise and support, you'll always sound genuine and your team will feel valued.
Become a Get Ahead franchisee
If these approaches to team leadership strike a chord with you, you could be our next regional director. Get Ahead is expanding into new locations, and we are looking for great people managers who want to work for themselves but not by themselves. To find out more, get in touch on 01483 332 220 – we'd love to hear from you.
Find out more about our services or call 01483 332 220 to discuss in more detail.
---
---