Understanding the Get Ahead model – building trust with the virtual experts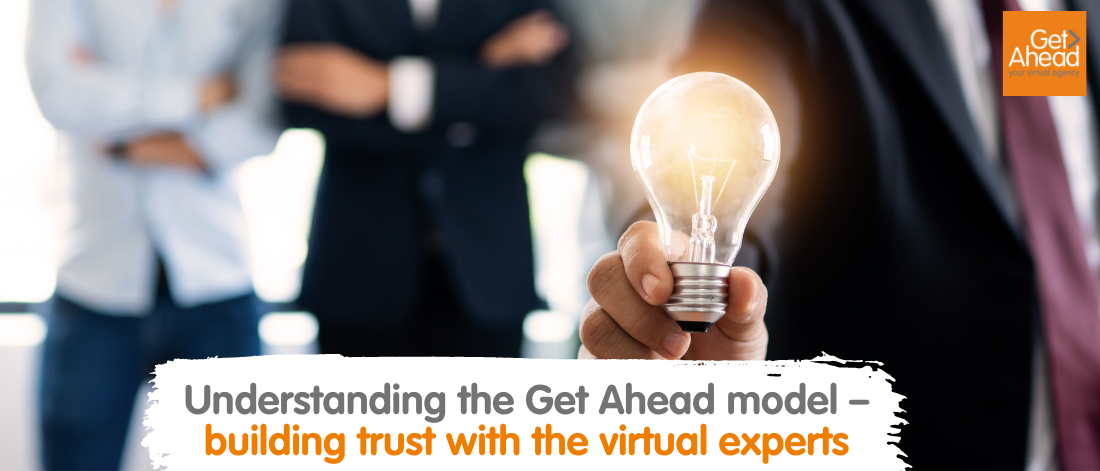 If you're researching franchises and are considering joining the Get Ahead family, you might already have strong experience of people management. However, we also know that managing a team of employees is different from the Get Ahead model, where you'll be working with a team of freelance virtual experts.
You'll be pleased to hear that all our regional directors have established great relationships with the virtual experts they outsource client work to, even though they've had to navigate a learning curve. In this blog, we look at ways of building trust with your evolving team, and ways to empower themselves and you.
Talk to other franchisees
Every one of our franchisees has had to learn to trust the virtual experts, and every one has succeeded. When you join Get Ahead, you'll be able to talk to the franchisees and let them reassure you that this is a recipe for business success!
Talk to the virtual experts
The virtual experts can set your mind at ease too. The clue is in the name "experts" – they can guide you through what they do and how to manage the client to get the best result. It doesn't matter if a regional director isn't an expert in everything the team delivers. For example, a social media manager will be able to explain the most effective way to maintain the consistency social media requires. Administrators can explain what information they need from the client to deliver the work effectively. Many of the virtual experts will ask to speak to the client directly to hear the information first hand.
Many of our franchisees find conversations with the virtual experts inspire confidence. When you listen to them talk about their role and their passion, you'll feel you can trust them to work with the new client whom you hope to satisfy and retain.
Get to know the team and the skills platform
We use a specialist skills platform, Skills Base, to record all our team members' details, availability, and experience, including information about which sectors they have worked in. This means you can quickly find someone with the right skillset for your client.
All the virtual experts are used to being contacted before the work starts. This means that if you contact the wrong virtual expert by mistake (it does happen!) or they are not the right fit for your client, you have time to find someone else. The virtual experts are also confident about giving you feedback – if you ask them but they don't feel they're the right fit, they'll be polite but honest with you, and may recommend alternatives. This means that only the right virtual experts deliver work for your clients.
Remember that no one wants a bad outcome
Of course you don't want the job to go wrong! But remember that the virtual expert doesn't want it go wrong either. They have their reputation to think of – make or break for most freelancers. You want the job to go right so that the client comes back to you with more work. The virtual expert wants the job to go right so you'll ask them again too. Keep this in mind and you'll feel more confident about trusting the work to the virtual expert.
Don't be afraid to ask questions
Owner Rebecca Newenham thrives on supporting her franchisees, and has established a friendly network of regional directors who all look out for each other. No one will think you're wasting time by asking questions – it helps you learn more about Get Ahead and how to trust the process.
Buy a Get Ahead franchise
We hope that reading this has allayed any concerns about managing your remote team. If you have any other questions about becoming a Get Ahead franchisee, please get in touch for a no-obligation chat. We know the value of researching franchise options, and we'd love to hear from you and help you make the right choice.
---
---