Top 5 FAQs about VAs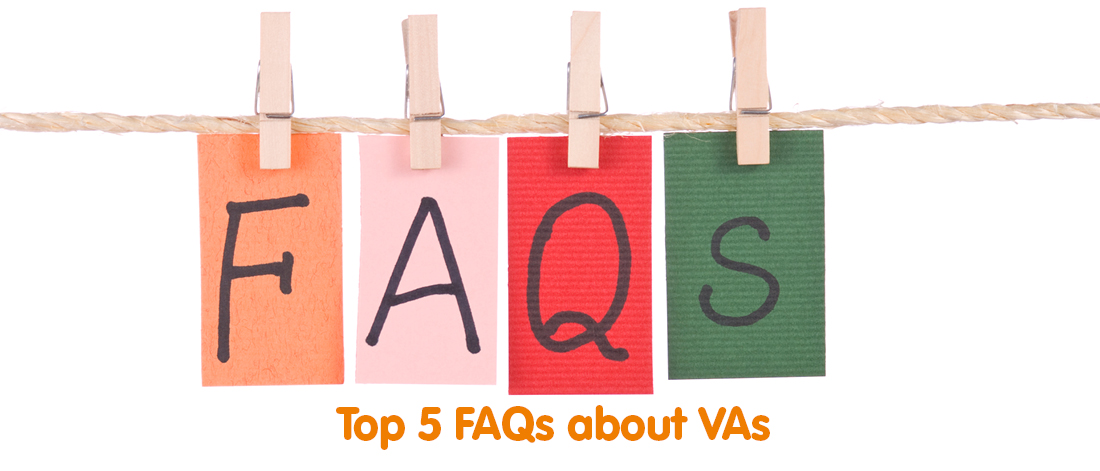 Hiring a virtual assistant (VA) can be a really smart move for your business – they can provide skills and support when you need them the most, and they're totally flexible so you only hire them for as long as you need them.
If you've never worked with a VA before, you probably have lots of questions about how it all works. As a virtual assistant agency, we know the most common queries that people have about VAs, so we're here to help you learn more. Here are the top 5 most frequently asked questions about VAs.
1. What is a virtual assistant?
A virtual assistant is a flexible, remote worker who you can hire to provide support to your business, as and when you need them. You can use a VA for short jobs, ongoing projects and everything in between. Our VAs are remote-working professionals from a wide range of backgrounds, so when you hire one of our VAs, you benefit from all their training, experience and specialist knowledge.
2. What sort of work can I give to a VA?
Many people think that VAs only do admin and answer telephones, but that isn't true! A VA can handle all sorts of jobs, from everyday admin to skilled project work. In the Get Ahead VA team we have VAs who specialise in accounting, blogging, business development, design, PR, social media management, and website building (check out our full list of services here). Essentially, if you have a task that you think could be done better or more efficiently by someone else, then this is exactly the kind of work you can delegate to a VA.
3. Why do I need a VA?
There are all sorts of reasons that you might want to hire a VA: they can take on the jobs you don't want to do, carry out work that you don't have the skills for, provide temporary cover if you need a break, or help out your business during a particularly busy period. The beauty of VAs is their flexibility – you get all the benefits of having another professional on your team, without the costs of recruitment, equipment and training that come from hiring someone permanent.
4. How do I hire a VA?
When you contact us, we will arrange an initial meeting to discuss your needs. We will then match you to the VA we think is most suitable for you, and introduce you to your VA to discuss the job in more detail. We consider a number of factors when matching you with your VA: location, required skills, and availability. Our aim is to match you with someone who will fit easily into your business and carry out your work to a high standard. Once you're happy, your VA will start work!
5. Where does my VA work?
Most of our VAs work from home, but you don't need to worry that they are surrounded by distractions – all our VAs are experienced home-workers with dedicated office spaces and working hours, and they bring the same professionalism to their work as you would expect from an employee in an office. You will have the contact details for your VA in case you have any concerns, and they will keep you regularly updated on their progress, so you can sit back and relax, knowing your business is in safe hands.
Do you still have questions? Download our 'FAQs about virtual assistants' PDF for even more questions and answers, or get in touch with us on 01483 332 220 and office@getaheadva.com. We'd be delighted to discuss how a VA can help to support your business.
---
---