There are lots of franchises to choose from. What makes Get Ahead different?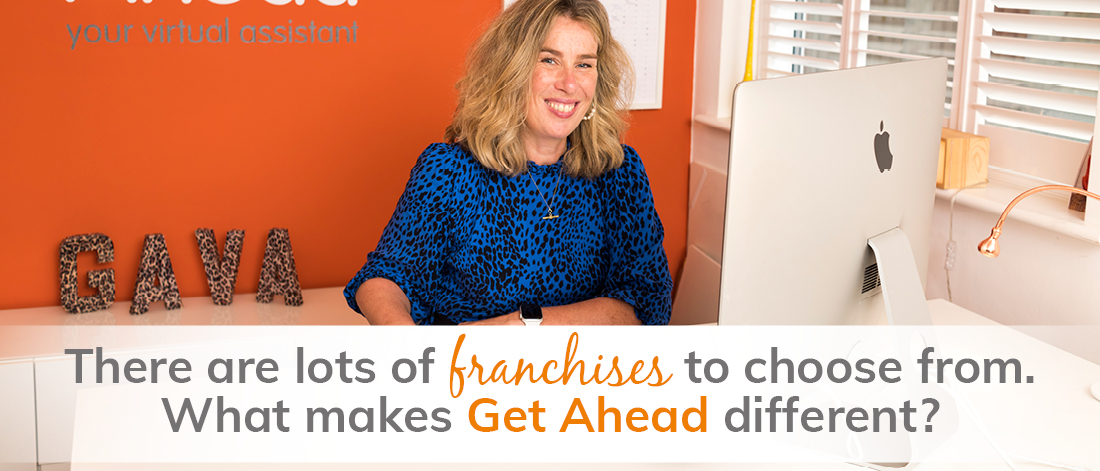 If you're considering buying a franchise, you've probably seen some that have piqued your interest and others that have made you run a mile. But whatever your experience so far, you should be proud of yourself for doing your research thoroughly – it's the first step to finding the right franchise for you.
To help you with your research, we've put together the top five ways that Get Ahead is different from other B2Bfranchises.
A franchise for managers, not do-ers
Many franchise opportunities demand that you go back to delivering all the core business yourself. But if you're already an experienced manager, that might feel like a step back. Instead, we wanted to offer great people managers a franchise opportunity where they can further their careers by managing client relationships and a team of local experts.
Joining Get Ahead as a regional director could be the next step on your management career. With a team of experts below you to deliver the core business, you'll be able to develop your franchise and your professional skills in tandem.
Strong brand, strong team
With some businesses, the only franchisee selection process is "can you afford the upfront cost?" Fortunately, Get Ahead are different. We're an established brand, and we are keen to retain our excellent reputation among outsourcing agencies. To do this, we need outstanding franchisees to lead our regional teams.
Because we know what kind of person makes a great regional director, any new franchisees can be confident they're joining an effective, non-competitive team who work hard to support each other and maintain the reputation of the Get Ahead brand.
Established support for faster results
When you start your franchise, it will be up to you to spread the word, use social media to connect with clients and build a network to grow your business.
However, you'll be glad to hear you'll get lots of support from Get Ahead's owner, Rebecca Newenham, and the other franchisees. Our tried-and-tested training has already provided a strong grounding for our existing franchisees. We can even tailor it to your experience, giving you more detailed training in areas where you're less confident, and not spending hours on information you already know.
Working for yourself can be lonely, but under the Get Ahead team-management model, you benefit from human contact as well as access to a wealth of professional knowledge. In addition to delivering the work for your clients, your team members can support you and advise on their own area of expertise, e.g. suggesting how long a job will take and helping to shape your client proposal.
Managing your team and working to get the best out of them is very rewarding. Not only do you get out what you put in, but you help the business on a regional and national level.
A flexible, scalable opportunity
Our existing franchisees love the fact that Get Ahead's work is scalable. Because the virtual experts deliver the projects, the franchisee can focus on growing the business. You can say Yes to any work a client asks you about, knowing there is already a VA or expert on the books who can deliver great results.
As long as you feel you can manage your team and your clients, there are no limits to how far you grow your franchise.
Of course, this list is just the start. If you have any questions, or you'd like to have a chat and find out more, please get in touch. You can also check out our YouTube channel and hear our franchisees talking about their experiences with Get Ahead.
---
---