Service Spotlight: Website Development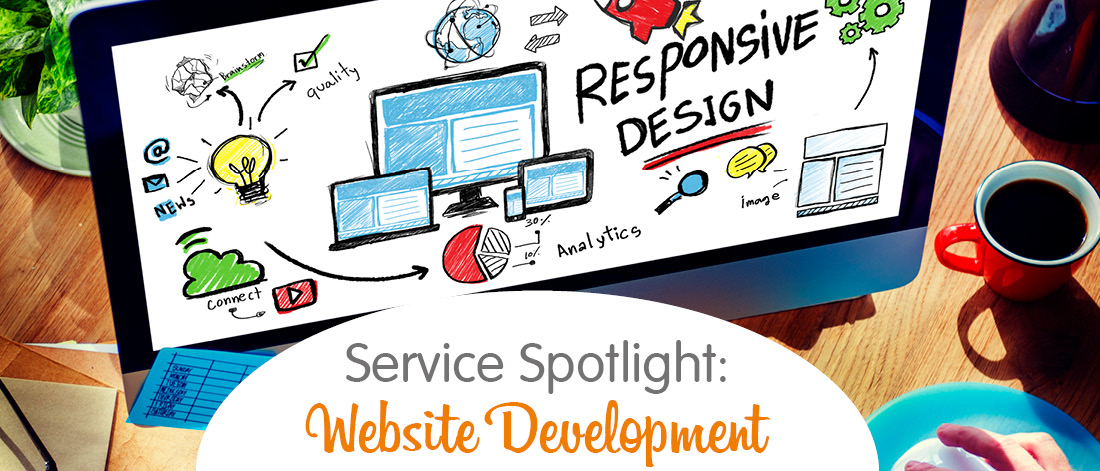 Get Ahead VA offers a wide range of business and marketing services. In our Service Spotlight we take a closer look at one of these, and show you how our virtual assistants can help you and your business. This month we're looking at website development.
What is website development?
Website development is everything to do with creating and maintaining a website. This includes designing, building and hosting – basically, everything that makes a website look good and run well. Web development is usually divided into the 'front end' (e.g. design, usability), which the customers will see, and the 'back end' (e.g. coding, hosting), which only the website's owners will see.
Having a good website is one of the most important elements of modern business, even if you operate your company out of a physical office or a brick-and-mortar store. Studies have shown that 88% of consumers will research a product online before making a purchase, so having a website is essential for boosting your credibility and your sales. Having an online presence is also crucial for marketing – creating a mailing list, engaging with customers on social media, and finding new customers through online search all require a strong, well-designed website to be effective.
What do we offer?
Get Ahead VA can take on the entire process of building your business' website, or you can bring us on board for ad-hoc web development jobs, as and when you need us. Our team of skilled virtual assistants includes WordPress developers, graphic designers and content writers, so we can cover all of your web development needs.
Here is the complete list of services we offer:
Website design
Website building
Website hosting
Content writing
This covers both front-end and back-end work, so we can create your website from scratch and make it look exactly as you'd like it. We work in WordPress, so that when we hand over to you the site will be easy to maintain – although we can take care of that for you too, if you wish.
How will this benefit you?
Outsourcing your website to Get Ahead VA will allow you to focus on the parts of your business that you're best at. This is especially useful if you're not particularly computer savvy, or you simply don't have the time to maintain and run a good-quality website.
Hiring our team of professionals also means that your website is in good hands. It is the face of your business – it's often the first contact new customers will have with you – so you want it to be the best it can be. That's where we come in! Get Ahead VA can help to create a welcoming and accessible home for your business online.
---
Want to find out more about our website development services? We'd love to talk with you and find out exactly how we can help, so please give Get Ahead VA a call on 01483 332220 or email us at office@getaheadva.com. We pride ourselves on being the staff you don't see, but the difference you do.
Find out more about our services or call 01483 332 220 to discuss in more detail.
---
---