Service Spotlight: Accounting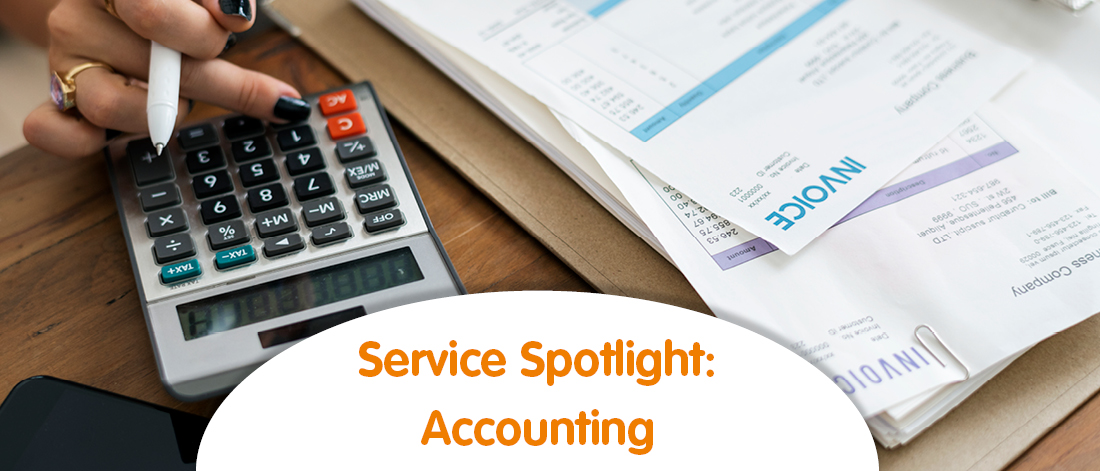 Get Ahead VA offers a wide range of business and marketing services. In our Service Spotlight, we take a closer look at one of these and show you how our virtual assistants can help you and your business. This month, with the end of the financial year coming up (5th April), we're looking at accounting.
Why do you need accounting help?
For many business owners, the worst part of running a business is managing the accounts. In a survey of 508 small business owners conducted by TD Bank, nearly half of the respondents named bookkeeping as their least favourite part of running a business.*
The pressure around bookkeeping can arise for a number of reasons. You may have founded your business on a particular skill or passion and find that the practical, financial side of things turns you off. Or maybe numbers are your weakness, and you feel extra pressure because your figures have to be right, especially when it comes to the all-important tax return.
Whatever your reason for needing help, Get Ahead VA has a number of bookkeeping professionals who can help you with your accounts, as and when you need them.
What do we offer?
We offer a range of financial services, which you can take advantage of all year round, or at key times such as the end of the financial year or when your tax return is due. Here is the full list of our services:
Preparation and collation of expenses
Bookkeeping
VAT
Payroll
Year-end accounts
Tax returns


You can contact us and choose the support you need, and then we will match you up with a qualified bookkeeper who will send you regular, easy-to-understand updates as they work on your accounts.
How will this benefit you?
Handing over your accounts to a Get Ahead VA professional means you no longer have to worry about the nitty gritty of your business' finances. Of course, you will be kept informed, and the control and decision-making will ultimately remain with you, but you will no longer have to worry about all those fine details.
This will also free up your time – something which we know is particularly precious for a business owner. It can be difficult to keep your accounts up to date throughout the year when you have so many other things to think about, which is why tax return season can often feel like a frantic rush. With ongoing accounting assistance from Get Ahead VA, you will know that your business' finances are being carefully managed, so you won't need to worry about that last-minute panic again.
---
Are you ready to talk to us about your bookkeeping needs? We'd love to chat with you and find out exactly how we can help, so please give Get Ahead VA a call on 01483 332220 or email us at office@getaheadva.com. We pride ourselves on being the staff you don't see, but the difference you do.
Sources:
* https://www.entrepreneur.com/article/240875
Find out more about our services or call 01483 332 220 to discuss in more detail.
---
---