Prepare your business for Christmas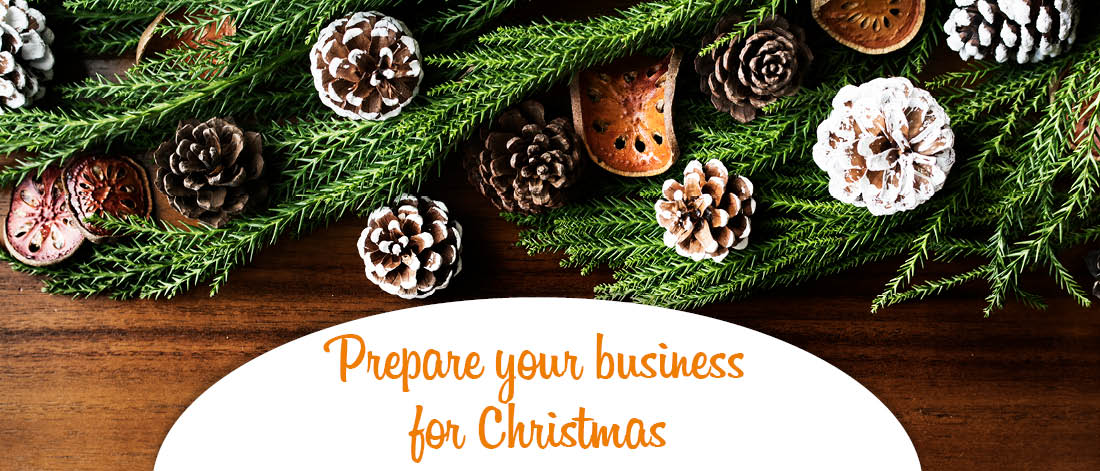 Christmas is one of the most important times of year for any business, and it's especially important for SMEs because seasonal spending can provide such a valuable boost in sales. Last year, the UK spent more than £78 billion on Christmas, and this festive shopping spree starts early, with more than 50% of people planning to do most of their shopping before December.
It can pay, then, to start thinking about Christmas now. Not sure where to begin? Here are some of the key ways you can prepare your business for the most wonderful time of the year.
Lay the groundwork
With an event as major as Christmas, you don't want to be caught on the back foot, so schedule some time today (or as soon as possible) to put your Christmas plans in place. Here are a few things you should be thinking about:
Promotions: If you want to run a special promotion, decide what you'll be offering and for how long. Discounts, giveaways and flash sales are always popular and can bring in new customers.
Black Friday: Before Christmas, there's Black Friday (23rd November) – a hugely popular shopping day, when retailers offer significant discounts and promotions. Most consumers discover these deals online, so if you want to get involved in the Black Friday frenzy, start prepping your website now.
Products: It's crucial to know what your most popular products/services are ahead of time and make sure you're ready to meet the demand. If there are particular things you want to promote, put them front and centre in your shop or on your website, and push them on social media. You could even write a Christmas gift guide featuring your most popular products.
Times: You should also understand your business' most popular shopping times. If your shop fills up on a Saturday, or you get the most hits on your website on Friday afternoons, make sure you're ready to deal with the extra customers (e.g. by extending opening hours on key days, or making sure your website can handle a spike in traffic). You could also target these times to really push your promotions.
Talk to your customers
Your best laid plans won't mean much if nobody knows about them, so start talking to your customers as soon as possible. Put a consistent message out across all your platforms – website, social media, email newsletter, shop window – telling your customers what promotions you're running and when they'll be happening.
You should also provide clear information about your opening hours and delivery dates. If you're planning on staying open later, or there's a deadline your customers need to order by to ensure delivery before Christmas, display this information prominently to make it as easy as possible for people to order from you.
 Think practical
Of course, it's not all about the customer-facing side of your business – you also have to make sure everything will run smoothly behind the scenes. Now is the time to get that stockroom in order, fix any final appointments/events in your diary and update your website, so when the rush hits you'll be fully prepared. You should also check the Christmas schedules for the suppliers and delivery companies you use, to avoid any nasty surprises.
One of the most important considerations for any business at Christmas is staffing. You must make sure that you have enough people to keep things running, so get everybody's holiday dates booked in, tell your staff about any extra working hours, and build in a contingency for some people to call in sick. If you don't think you'll have enough staff at key times, consider hiring temporary workers for a brick-and-mortar store, or virtual assistants to help with any tasks that can be done remotely.
Look ahead
The Christmas period also presents a golden opportunity to get things done that you might have been putting off throughout the year. If you've been thinking about overhauling your premises or your website, the weeks after the Christmas rush could be the perfect time, when business will be slow and you will probably be closed anyway.
You can also start to look ahead to the new year, and think about goals and projects for your business in 2019. Start putting key dates in your diary, and establish new systems that will help you better keep track of how your business is doing – for example, by setting up Google Analytics on your website, or creating a detailed spreadsheet to monitor products and sales. Steps you take now could help you to be even more prepared for Christmas next year!
---
Do you need some extra help over the busy festive period? Our virtual assistants are there right when you need them, offering business services from telephone answering to administration to holiday cover. To find out more, please give Get Ahead VA a call on 01483 332220 or email us at office@getaheadva.com. We pride ourselves on being the staff you don't see, but the difference you do.
Find out more about our services or call 01483 332 220 to discuss in more detail.
---
---