Outsourcing to virtual experts – the heart of our franchise model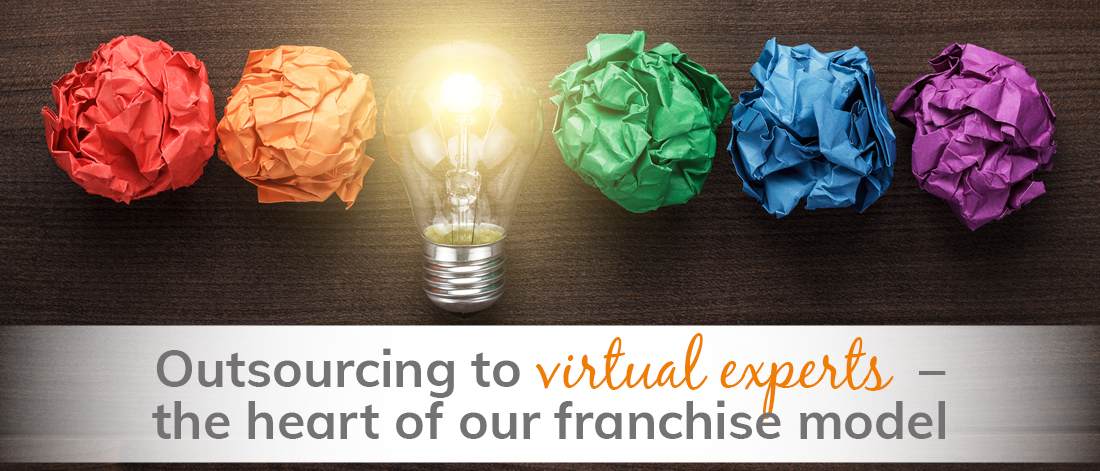 When you talk to our franchisees about why they joined Get Ahead (and why they've stayed!), you'll hear them talk time and again about the advantages of working with a team of experts. If you're considering joining the Get Ahead family, this blog explains how our model works and what it means for our regional directors.
What do we mean by a team of virtual experts?
Rebecca Newenham founded Get Ahead in 2010 with three aims.
She wanted to support businesses by providing a quality outsourcing option.
She wanted to support local freelancers to work flexibly by connecting them with clients who needed their skills.
She wanted a scalable business to satisfy her entrepreneurial spirit.
Eleven years later, it's clear she succeeded, and it's thanks to her management of virtual experts.
Rebecca gathered skilled people around her who could deliver the work her clients needed. She reached out to graphic designers, copywriters, accountants, admin assistants, PAs, database managers, business development experts and more. With a strong team around her, she could accept any job Get Ahead was asked to deliver, knowing there'd be someone on the team who had the right expertise.
The result was the scalable business she'd dreamed of. Because Rebecca didn't have to deliver the work herself, she had time to go networking and find new clients. She had time to nurture business relationships and manage her team.
Now Get Ahead is offering a franchise opportunity, Rebecca is passing on the advantages of working with virtual experts to the new regional directors.
How does our business model work in practice?
Our new franchisees often ask us how the theory works in practice, and the answer is that it works very well!
Regional directors go networking, tap into their existing network and/or use social media to connect with new clients. The new client will tell the regional director about their needs, and the regional director will use our communication site, Circle, to find a virtual expert or VA with the right skills.
All the virtual experts are just that: experts. We only work with high calibre freelancers with proven track records, so you can be confident that you're outsourcing the client's work to someone who will complete it to a high standard.
Once you've found a virtual expert or VA with the right skills, you arrange a call with them to brief them on the project. They will be able to help you, too – for example, if you need to know how long a website takes to build, or how to price regular blogs, the virtual experts will be able to guide you.
After that, the next step is to make a proposal to the client. Depending on the client, this might be a formal document or just a phone conversation. The proposal will confirm price and time frames, and who is responsible for what. (Even the most skilled social media manager can't deliver good work if the client hasn't given them a login!)
Once the client accepts the proposal, you can introduce them to the virtual expert. At this point, the virtual expert steps in and gathers all the information they need to complete the project, liaising with the client as required and copying you in on any correspondence. They deliver the work and send it to the client.
The client usually signs off the work with the virtual expert, who will tell you the work is complete. This done, you can invoice the client and stand by to receive the invoice from the virtual expert too.
Any questions?
Rest assured that this does work in practice. All our virtual assistants deliver outstanding work and are also experienced freelancers, accustomed to jumping between projects and being professional with clients every step of the way.
However, if you have any questions about the Get Ahead franchise, we'd love to hear from you. Thorough research is an important part of choosing the right franchise, and we want this to be a success as much as you do.
---
---