Outsourced admin solutions for larger businesses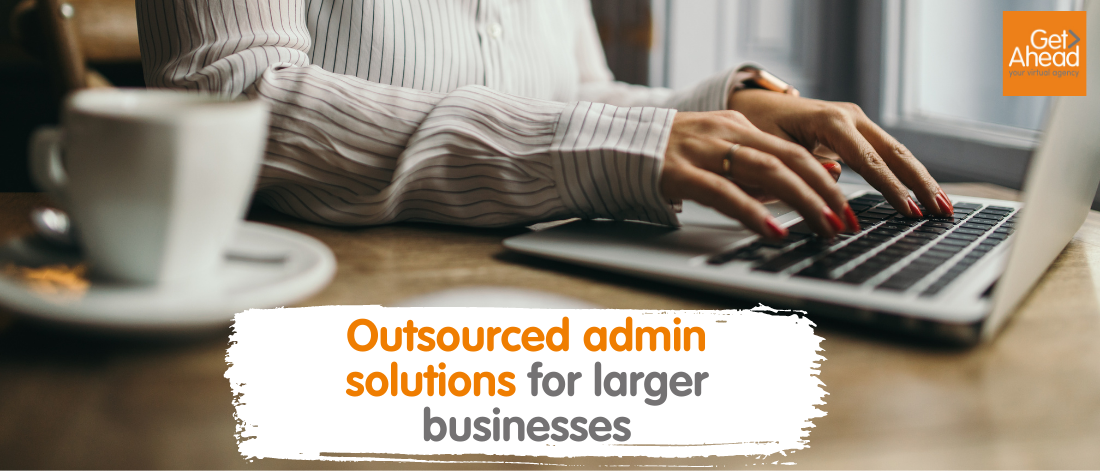 It's easy to see how Get Ahead's outsourcing model works for small businesses and sole traders. But did you know that we also support larger teams and have some well-known brands among our clients?
Larger businesses outsource to Get Ahead for similar reasons to small businesses: it's a flexible, cost-effective solution. However, working with larger teams is a bit different from working with small businesses. Let's take a closer look.
Admin challenges for larger businesses
Typically, large businesses employ many people and each person holds a different responsibility. However, there are nearly always tasks that don't comfortably fit into anyone's remit. For example, many businesses have a public email address that doesn't receive many messages but does need to be managed.
Social media is another key area that is difficult to harmonise with other responsibilities. It might not be a 40-hour-per-week job, but it can be reactive, making time management difficult.
Fortunately, outsourcing tasks that can be distracting or variable is a great solution. It will allow the rest of the team to focus and increase productivity all round.
Advantages of outsourcing some tasks while keeping others in-house
Keeping some tasks in-house while outsourcing others to remote experts has a number of advantages.
Outsourcing is great value for money – work with a specialist without having to accommodate them in your building or pension scheme!
Someone who is outside the rest of the team will often have a different perspective. This can help keep tasks in proportion and help everyone else to stay focused.
Passing unpopular tasks to virtual experts is also good for staff morale and retention. Happy staff are more productive: they want to stay in your organisation and help it grow.
How do I know what tasks I should outsource?
It's a good idea to audit the tasks everyone in your team does. It may seem time-consuming but it will help your business run more efficiently in the long run. Take note of which tasks are done well and which are not. Talk to your staff about issues you uncover. Are your team underperforming because they lack certain skills, or do they just procrastinate about tasks they don't really like?
You can also look at the productivity of your business from another angle, with a traditional skills gap analysis. Have you got all the right skills covered across your team? Remember that skills are different from experience – just because someone has experience in a particular area, it doesn't mean they're skilled at it, or enjoy doing it.
By contrast, all our virtual experts have a winning combination of skills, experience and enthusiasm for their particular field, meaning they could be the answer to your problem. Our regional directors can help you work out what support your business needs to improve both efficiency and productivity.
What does outsourcing look like in practice?
Our virtual experts deliver the work for your business from their own desks at home. Before they start work, they'll discuss your requirements with you, including standards, quantities and time frames. You can arrange regular catch-ups so to keep channels of communication open.
Our virtual experts all have Get Ahead email addresses, but you are welcome to arrange your own business email addresses for them if that would improve communication. The expert we connect you with will act as an extension of your business – for example, they'll answer the phone on your behalf with your chosen business greeting, and follow your standard script on business development calls.
Whoever you work with, they'll be as flexible as you need them to be. If the amount of work you need varies, they can accommodate the changing demands and you will only pay for the hours they work.
Outsource your admin to Get Ahead
Our experienced administrators love working with larger businesses. To find out how Get Ahead could help your business grow through outsourcing, contact your local regional director today.
Find out more about our services or call 01483 332 220 to discuss in more detail.
---
---