Life after lockdown – is it time to change the way you work?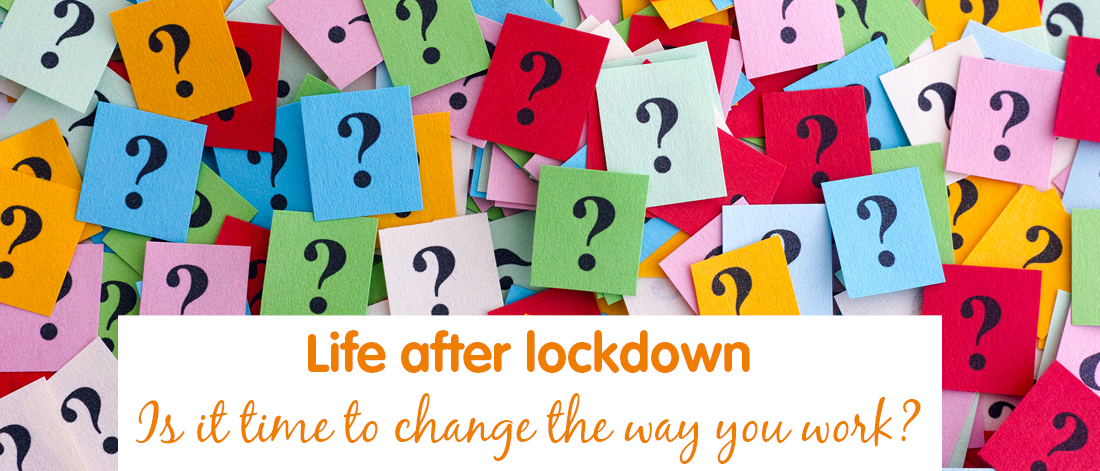 Life after lockdown – is it time to change the way you work?
We've all noticed the profound effects of COVID-19, both on the economy and on our everyday lives. Lockdown forced many of us to work from home, while for others it has meant furloughing and even job loss. But a great positive we've all gained is the opportunity to review our working life. Was it going well before 23 March, or is it going better now? Have we been ditched by our employers, or do we feel like ditching them?!
In this blog, we look at the impact of lockdown on our working lives, and invite you to ask yourself whether it's time for a change.
Lockdown winners and losers
Research shows that the companies that have adapted best in the new way of working are newer startups, the ones which already encouraged homeworking and were embracing new software like Microsoft Teams long before the pandemic. Employees of these companies appear to have had a better experience of covid-induced homeworking.
On the other hand, the same research shows that many long-established companies can't offer the same flexibility- their inability to prioritise meetings is creating the much-discussed Zoom Fatigue, while their rigid expectations that work will be done in the same way from home as from the office is leading to frustration.
But whatever our experience of working during the pandemic, most of us are enjoying being at home more. People are replacing their commutes with a morning run or an extra hour in bed, we're all having more quality time with our partners, children and pets and we don't know anyone who is missing their suit! Fighting the distractions isn't easy, but it's a small price to pay for a better work/life balance.
Lockdown: time to re-evaluate
COVID-19 has given us time to evaluate our working lives. Workers are asking themselves questions like, "Do I enjoy my job as much I think I do? Is it really improving my quality of life?" We also know that some don't have that luxury – they've had the rug pulled from under them; COVID-19 has unfortunately left them jobless.
Most of us at GetAheadVA have asked ourselves those questions in the past, or turned redundancy into a new opportunity. However we came to GetAhead, we've noticed that getting out of the office and working more flexibly has put us in control and really improved our quality of life.
VAs come out on top, not just during lockdown
Our VAs love their jobs. Many of the GetAheadVA team are parents and the freedom to choose our own hours enables us to balance family life with work. We can manage our own workloads, accepting or declining jobs in line with real life or the bank balance!
The GetAheadVA team has experience in all sorts of sectors and industries, from admin to account management, marketing to programming. Almost any skill can be translated into a VA role – many businesses find outsourcing is a cost-effective way of filling a skills gap.
Our franchisees also benefit from the flexibility that running a local VA franchise has to offer. Our support network means that no one need be isolated, while our established remote working systems means that our work isn't limited by location.
The coronavirus pandemic has presented many challenges, but it's given us opportunities too. If you feel it's time to improve your work/life balance, you could become our next franchisee. Visit our franchising page here, or get in touch on 01483 332 220 – we'd love to hear from you!
Find out more about our services or call 01483 332 220 to discuss in more detail.
---
---