January checklist for small businesses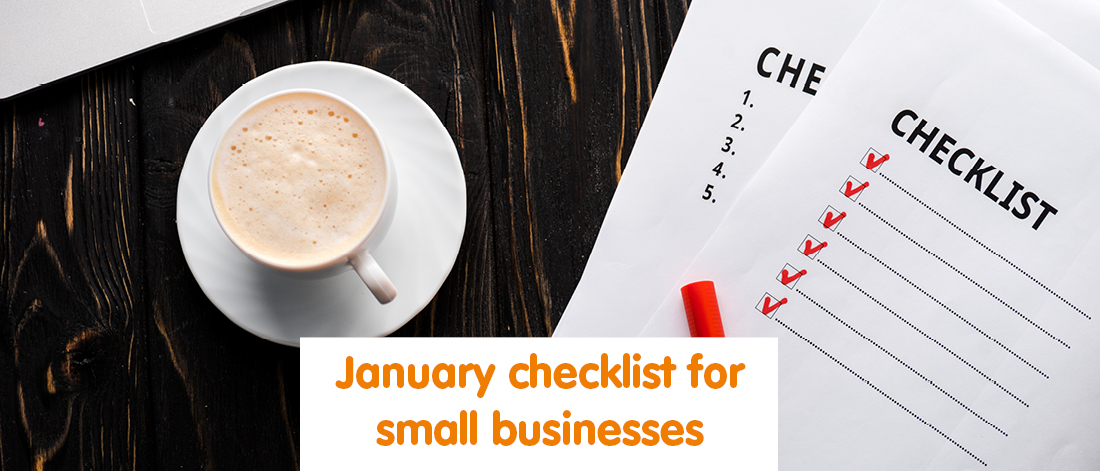 2021 could well be an interesting year. As well as Brexit and its as-yet-undiscovered implications, many business owners have learned a lot from the coronavirus pandemic, like the importance of being flexible and embracing change. Others may have started up on their own after being furloughed and this will be their first January as business owners. However you're approaching 2021, it's important to set up your business goals and working ethos right at the beginning of the year, to keep you on track and resilient.
Here are four points that are on our January checklist – we hope they're on yours too!
Review your goals
Every business needs goals to keep you moving forward and give you a way to measure your success. January is the time to review the goals you set in the last quarter of 2020 and see how well you did. If your goals were specific, measurable, attainable, realistic and timely, you should be able to tell whether or not you achieved them. If you didn't, resist the urge just to stick them on the list for 2021 Q1. Instead, consider what changes you need to make to either the goal or the method of achieving it. Reshape the goal to make it achievable and add that to your new list instead.
Set new goals
Think about where you want your business to be in three months' time and ask yourself what you need to help you get there. Maybe your team needs new skills – you could achieve this through training or taking on a new staff member. If you hope to launch a new product by the end of the year, what do you need to have in place at this early stage? You can find out more about goal-setting here.
Inspire your team
Many people return to work in January feeling a bit low – goodbye mulled wine and Quality Street, hello Zoom meeting mute button. Motivate those you work with by using January to establish or renew good working relationships. Share your ideas with them and bring them into the planning process to make them feel involved and inspired. If your team members feel valued, they'll produce good work for you, displacing the post-Christmas blues with exciting business ideas.
Run a promotion
Your team aren't the only ones in need of a lift. Cheer up your customers and support your clients' New Year goals with a promotion, offering discounted goods or services or putting together a package to give clients a unique deal. It's interesting to see how good customer service and awareness translates into business growth – putting your customers first is an important step towards your best year yet.
Virtual assistants can help with almost everything on your January checklist. From supplying the skills you need to help you achieve your goals, to helping run a promotion, from marketing experience to management experience, we're here to help. Get in touch today on 01483 332 220 – here's to a fantastic 2021!
Find out more about our services or call 01483 332 220 to discuss in more detail.
---
---