Get Ahead's go-ahead Fiona Ibbetson wins major industry award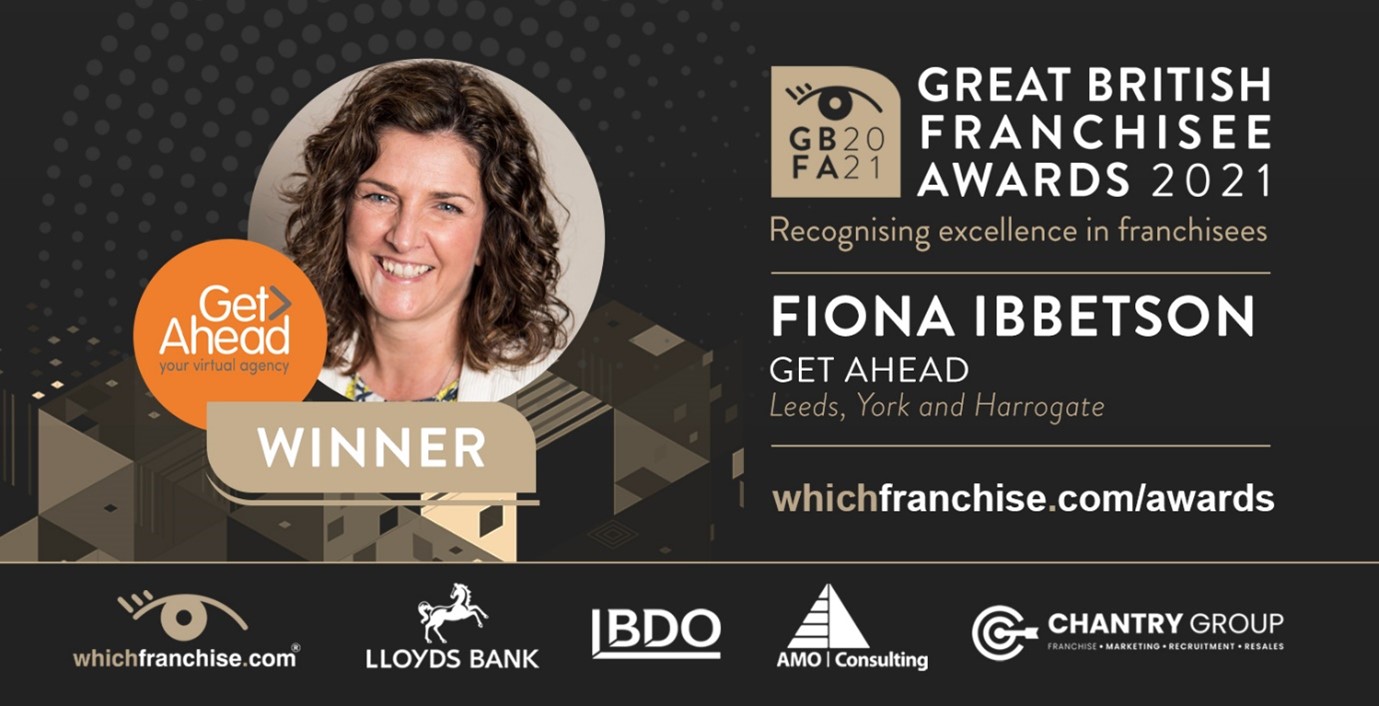 Tell anyone who knows Fiona Ibbetson that she's just won a major industry award, and their reaction is likely to be "Well, of course she would. Obvs".
And it's easy to understand why. The owner of Get Ahead in Leeds and Wakefield made her business profitable in the first three months, created work for 22 people, and expects to triple her revenue this year.
She's also taking on the additional territory of York and Harrogate which will generate work for many more people as well as making life easier for the business owners she serves by providing outsourced virtual assistants.
"I'd not had my own business before this," says Fiona, who'd worked for Morrisons supermarkets for 20 years. "That's why I went down the franchise route.
"The franchise model offers flexibility and leverages the skills of my team to help local businesses. That's my passion.
"I've grown the business really well during the pandemic, despite losing three clients which halved my revenue overnight.
"I've had a great mentor in the franchisor, plus I use two business coaches, one for my personal brand.
"I thought networking would be a completely new skill to learn until I realised I'd been networking naturally with peers and colleagues for years.
"My husband's still working from home as well, and I'm working on my business around my family as well as home-schooling two children. Everybody's had to adapt."
Despite the face-to-face networks she relied on for new business vanishing overnight in the pandemic, Fiona built the business up to a team of six plus 16 virtual assistants, and she's taking on a Business Development Manager to help with the new territory.
"Winning the award is amazing," she says. "I'm thrilled to be recognised and it puts me up there with other great franchisees which is fantastic."
The Great British Franchisee Awards recognise franchisees' exceptional performance and business experience, ability to drive business growth, staff retention, customer satisfaction, community involvement, inspired leadership, and franchise involvement.
The awards are run by whichfranchise, supported by Lloyds Bank, BDO, AMO Consulting and Chantry Group.
• Read more about the awards at https://www.whichfranchise.com/awards
• For over 25 years, whichfranchise has promoted ethical franchise opportunities in the UK. Learn more at https://www.whichfranchise.com/
---
---