Get Ahead VA wins Highly Commended Enlightened Employer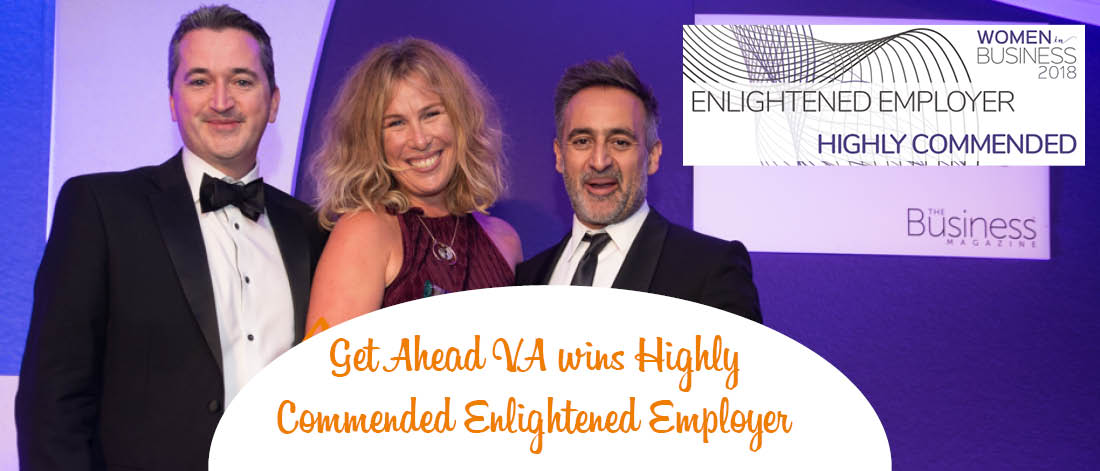 Get Ahead VA is jumping for joy, because at last week's Women in Business Awards we were Highly Commended in the Enlightened Employer category!
The Women in Business Awards are a celebration of businesswomen in the Thames Valley, Solent and South Coast regions of the UK. The awards are given to women who have made an important contribution to their organisations, at all levels, and Get Ahead VA was thrilled to be nominated for two awards this year.
The 'Enlightened Employer – supporting women in the workplace' award is given to companies "that have shown exceptional commitment to gender equality in the workplace." This includes all areas of business, from recruitment to employee development, "or any other ways of creating a positive and inclusive workplace culture which enables women to excel."
At Get Ahead VA, we pride ourselves on the work we do to encourage women in the workplace. We offer a flexible alternative to traditional employment that allows our virtual assistants to use their skills and earn money whilst also balancing other commitments, such as families. A large majority of our VAs are mothers who found they had limited options for returning to work after taking maternity leave, but now they are part of the Get Ahead family and they benefit from flexible working hours, the ability to work from home, and the feeling of being part of a team.
At last week's ceremony, Sky won the Enlightened Employer award, and Get Ahead VA was Highly Commended for our work in this category. The other finalists were KPMG, Moorcrofts and Shoosmiths. We are extremely proud to have been shortlisted alongside so many inspiring companies.
Get Ahead's founder, Rebecca Newenham, is delighted with the win: "We are thrilled to have been recognised in these prestigious awards. My mother has always been my role model – she ran a business from home as I was growing up, and I am delighted that I have built a winning formula to empower my team and give them interesting work that can be carried out in a flexible way."
---
Would you like to work with our award-winning team? To find out more about how Get Ahead VA can help you, please give us a call on 01483 332220 or email us at office@getaheadva.com. We pride ourselves on being the staff you don't see, but the difference you do.
Find out more about our services or call 01483 332 220 to discuss in more detail.
---
---