Five tips for constructive feedback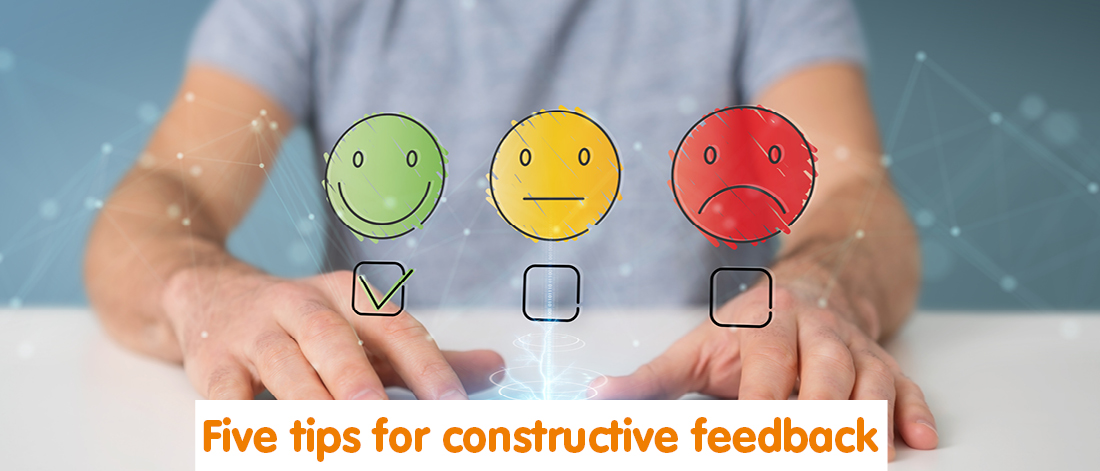 At Get Ahead VA, we have a large team of virtual assistants to draw upon, so we can always find someone with the right skills and personality to work with your business. As such, we're quietly confident you'll develop a good working relationship with your VA and that the positive feedback you give will outweigh the negative!
VAs are professionals and are used to receiving comments, positive and negative, and acting upon them. For many reasons, it's important to give feedback. When business owners withhold criticisms, it can result in issues going unresolved, ultimately causing the breakdown of the working relationship. And when business owners don't show their appreciation, the VA might feel under-valued and less motivated. Fortunately, when you give useful feedback, it enables the VA to develop the work they are producing so they can support your business in the right way.
In this blog, we look at how to give the right sort of feedback, so you'll get the most from your relationship with your VA or freelancer.
1. Don't worry about it
If you have a critical comment to make about a piece of work, please don't worry about saying it. Most VAs and freelancers will have received some corrections to their work, particularly at the beginning of a new project. Criticism can be a better learning tool than praise – praise is always good to hear, but constructive criticism helps us grow as people and as professionals.
2. Be polite
If you say something politely, and with a polite intention behind it, there is no reason why the VA will not be able to take it on board and correct the work. Good manners always make life easier (that's why they were invented) and will never undermine your authority.
3. Be specific
If your comment is critical, say exactly what is wrong so it can be corrected. This will not only get the issue resolved more quickly, but being specific will help the VA avoid repeating the problem.
E.g. "Thanks for recording the phone call so thoroughly. In fact, we don't need that level of detail – please keep it to 50 words for future calls."
If your feedback is positive, specific comments will mean more than gushing praise. The freelancer or VA will be able to use those comments in their own marketing, and understand their strengths so they can grow in their profession.
E.g. "This is great – you've really captured our voice and the ethos of our business. We will be repurposing this for our next email campaign."
4. Be balanced
Even if you have criticisms to make, it's unlikely that the whole piece of work will be a write-off. Remember to tell your VA what you like as well as what you don't like. Praise sandwiches (criticism sandwiched between two pieces of praise) work well!
E.g. "This is a great start – thanks. Please can you have another look at the video at 2.12 and correct it so the animation syncs with the music? We love the way you've animated our logo – you've really brought it to life."
5. Be constructive
After you've politely said what's wrong, say what would be right.
E.g. "We offer IT consultancy services only. Please can you replace the bit about IT support with an explanation of IT consultancy services? Thanks."
Our VAs are highly experienced at connecting with new clients and we are confident that you will be pleased with the standard of work. Relaying your feedback to your VA or regional director is an important part of developing your relationship with Get Ahead VA and one we hope you will embrace!
To find out more about how our VAs can help your business, get in touch today on 01483 332 220.
Find out more about our services or call 01483 332 220 to discuss in more detail.
---
---