Feeling overwhelmed as a business owner? Our regional directors can help you identify the right support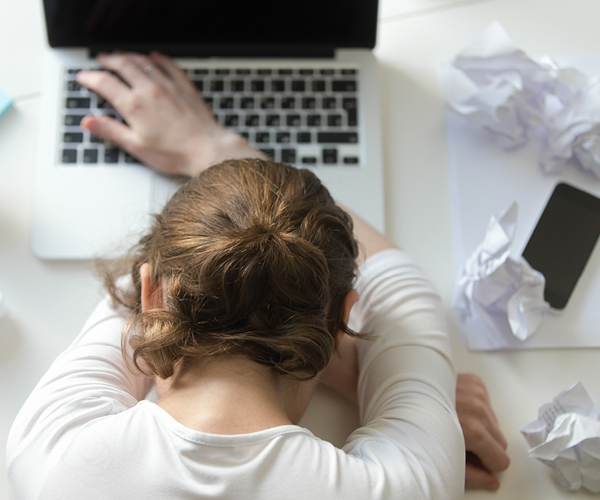 Feeling overwhelmed is increasingly common. Modern life (and sometimes social media) can have us worrying that we're expected to be dynamic business owners, committed parents, interesting members of society and willing volunteers all at the same time. But the truth is, there are only so many hours in the day. No one can do everything.
The worst thing about feeling overwhelmed as a business owner is that we can't see the wood for the trees. But that's where Get Ahead comes in. Of course, we're there for people who phone us up and ask us for straightforward social media management. But we also love it when business owners come to us to say they know they need help but they don't know where to start. When this happens, our regional directors draw on their own knowledge and experience, as well as the expertise within our team, to help a business owner find a way through.
In this blog, we talk to Sarah Yandell, one of our regional directors, about how to manage feeling overwhelmed and how Get Ahead can help.
Why do business owners feel overwhelmed?
Sarah: Running a business is hard work! No matter how experienced you are, there will always be responsibilities you love and others you struggle with.
Another problem with running a business is that you don't get paid holiday, sick leave or compassionate leave – I've met people who are trying to keep going when it's really time to take a break. These pressures can leave you feeling overwhelmed.
If you're really overwhelmed, you might not be thinking very rationally and it can be difficult to get your priorities in order.
What to do if you're feeling overwhelmed as a business owner
Sarah: Be strong and take a break. It can be really hard to do when you've got an ever-lengthening list of jobs, but remember that you'll work more effectively if you recharge your batteries. Often, stepping away from work can give you the sense of proportion you need. It can help you see where the problem really lies; it can also help you work out "what will make the boat go faster."
Talking to someone can also help. Depending on the structure of your business, you might be able to talk to colleagues. And if you work alone, talk to a friend – a different perspective can be very refreshing. Remember, talking about difficulties and asking for help is a strength, not a weakness. You might be surprised at where the help comes from too.
Often, talking to someone can help you find your priorities. Once you've found them, don't try to fix everything all at once. If you're overwhelmed at work and you've got other commitments too, focus your efforts on the most important thing first. For example, you can't move offices, employ new staff and experiment with a new social media channel when your invoicing system isn't effective. Put everything else aside and get on top of the invoicing first!
How does Get Ahead support business owners who feel overwhelmed?
Sarah: When a business owner client comes to me because they're feeling overwhelmed, my first instinct is to help. I ran a variety of businesses before I joined Get Ahead and I know from experience that it's not always easy. When I meet a client for the first time, I always start with an informal chat. This is because trust is so important if we're going to get you through this crisis and running your business effectively – locking you straight into a contract is unlikely to help your stress levels.
Once we feel we can work together, I listen to you describe your business, the challenges you're facing and how you feel about them, and start to put together a proposal. Like you, I'm not an expert in every area of running a business, so I also ask Get Ahead's team of virtual experts to help me identify the best solution for your needs.
It's worth noting that the proposal is very flexible. I often start by offering a basic service like diary management, and you can add to that over time if you want to. And if we start off providing a service that you later don't feel you need, you can simply switch it off. I manage the relationship with the virtual experts, so you don't have to worry about an awkward conversation if you feel it's time to bring the support to an end.
Resources to help you when you're feeling overwhelmed as a business owner
Sarah is our regional director for Suffolk and Essex, but her supportive approach is what you can expect from any of our team. Get Ahead are here to support business owners in any way we can – here are our top resources to help you when you're feeling overwhelmed:
Case study: personal branding coach in Yorkshire
Take our mini-quiz to help you decide what to outsource
Follow our tips to protect yourself from burnout
Find out more about our services or call 01483 332 220 to discuss in more detail.
---
---