Expert Showcase: How to make effective videos for your business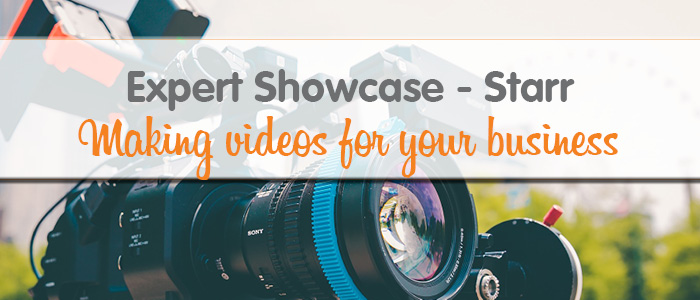 Here at Get Ahead VA our team includes experts in a wide variety of fields.  From Accounting to Admin, Hootsuite to Holiday cover, Email Marketing to Excel, our virtual assistants can add value to many aspects of your business.
In our Expert Showcase series our team deliver some of this expertise to you, with a series of 'How to' guides to help you get the best bang for your buck in your business.
In this guide one of our marketing and PR specialists Starr talks about how you can video to boost your online marketing and make a real impact with your customers: 
"Video is a hot topic for 2017.  In fact, it has seen a massive rise in importance over the past few years.  This is driven by a number of factors, including the increasing use of mobile, our time poor/information hungry lifestyles and the increased accessibility of technology.  Gone are the days where video was a highly expensive medium for only the largest of companies with the biggest of budgets.  You can now get started with video straight away, by yourself and from the comfort of your own home with just your smart phone.
"YouTube has over a billion users–almost a third of all people on the Internet–and every day, people watch hundreds of millions of hours of YouTube videos and generate billions of views". Source: YouTube
According to Alexa, You Tube is the second most visited website on the planet, second only to Google which owns it.  Making a video (or lots of videos!) and adding to your YouTube channel is a great way to boost your SEO and engage with your customers.  Think about the kind of videos they may wish to see – and research competitor videos.  It could be a how-to video, or a product guide.  It could be testimonials and case studies of people who have used your service before, or it could be your commentary on an industry event you have attended.  Make sure you put your audience first and consider what they would want to watch.
Facebook Live can be a fun and exciting way to engage with your audience.  It is particularly good for events where you can give your audience a sense of the action, as well as sharing your thoughts on particular topics.  The best thing about Facebook Live is that of course it is free and immediate – all you need is your smart phone.  However you do need to be mindful that there are drawbacks.  Not everyone is comfortable in front of the camera – or comes across well.  You need to consider lighting and sound, and make sure you advise people well in advance that you will be going Live, so you don't end up with an audience of no one.
Don't forget options like animated video which can also be highly effective at bringing your brand message to life.  You can use an agency to create these, or there are free online tools like Biteable or Animaker.
If you do take the time to create a video then make sure you really maximise your investment by using it on as many platforms as possible.  Upload it on to YouTube, and embed it into your website.  Add it to your social media platforms and use it in your presentations.  You could even consider emailing it (or a link to it) to your database, to spark some conversation or include it in your regular newsletter.
If you need any help with utilising the power of video or increasing the effectiveness of any of your marketing communications then our team of highly experienced marketing virtual assistants are here to help.  We love to take on the tasks you don't have time to do, don't have the skills to do, or simply don't want to do.
---
Please get in touch on 01483 332220 or email us at office@getaheadva.com to find out more about our nationwide virtual assistant service.  We pride ourselves on being the staff you don't see, but the difference you do.
Find out more about our services or call 01483 332 220 to discuss in more detail.
---
---