Could an office dog boost your productivity?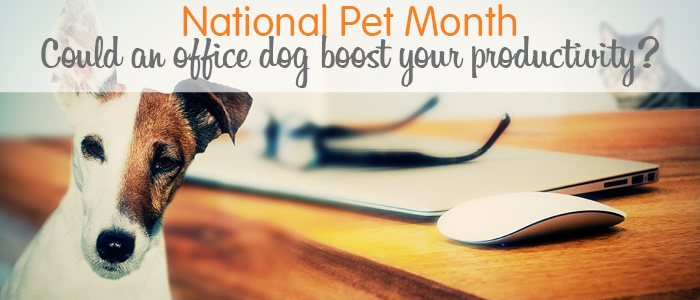 April is National Pet Month and up and down the UK thousands of people will be celebrating life with their pets.  The National Pet Month charity aims to promote responsible pet ownership, make people aware of the mutual benefits of living with pets, increase public awareness of the role of pet care specialists and raise awareness of the value of working and assistance companion animals.
For some individuals, assistance dogs are a vital part of their life that enables them to get to work every day.  For others, pets are simply a happy part of family life. So could an office dog (or cat or goldfish?) actually boost your productivity? 
Here at Get Ahead VA our virtual assistants are lucky to be based from home and for many of us, that means spending more time with our pets.  Whilst not every office is suitable for pets (or every pet is suitable for the office!) for some companies it can work well.  The office fish can provide a social point of interaction and interest, as well as contribute to a calming and more natural work environment.  The office dog can provide social interaction and company for what can be a sometimes lonely existence working from home.
Scientific benefits from oxytocin and cortisol
Over the years various studies in the UK and USA have found that pets can help reduce stress and lower blood pressure.  A few minutes stroking your dog prompts the release of 'feel good' hormones including serotonin and oxytocin, as well as reducing the level of the primary stress hormone cortisol.  Doctors claim that this simple action of stroking your pet means that you are switching off from stressful situations such as work and emotional problems.  This could therefore have a positive impact in your workplace.  If you are facing a difficult situation – perhaps a call to a customer that hasn't paid, or a major tender document that needs to be completed, using the office pet to help you relax and focus could enable you to tackle it in a more positive manner.
If you work alone then having an office pet is your choice.  But if you work with others and are considering an office pet then always talk to your colleagues about it first.  Though pets offer benefits for many, not everyone may be as keen as you.  Genuine issues such as pet allergies or fears need to be taken into consideration, so that the office pet helps boost everyone's productivity – not just yours.
If you are looking for other ways to boost your productivity then hiring one of our virtual assistants might be the right next step.  Our highly experienced team love to take on the tasks you don't have time to do, don't have the skills to do or simply don't want to do.
Please get in touch on 01483 332220 or email us at office@getaheadva.com to find out more about our cost effective nationwide virtual assistant service.  We pride ourselves on being the staff you don't see, but the difference you do.
Find out more about our services or call 01483 332 220 to discuss in more detail.
---
---