Coronavirus: surviving or thriving? Get your content marketing right in 2021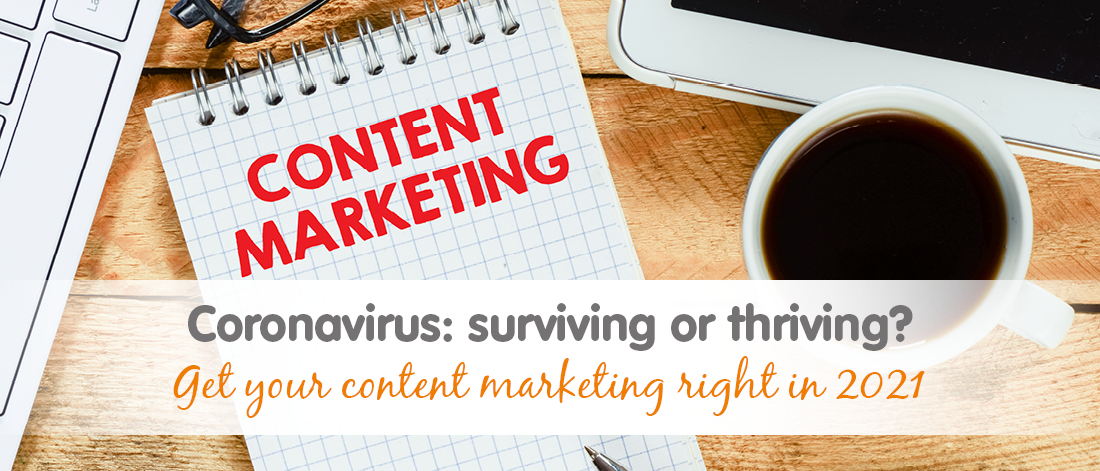 In March 2020, the world turned upside down. Britain went into lockdown for the first time, many people became home workers, and parents became homework supervisors. We clapped for the NHS on Thursday nights and "hero" became a buzzword. Some businesses were ready; others were not. Across the business world, we all reached out to each other with moral support and a lot of forgiveness. But nearly a year later, what signals should businesses give? Is Corona Kindness still relevant content for blogs and social media? Or is it time to embrace the new normal?
Let's take a closer look.
"We're all in it together."
You'll remember this popular maxim from last year. It is still true: at time of writing, all of England is locked down. However, just because we're in it together doesn't mean we are all having the same experience.
On the one hand, we know that many businesses in sectors like the performing arts and hospitality have gone under, which is devastating for those involved, many of whom were defined by their abilities in cooking, acting or events management. A tragic loss of variety and vibrancy in the lives of others too.
On the other hand, not everyone is suffering. The stamp duty holiday means that people in the real estate and mortgage sectors are doing very nicely, thank you. Tech, telecoms, interactive video conferencing platforms – these are all industries that have boomed because of the shift from office working to home working. And Get Ahead Farnham is proudly celebrating a very successful marketing project we have just completed for a company that supplies vital PPE to frontline workers.
This means that, while wellbeing and a positive attitude will always be important, one size no longer fits all. "We're all in it together" is now just an unhelpful platitude for a struggling business, and completely irrelevant for a thriving one. It's time to think of something else.
What messages should we share instead?
B2B businesses
For B2B enterprises, we've found that balancing the "one day at a time" message with "business as usual" is an effective approach. This is because, even if you're successfully developing new Zoom capabilities, you're probably still doing it from home with all the interruptions and distractions we are now familiar with. We have to accept that this is the new normal. Moaning about it is not going to help; nor will a pretty meme give you back the time you lost to a slow internet connection. What will help is remembering that your work is as important as it ever was, and that there are new practices and attitudes in place to help you turn homeworking from a backup situation into a positive one. For those of us in B2B marketing, these are the messages to share. At Get Ahead, we have noticed LinkedIn posts on the theme of "one day at a time," have been very successful, as has our practical blog about time management.
B2C businesses
Other businesses, particularly those offering wellbeing and lifestyle products, will have a different market but can still focus on thriving over surviving. A recent client at Get Ahead Leeds is a craft supply subscription service that expanded phenomenally during lockdown. We've noticed their social media is focused on what crafts you can make with your monthly kit, and not on how dire lockdown is. We know creativity is important for wellbeing, but creativity for its own sake is emerging as the dominant message. We're not being told to make candles because it will help us stay sane during lockdown; we should make candles because it's fun and satisfying.
As we enter into the second year of the coronavirus pandemic, it's interesting to see how marketing has refined its wellbeing messages. Emotional and physical wellbeing will always be important, as will the work/life balance. But the way we communicate it, through blogs, social media and other campaigns, is changing. "Thriving" has replaced "surviving" as the core idea. At Get Ahead, we're using our marketing channels to provide specific support and practical advice to help our clients and followers. The aim is not just to enable businesses to survive the impact of COVID-19, but to enable them to thrive in the new normal.
If you think your marketing messages need a review, Get Ahead can help. Get in touch today on 01483 332 220 – we'd love to hear from you.
Find out more about our services or call 01483 332 220 to discuss in more detail.
---
---