Clean up your virtual desktop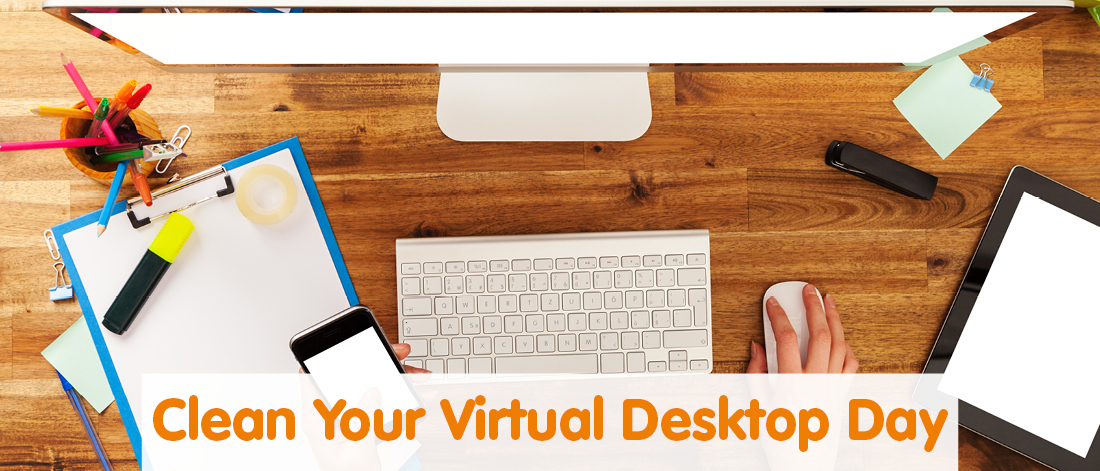 Just like a real desk, it's easy for your virtual desktop to get cluttered. A folder here, an icon there and suddenly you're wading through a sea of links, unable to find anything!
Luckily, today is national Clean Your Virtual Desktop Day, and we're here with some tips to help you get your virtual workspace shipshape once again. And, as some extra inspiration, we have some photos of the (impressively tidy) desks of a few members of the Get Ahead VA team.
So what are you waiting for? Let's get your desktop sorted!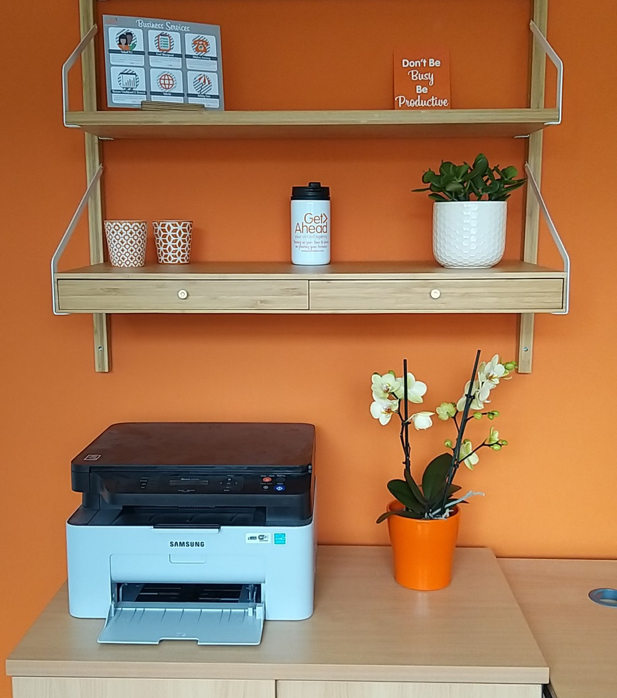 Suzanne Cox, Co-Regional Director of the Berkshire and North Hampshire office, has a very tidy workspace – and it's Get Ahead VA orange!
1. Delete, delete, delete
There's no point in organising old links and folders, so the first step is to get rid of anything you don't need any more. Go through everything, and if it's out of date or no longer relevant, delete it in the interest of getting organised.
2. Transfer to permanent storage
Desktop storage should be temporary, so you can quickly access the things you need while you're working on them. When you no longer need these things at the tips of your fingers, it's time to transfer them into long-term storage – on a hard drive or memory stick – so they're out of the way.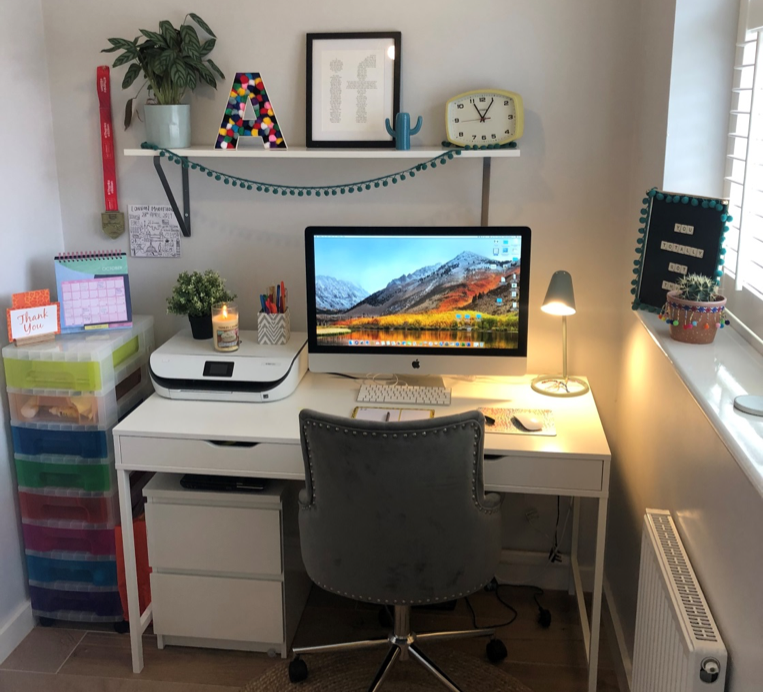 A place for everything, and everything in its place – that's how VA Lucy Andrews organises her workspace!
3. Automated filing
Programs such as Belvedere for Windows and Noodlesoft for Mac can automatically organise your files through rules you create, based on criteria such as file type, age and so on. It's well worth taking some time to set up an automated filing system to stop the clutter from building up in the first place.
4. Folders
A solid filing system is the best way to stay on top of your digital clutter. Start by creating a few top-level categories – to separate work from personal, for example – and then work down into more and more niche categories from there. That way you only need one master folder on your desktop that will give you easy access to all your files!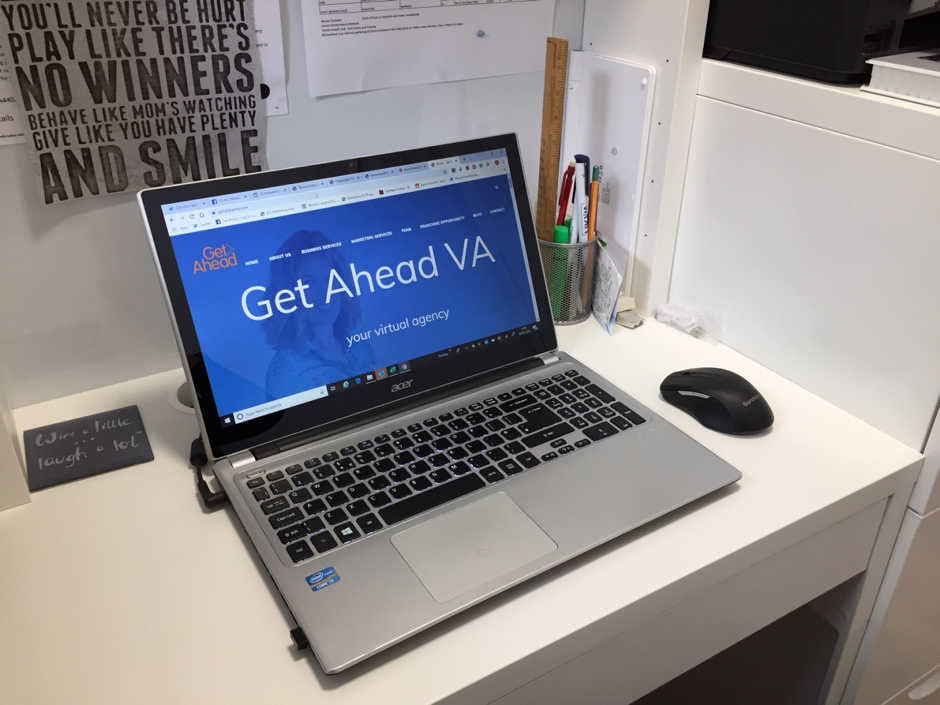 Motivational messages inspire VA Caroline Saunders to do her best work for Get Ahead VA.
5. Clean your screen
It's so much easier to keep your virtual space organised if the physical device is clean too! A few times a month, give your computer screen or monitor a wipe down to remove the dust and grime that inevitably builds up over time.
6. Choose a background
If you give yourself a nice desktop background, you're going to be much more motivated to keep it tidy, so choose a family photo, a relaxing scene or a piece of art you like. You can even set up your computer to regularly change the desktop background from a pre-selected folder of images, so you always have something new to look at!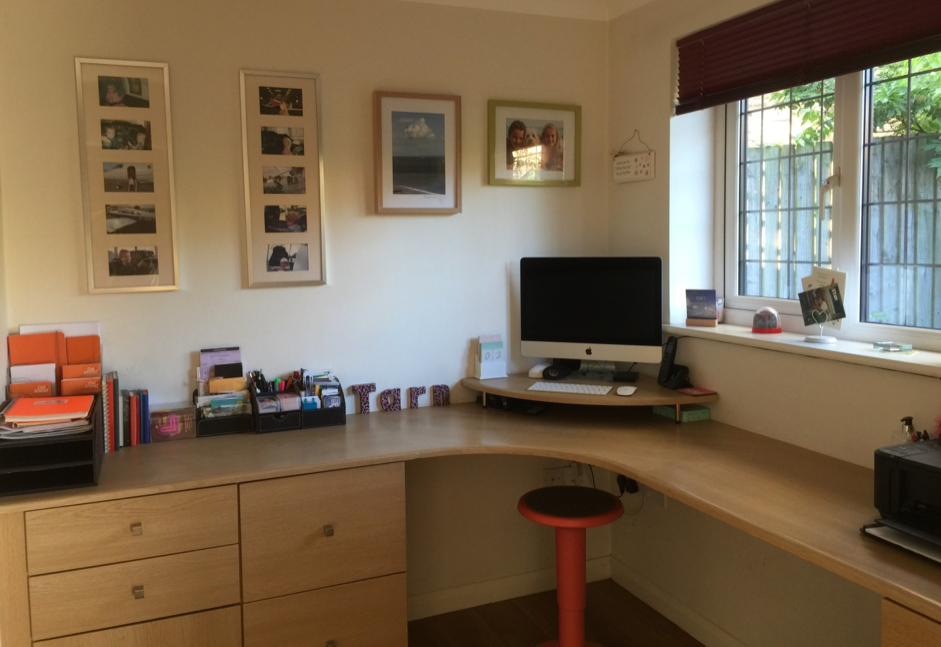 Get Ahead VA Business Manager Tarn has an enviable corner desk, and she keeps it very neat and tidy.
---
Need some help keeping your business organised? Get Ahead VA offers professional business services including administration and business development, freeing you up to concentrate on the really important stuff. If you'd like to find out more, please give Get Ahead VA a call on 01483 332220 or email us at office@getaheadva.com. We pride ourselves on being the staff you don't see, but the difference you do.
Find out more about our services or call 01483 332 220 to discuss in more detail.
---
---