Business insurance: A buying guide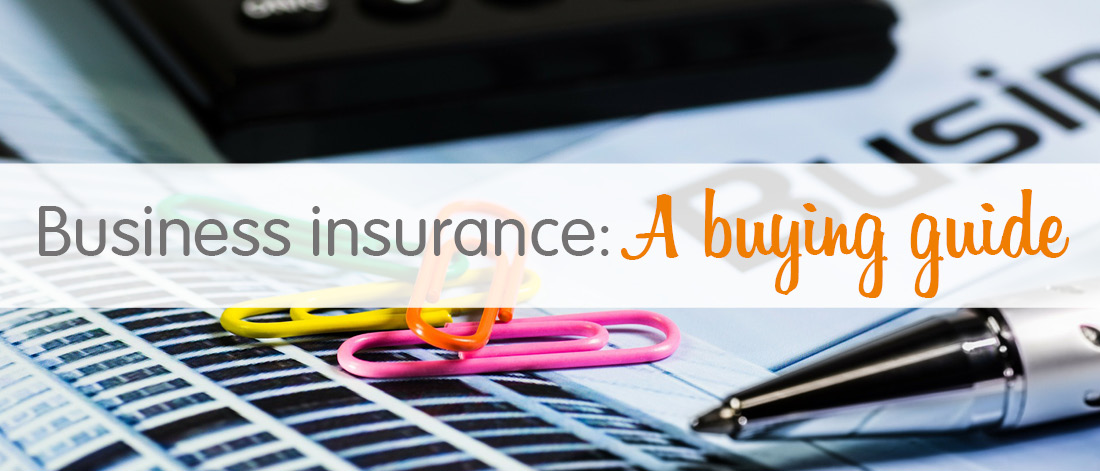 Car insurance, house insurance, travel insurance – even pet insurance we are all pretty familiar with. In general, insurance is fairly straightforward – you drive a car, you need insurance. You go on holiday, you need insurance. But when it comes to setting up and running your business, the type of insurance you need can be much more confusing.
Firstly, there isn't really any mandatory insurance – unless you employ people or drive company vehicles. As most business insurance is optional, cost can be a major factor. You might think some risks are worth taking and that not buying insurance can save you money.
We spoke to Simon Drysdale, director at Hallsdale Insurance Brokers about the key types of business insurance and why they might be worth investing in:
"If you are a business owner, an independent professional or self-employed, purchasing the right insurance is an important means of managing the risks of your business and protecting it for the future.
For certain types of businesses, insurance is compulsory. If you employ people you are legally required to have employers' liability insurance. This covers the cost of compensating employees who may be injured or become ill through work. If your business uses vehicles you are legally obliged to have commercial motor insurance. Specialist motor fleet insurance policies are available if you own or lease three or more vehicles.
There are many other types of optional business insurance, which fall into a few key areas:
1. Liability insurances
This comes in a number of different covers including public liability, product liability, professional indemnity directors' and officers' (D&O) liability, environmental liability and legal expenses insurance. Your requirement will depend on the nature of your business and your activities – for example if you work from home or have your own commercial premises. How your business operates is also relevant – do you make products or simply provide services? Each policy is designed to cover the cost of claims following fault or negligence proven against you or your business by clients, customers, shareholders, investors, or members of the public. D&O insurance has been of particular interest recently as in February 2016 new guidelines came into force, dramatically increasing fines for corporate manslaughter, food safety and hygiene offences, and health and safety offences. Yet according to recent industry research, only 26 per cent of SME owners have D&O insurance. If you are one of the other 74 per cent, you are leaving yourself or your employees exposed to a major risk.
2. Property insurance
If your office or factory burnt down tomorrow, what would you do? Just like your personal property insurance, commercial buildings and contents insurance pays for damage to your business buildings and the equipment inside. Then there are other types of insurance you can add on, such as business interruption, terrorism, cyber, engineering, goods-in-transit and computer insurance. Cyber insurance has been particularly hitting the headlines recently with the high-profile attacks on major companies and institutions such as the NHS. SMEs are just as much at risk of an attack that could paralyse your business.
3. Employee protection
For many small businesses, your employees are your lifeblood. Your business depends on them. Policies such as life insurance, private medical, critical illness, income protection, personal accident and sickness and business travel all ensure that financial help and access to services is there when you and your employees may need it most.
4. Financial risks
As a business, cash flow is everything. At any one point in time you may have hundreds, thousands or even millions of pounds at risk. There are various types of insurance that can protect you in these situations. These include money insurance, trade credit, key person, employee dishonesty, loss of license and book debts insurance. Even with today's strict rules there are still regular news stories about employees committing fraud and stealing money. The right insurance can limit the damage in those situations by reducing the financial loss – leaving you to focus on your business.
There are many types of insurance covers available and the wording is complex. An insurance broker can help you understand the policies available and advise in collating a package of the relevant insurance covers to meet your unique needs. Your requirements will depend on the nature of your business, its size and employment status. You can find out more on our website, or read this Association of British Insurers guide."
---
As a busy business owner, buying insurance might seem like just another thing you haven't got time for. If so, hiring one of our highly experienced virtual assistants could be just the right next step. We love to take on the tasks you don't have time for, don't have the skills to do or simply don't want to do. Please call 01483 332220 or email office@getaheadva.com to find out more. We pride ourselves on being the staff you don't see, but the difference you do.
Find out more about our services or call 01483 332 220 to discuss in more detail.
---
---