Business administration support – teamwork delivers great results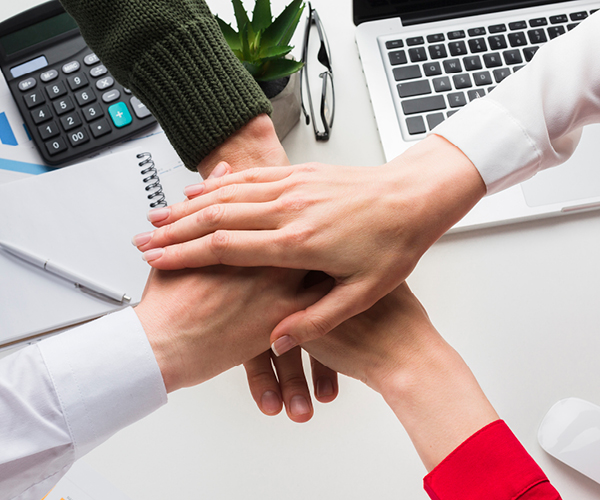 Business administration support from Get Ahead always works well, but it works even better with strong teamwork.
One of our administration experts, Lisa shared her experiences of working as part of a team for our UK/US-based client Elevated. In this blog, we look at how this situation came about, the advantages of teamwork for the client, and what that teamwork looks like in a regular working week. 
Developing the client relationship
Elevated is a UK/American business consultancy offering a wide variety of support to its international clients. Get Ahead has been supporting their client team who provide medical training in neuro-critical care. In November 2022, Andrew at Elevated approached Emma, regional director in our East Midlands office (who had provided him support with a previous business), looking for business administration support. He needed help covering email management, customer service, reporting, minute taking, event support, client liaison and ad-hoc project management. Emma immediately matched him with three possible specialists who could deliver all the work remotely from their UK-based home offices.
Although the initial plan was for Andrew and his US business partner to select one or two VA specialists to deliver the requirements, after an introduction meeting, they ended up engaging all three. This was because they were so impressed with the breadth of knowledge and experience of all three candidates…and it turned out to be a very wise decision.
Why? Because in March 2023, Elevated upgraded all its tech systems. And like many tech refresh projects, this one has had its share of teething troubles, including a sizeable email backlog. Fortunately, the three-person Get Ahead team has the right skills and experience to clear these emails and help Elevated offer the service it prides itself upon.
What does Get Ahead teamwork look like? 
Lisa, Ruth and Jessica were chosen by Emma because she thought they'd work well together, and because she thought they'd be a good fit for Elevated. She was right! The three VAs quickly found effective ways to work together. As remote workers in a different time zone from their client, they've had to do their own team leadership, with support from regional director Emma.
A weekly Thursday meeting gives them a regular time slot to share information and updates, but also find time for emergency meetings. They have a WhatsApp group for quick questions and are always at the end of the phone and ready to support each other.
What are the advantages of Get Ahead teamwork for the client?
Elevated are delighted with Lisa, Ruth and Jessica's work – so we are delighted too! Because there are three people in the team, they can cover each other's holidays and sick leave. This means continuity for the client – there is always someone to keep on top of the work and ensure that Elevated provides a great service to its own clients.
This also means more flexibility for Elevated – they can make business decisions without being restricted by the availability of their business support experts.
Because the three VAs are all part of Get Ahead, it's easy for them to manage themselves and their own team. They communicate between themselves instead of needing Elevated to act as a conduit. This releases the internal team to address other priorities instead of having to add team leadership to their list.
Business administration support from Get Ahead
We love putting together teams to deliver great results for our clients. To find out more about how we hand pick the right team for your business, check out our infographic here. 
Find out more about our services or call 01483 332 220 to discuss in more detail.
---
---