Black Friday or Small Business Saturday?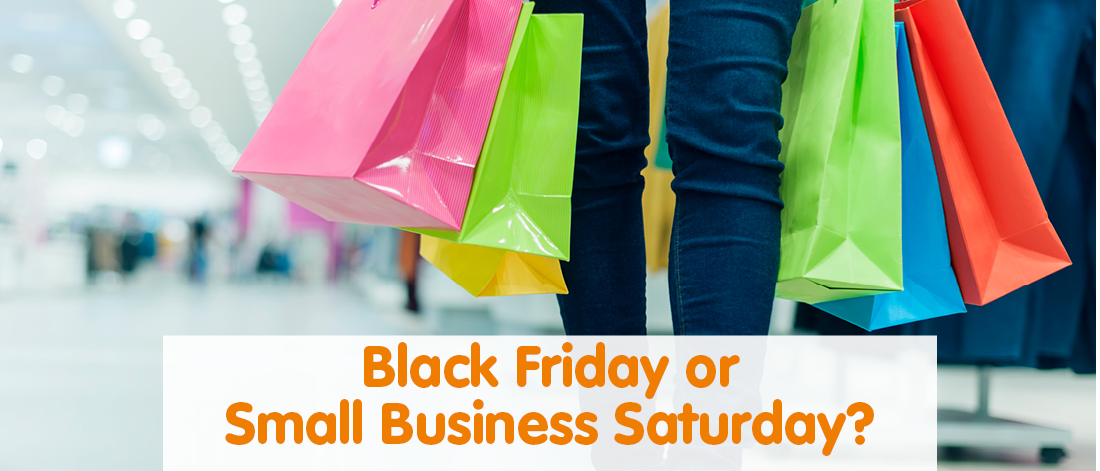 'Tis the season of pre-Christmas promotions, and there are two particularly important retail events coming up on the calendar: Black Friday and Small Business Saturday. But what exactly are they, and which one should you concentrate your efforts on? Here's the lowdown on these two significant events, to help you decide which one is right for your business.
The essentials
Black Friday will take place on Friday 29 November 2019. You've probably already heard of this day – many major retailers lower their prices over the Black Friday period to attract crowds of Christmas shoppers. This tradition started in the USA and came over to the UK in 2010, and it has grown in popularity here ever since.
Small Business Saturday will take place on Saturday 7 December 2019. This is a grassroots campaign that encourages shoppers to buy from small businesses and independent shops in their area. It also started in America, in 2010, and now many businesses in the UK take part in the events, exhibitions and networking sessions that are part of this growing campaign.
Choosing a day
Black Friday and Small Business Saturday are built around two different ideas: Black Friday is focused on generating profits, while Small Business Saturday is about building a sense of community and an awareness of alternatives to big retailers. Depending on your business' ethos and goals, one of these days will probably jump out at you more than the other.
You should also take into account how much time and resources you can dedicate to your campaign: Black Friday can require quite intensive marketing, as well as longer opening hours and lowered prices, but it has the potential for a big return. In contrast, Small Business Saturday may require less of your time, but it may have less of a return in terms of sales.
How to prepare
If you decide to focus on Black Friday, check out our post about Black Friday for small businesses. Smaller companies typically have to take a different approach to this day than major retailers, but if you have a promotion in mind, this can be a great way to boost your pre-Christmas sales.
If Small Business Saturday is more your style, there are plenty of ways you can get involved, including shouting about the day on social media, taking part in free online training though the iDEA Partnership, or going along to the hugely popular Bus Tour which is taking place in cities across the UK. Check out the Small Business Saturday website for more details.
---
Need help managing your pre-Christmas campaign? Get Ahead VA offers professional social media management for business owners, so you can put your online profiles in safe hands and concentrate on running your business over this busy period. To find out how we can help, please give Get Ahead VA a call on 01483 332220 or email us at office@getaheadva.com. We pride ourselves on being the staff you don't see, but the difference you do.
Find out more about our services or call 01483 332 220 to discuss in more detail.
---
---