5 steps to franchising success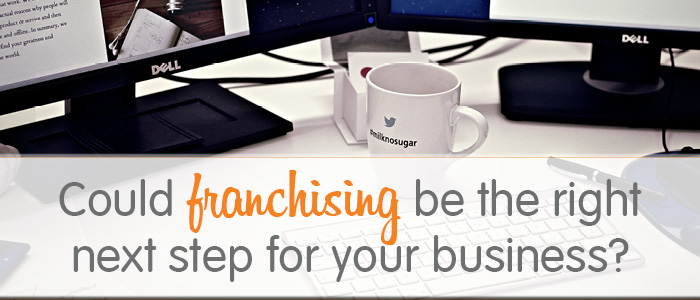 Franchising can be a great way to grow your business.  It can enable you to expand your geographical reach as well as your penetration of key markets.  It is a well-known model used all over the world by smaller companies as well as larger scale multinationals such as McDonald's, Clarks shoes, Interlink Express and Toni & Guy. 
Franchising is also a fast-growing industry, with the latest bfa/Natwest Franchise survey revealing an industry worth £15.1bn in the UK, three times the size that it was 20 years ago.  44,200 franchise outlets employ 621,000 people, an increase of 70% over the last 10 years.
What is franchising?
Business format franchising is the granting of a license by one person (the franchisor) to another (the franchisee), which entitles the franchisee to own and operate their own business under the brand, systems and proven business model of the franchisor." British Franchise Association
A variety of different industries lend themselves to a franchising model, but it isn't for everyone.  Managing a group of franchisees is completely different to running your business – and one can certainly distract from the other if not handled properly.  If you think franchising might be right for your business, then here are our five top tips to ensure your franchising journey is a success:
Do your homework.  Read websites such as the British Franchise Association or attend franchising events such as The Franchise Show to find out more about what is involved and whether it might be right for you.  Now is the time for some vital soul searching!  Consider whether your business is transferable or not and whether you are ready to 'let go' and teach someone else how to do it.
Get legal support.  Ensure you speak to a proper franchise solicitor, a franchise consultant and the franchise department of a bank as a minimum.  It really is worth making the investment here up front to get the legal aspects right – and save you serious potential issues further down the line.
Recruit the right franchisees.  Once you have your franchise agreement ready then it is time to recruit your first franchisee.  It is understandable to be keen to get someone on board asap, but this first recruitment is vital.  Like any recruitment process, research the applicants well including understanding their reasons for wanting to buy the franchise, their employment background and their skill base for the job involved.  Make sure you are convinced that they really are the right person for the job.
Complete a case study.  With your first franchisee on board you can start to compile a case study with compelling facts and figures as well as testimonials to strengthen your franchise offering with a proven track record of success.
Review and revise.  Review regularly the financial results of yours and your franchisee's businesses to see how they are performing.  But also consider asking franchisees about their experience – particularly if you are still quite new to franchising.  Are you giving them the right level of support?  Are there things you could be doing to help them further, or skill gaps you can help plug for them?  Continuously looking to improve will help both you and your franchisees become more successful in the future.
According to the survey, a record 97% of franchisee-owned units reported profitability.  Franchising is clearly a lucrative industry to be part of and with the right plan in place, you could be part of that success too.
Our highly experienced virtual assistants can support you with your franchising initiative as well as researching other growth strategies for your business.
Please get in touch on 01483 332220 or email us at office@getaheadva.com to find out more about our nationwide virtual assistant service.  We pride ourselves on being the staff you don't see, but the difference you do.
Find out more about our services or call 01483 332 220 to discuss in more detail.
---
---