5 pitfalls to avoid when planning Q4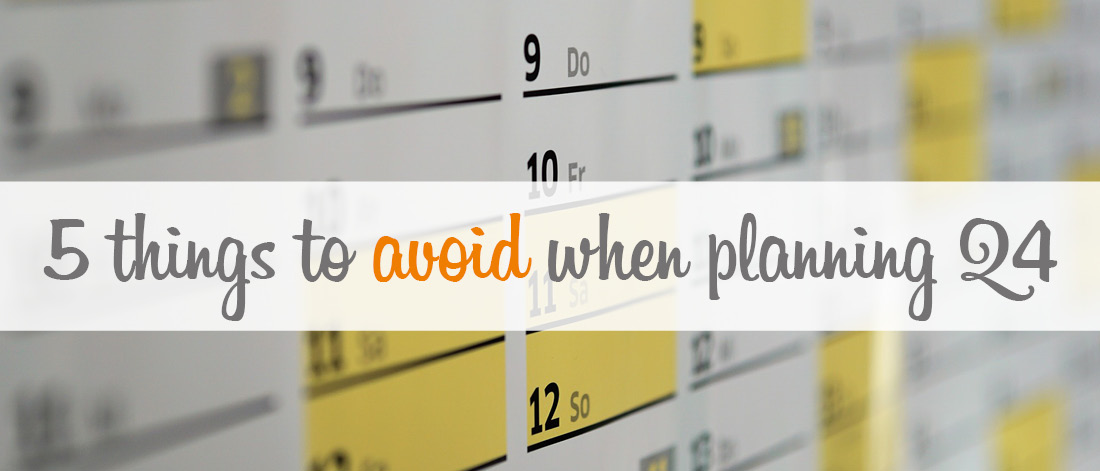 The end of the August is here already. September and back to school are upon us. With just a few months of the year to go, now is the perfect time to review what you have achieved so far in 2017, and identify your targets for the last quarter.
Planning is vital for any business. You need to review your progress against your objectives, identify opportunities and set action plans in place. But planning isn't always easy. Here are some of the potential traps to avoid to make sure your plan is effective and you end the year on a high:
1. Don't under estimate what you have achieved so far
Start by thinking back to your last review, or the start of the year. Write a list of everything that you have achieved that you should feel proud of. It is all too easy to take these things for granted when you are buried in the day to day tasks of doing your job or running your business. But planning is a great time to take a step back and give yourself a pat on the back – as well as identifying any areas that haven't progressed quite as well as you expected.
2. Don't overlook what you haven't completed yet
Honesty is crucial. Has that new product really launched yet, or are you still just talking about it? Has that new customer actually signed the contract yet, or are they still considering it? Be clear about what has (or hasn't) happened so that you can set the right plans going forward and focus your efforts in the right places.
3. Don't under estimate the impact of Christmas – which isn't just December 25th
Christmas events and holidays can start much earlier than that. Depending on your business, December may be your busiest month ever – or it may be your quietest. If it is a busy time, make sure you have contingency plans in place to cope with demand which may be even greater than you imagined. If your business virtually shuts down in December, ensure you have brought the necessary actions forward to November and consider what you can use the quieter period to achieve.
4. Don't forget to consider the weather
The autumn and winter months bring a greater likelihood of flooding, ice and snow, as well as the seasonal colds and illnesses that go with it. This could have a real impact on your productivity levels. If you employ staff, ensure your travel and sickness policies are up to date and that everyone knows what is expected of them. Consider what you can do to brighten the mood and provide inspiration during the darker days and nights. Getting into the festive spirit can help engender a sense of team spirit.
5. Don't overlook new opportunities
Our business environment is constantly changing and the most effective organisations are those that adapt and grow. Don't just look back at your last set of objectives and see what you have achieved. Think about the wider landscape and what has changed over the last 3 months. Are they still the right objectives at all or are their new opportunities you should be out there grasping? Don't be afraid to rip up the rule book and start afresh with a new plan if you genuinely feel that is the right thing for your business.
---
Do you have ambitious plans for Q4, but you're not quite sure how you will achieve them? Then hiring one of our highly experienced virtual assistants could be just the right next step. We love to take on the tasks you don't have time to do, don't have the skills to do or simply don't want to do. We can assist with a wide variety of business and marketing services, from admin to accounting, design to database management and Twitter to telephone answering. Please call 01483 332220 or email office@getaheadva.com to find out more. We pride ourselves on being the staff you don't see, but the difference you do.
Find out more about our services or call 01483 332 220 to discuss in more detail.
---
---