4 reasons to get your staff on LinkedIn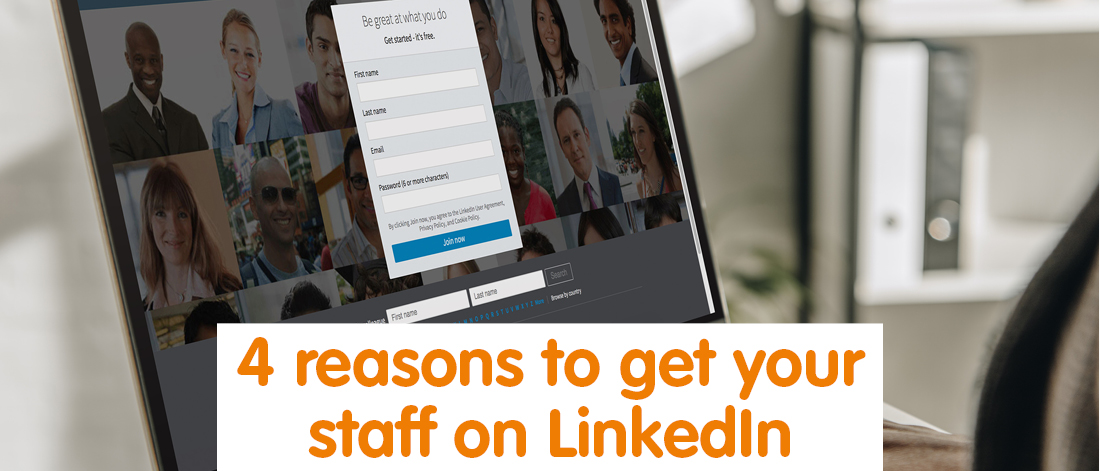 As a business owner, you probably already have a Company Page on LinkedIn, and you use it to share content, find contacts and get the word out about your business. But did you know that you can build your business' social media presence by encouraging your staff to sign up too?
Of course, you can't demand that your staff actively promote your business on their personal LinkedIn pages, but you can explain the benefits of doing so and provide some guidance that will help them to advocate for the business if they want to. To get you started, here are 4 reasons why it can be useful to link up with your employees on LinkedIn.
1. Build connections
The main reason to use any social media platform is to make connections, and by connecting with your employees on LinkedIn, you can quickly expand the number of people associated with your Company Page. According to research by LinkedIn, 'employee networks have, on average, 10 times as many connections as a company's followers'* – that provides huge potential for making new connections, even if your employees don't actively promote your business.
2. Reach a more responsive audience
If your staff do decide to share content about your business on LinkedIn, they're likely to get a better rate of response than you might get on your Company Page – this is because brand advocacy can look better coming from an individual than from the brand itself. You can encourage your employees to promote your content by making sure you put out interesting, useful content that they will want to share.
3. Look professional
Many people – whether they're potential clients, customers or industry peers – will look up a brand on LinkedIn before deciding to work with them, so having a complete and professional LinkedIn page is essential. The key is to regularly update your Company Page and to build a network of responsive contacts – the more engaged your online network, the better first impression you will make on potential clients.
4. Improve employee satisfaction
Developing your company LinkedIn page isn't just about promoting your business – you can also use it to celebrate your employees. For example, you can like and share the content they post, or shout about any professional achievements they are happy to share publicly. You can also ask your employees directly for ideas about how to connect with your shared audience, so they feel included and invested in building the company's profile online.
Do you need help running your business' social media profiles? Our team of professional virtual assistants provide professional social media management services, for busy business owners who don't have the time to do it themselves. To find out more about what we can do for you, just give Get Ahead VA a call on 01483 332220 or email us at office@getaheadva.com. We pride ourselves on being the staff you don't see, but the difference you do.
* https://business.linkedin.com/marketing-solutions/blog/linkedin-elevate/2017/the-real-value-of-your-employees-social-media-reach
Find out more about our services or call 01483 332 220 to discuss in more detail.
---
---