10 more things we've learned from 10 years in business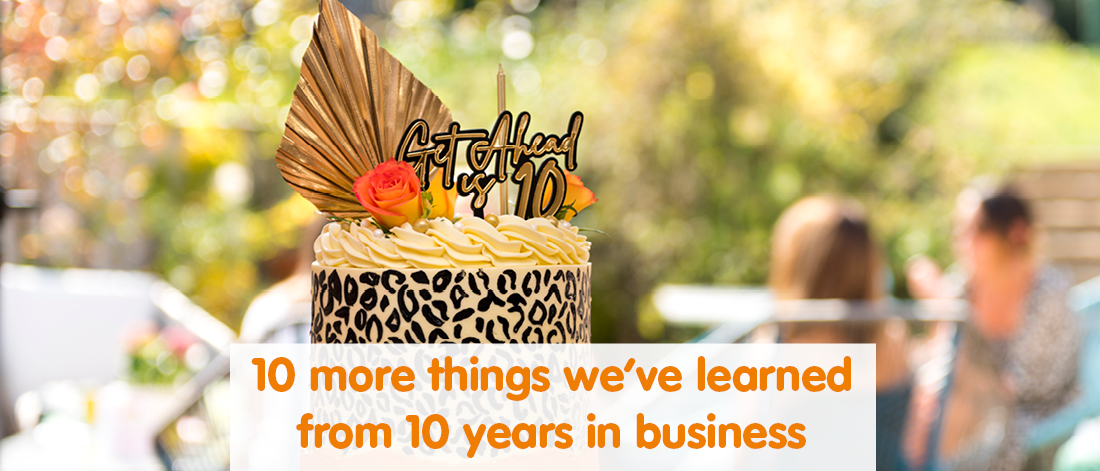 A couple of weeks ago, as part of Get Ahead VA's 10th business birthday celebrations, we asked our team of Regional Directors what they've learned about being in business over the years, and we shared all their great tips in our '10 things we've learned from 10 years in business' post.
Well, they gave us so much good advice that we're back with another 10 things we've learned over the past decade! Whether you're just starting out, or you've been running your business for a while, we hope you'll find something useful here.
1. Be prepared
A big part of making a success of any project is to do plenty of preparation. Before starting any new venture, we recommend taking some time plan it out in detail, and speak to as many people as you can who have done it before you and can share their knowledge.
2. Get organised
Organisation is a key skill for any business owner, and you will know the methods that best work for you. A very important one is to set objectives, and you should also break them down into manageable steps and make to-do lists, with deadlines, to make sure all the work gets done.
3. Be consistent
Building a good reputation for your business relies on being consistent – that means delivering consistently good work, over and over again. You should also be consistent in your business relationships: you need to show up regularly and reliably to be remembered!
4. Engage through social media
With that in mind, make sure you regularly connect with your network through social media – be it Twitter, Facebook or LinkedIn – and take a genuine interest in them and the work they're doing. Regular, meaningful contact is the best way to build relationships that will last.
5. Remember clients are king
Your business runs on your clients and customers, and you need to keep them happy – so always remember to listen to them! Give them clear ways to contact you if they need to, and try to make sure you're meeting their needs.
6. Balance your marketing
There's no one-size-fits-all approach to marketing a business, and you will need to try lots of different techniques to find out what works for you. Try to mix up your marketing methods (e.g. social media, email marketing, printed flyers) and see what gets you the best response.
7. Use good software
Your business needs good-quality software, because having efficient systems will save you time, money and frustration! We recommend Xero for online accounting, Receipt Bank for storing receipts and invoices, MinuteDock for time tracking and Hubspot for your marketing and sales. 
8. Embrace change
Once you've settled on a way of doing things, you might find that you fall into a bit of a rut. Of course, it's good to have a routine, but if you feel like your business is stagnating, shake it up a bit. Always be on the lookout for new ideas and exciting opportunities!
9. Do what you love
In order to keep your business going in the long term, you need to enjoy what you do. This doesn't mean every little job has to thrill you (you can always outsource the work that you find draining or difficult), but you should always hang on to that core passion that got you started in the first place.
10. Ask for help
You won't be able to do everything yourself when you're running a business, so don't be afraid to ask for help if you need it, and make sure you always know where to go to get reliable, professional support. Get Ahead VA's team of virtual assistants offer all kinds of business support, from email marketing to social media management to bookkeeping. To find out how we can support you, get in touch today on 01483 332 230, or email office@getaheadva.com.
---
---