Why you didn't achieve your goal…and what to do about it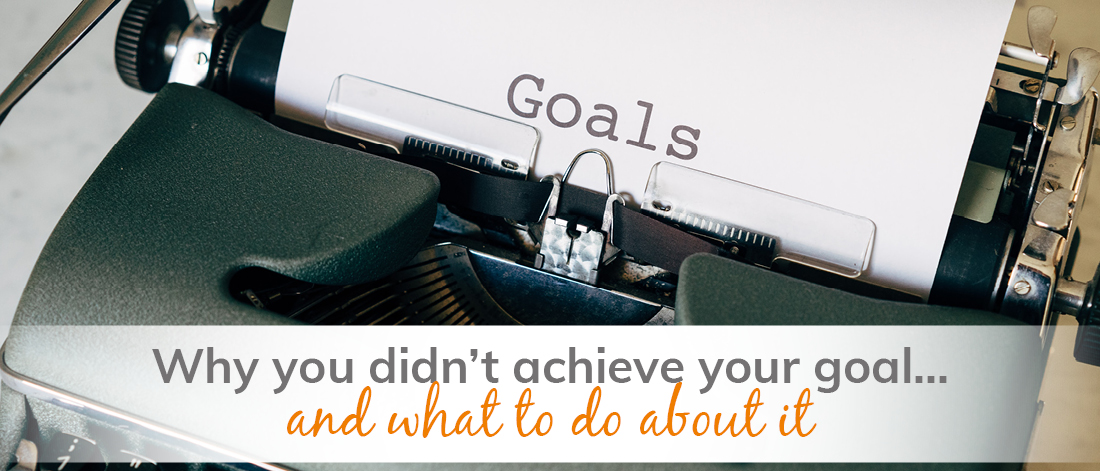 Having the ambition to work for yourself shows an excellent attitude and one that it likely to succeed. To harness that ambition before it goes stale, it's important to define business goals to keep you on track. But what happens when you don't achieve your goal? How do you stay motivated and moving in the right direction?
If this happens to you, it's important to stay strong, turn negatives into positives and find opportunities for improvement. Here are some questions to ask yourself and your team:
Was the goal SMART?
A SMART goal is specific, measurable, achievable, realistic and time-bound. If you didn't define your goal in this way, you might have set yourself an impossible task. For example, if your goal was simply "to double your social media followers" you might have aimed too high, so your goal was not achievable. Or perhaps you doubled your Facebook followers but haven't got much traction on LinkedIn, highlighting that your goal was not specific.
If you reconsider your goal and notice that it's not SMART, rewrite it so that it is. The social media goal might become: "increase followers by X% on LinkedIn by the end of Q4." One of our social media experts can help you come up with a realistic percentage and timescale, to ensure that your goal is achievable.
Did I have everything in place to achieve my goal?
Sometimes, we set goals with the best of intentions, but we don't have what we need to deliver on them. For example, if your goal is to develop the business and find new clients, but you're spending all your time doing basic admin and customer care, you're never going to achieve it.
In this case, it's important to put the right tools in place to achieve the goal. If you're working alone, it can be hard to pursue new leads at the same time as keeping on top of the existing workload. If that's the case, consider outsourcing or building on existing relationships so you're not spread too thinly.
What positives can I take from not achieving my goal?
Not achieving your goal is disappointing, but remember that mistakes are learning opportunities too. Try not to feel too down on yourself, or let your frustration stop you from moving forward. If not making the goal has highlighted an area where you need more support, putting that support in place will help you to grow your business. This could help you not only achieve your goal, but continue on an upward trajectory and achieve even more than you expected to.
Become a Get Ahead franchisee
Get Ahead is always looking for motivated people-managers to lead its regional offices. We love setting company-wide goals to keep us on track, but our regional directors also set their own goals according to local need. When you join Get Ahead, you'll find that the franchisees are their own support network, helping each other to reach their goals. You'll also be able to harness the power of our virtual experts, outsourcing anything that you don't have time to do yourself and setting a great example to your clients too.
Find out more about becoming a Get Ahead franchisee here.
Find out more about our services or call 01483 332 220 to discuss in more detail.
---
---