Why do web agencies outsource back-office support?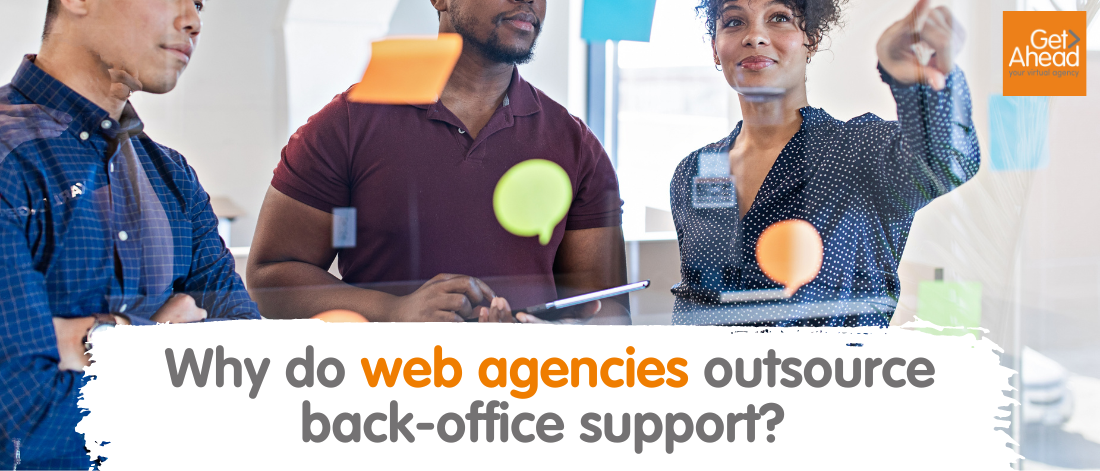 Get Ahead exists to provide back-office support for busy businesses. Since our foundation in 2010, we've supported a wide variety of businesses, including web and digital agencies. As an agency ourselves, we understand the importance of a consistent culture throughout the organisation, even when the work is delivered remotely.
In this blog, we look at what kind of work digital agencies might choose to outsource and how it could benefit the business as a whole.
What back-office work can web agencies outsource?
Get Ahead is an agency with over fifty virtual assistants and virtual experts. This virtual team deliver almost any back-office support service you can think of, from research to social media, bookkeeping to data management and a lot more besides.
Our services divide into marketing, business support, virtual assistants, online events management (e.g. Zoom conferences) and social media management. Many of the team members have additional experience so if you don't see what you're looking for, please ask anyway.
Our regional directors use the Circle communication platform to connect with the virtual team members and source the expertise you require.
How does outsourcing benefit web and digital agencies?
However experienced a business owner you are, there will always be jobs you like more than others. The tasks you dislike are the ones you'll procrastinate about. Perhaps they aren't your strongest areas either, meaning you might not complete those tasks to a high enough standard.
You might also find that you simply don't have time to do all the jobs on your list. Perhaps you started your agency because you're a fantastic web designer…but if you're spending your hours sending invoices, managing client relationships and everything else that goes into running a successful business, when will you find the time to create a stunning online presence for your clients?
Fortunately, when you outsource those additional, necessary tasks, you'll find you have more time to spend on your core business. You can offer a better standard of work, and accept more jobs because outsourcing your social media, for example, will create more free time in your work diary. And if you've been feeling the pressure and you'd like to manage your hours better, outsourcing can help reduce the stress and give you your life back.
Outsource to Get Ahead
Outsourcing to Get Ahead is a great way for web agencies to win some time back. Wherever you are in the UK, Australia or New Zealand, your local regional director can help you identify which tasks it would benefit you to outsource. In addition to finding ways of taking the pressure off, your local regional director can also create a solution around your needs and budget. You can expand or reduce the service you use at any time, because you're not tied into a long contract.
To find out more about how outsourcing to Get Ahead could help you expand your business or improve your work/life harmony, explore our site or contact your local regional director today.
Find out more about our services or call 01483 332 220 to discuss in more detail.
---
---