What is strategic goal setting and how can lead generation services help?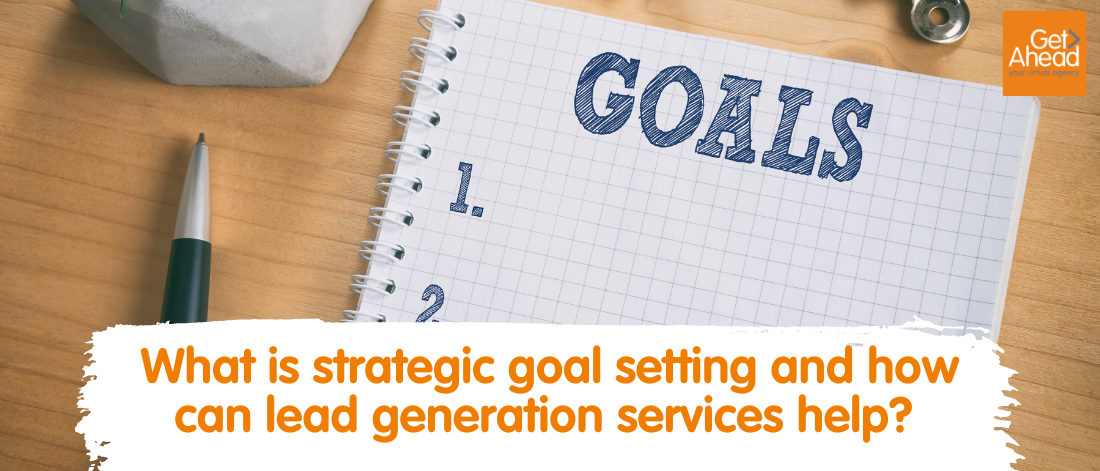 As we look ahead to the New Year, we can start to plan our next steps for business growth. Part of this process is breaking down an overall priority into strategic goals and identifying what your business needs to achieve them. This might be anything from moving to a new premises to using an outsourced lead generation service, but the important thing is to identify it and act on it.
In this blog, we take a closer look at strategic goals, how to write them and how Get Ahead can help you achieve them.
What is a strategic goal?
A strategic goal is any goal – financial or non-financial – that helps you achieve your overall target. Sometimes, it can be easy for C-level leaders to set broad, ambitious targets, but it will be up to middle managers to break down their contribution into specific goals.
For example, the executive board might make it a strategic priority to achieve a certain increase in market share by the end of the first quarter. This has different implications for the teams that make up the business.
If you work in the marketing team, your strategic goal might be to increase conversion rates. In the bigger picture, converting more leads helps the business increase its market share and achieve its strategic priority.
And if you work in the product development team, your strategic goal might be to come up with a new product to broaden your appeal and reach new customers.
In web development, your strategic goal might be to improve the user experience in a particular way to boost customer loyalty and increase sales.
The sales team might be looking to increase leads by a certain percentage, thereby increasing the business' market share.
Whatever your area of business, you can set strategic goals to feed into strategic priorities.
How do we measure goals?
Strategic goals should always be SMART, which stands for specific, measurable, attainable, relevant and time bound.
Businesses have adopted this approach to help them stay focused. It is also easier to lead your team if you know what direction they are supposed to be going in!
In the example above, the sales team have to generate more leads. Their manager should put a specific figure on the number of leads they should generate. They should decide how to measure this – whether it's the number of leads who become prospects, or simply the number the team contacts.
The number the manager chooses should be attainable. This is because, when a goal is achieved, everyone feels motivated to keep going and build on the success.
A strategic goal is always relevant because it feeds into the business' overall priority. All the same, it's a good idea to check your goal for relevancy so you can be sure you've chosen the right one.
Goals need to be time bound otherwise they are not meaningful. Over time, any business will either increase its sales or dwindle to nothing. This means it's important that the sales team in our example is given a time by which they should increase the number of leads (with the number of leads having been decided under "measurable").
Lead generation services and strategy support for businesses
Whether you need support with creating goals and strategies, or delivering on them, we can help. We can facilitate strategy meetings, create campaigns, provide lead generation services or other outsourced business support to help you meet your goals and take your business to where it needs to be.
To find out more, contact your local Get Ahead regional director here.
Find out more about our services or call 01483 332 220 to discuss in more detail.
---
---