What are the advantages of working with a virtual PA?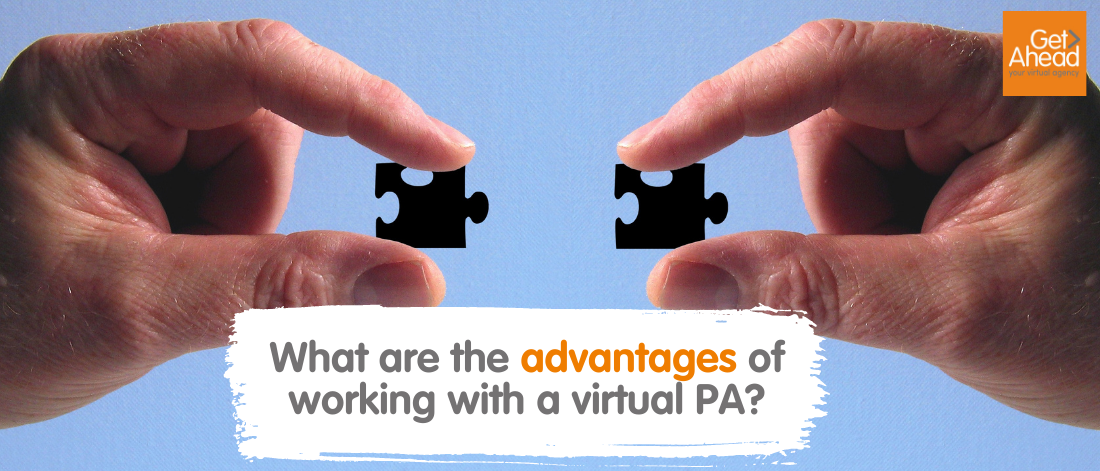 As outsourcing experts and flexibility champions, the team at Get Ahead can see many reasons why delegating admin to a virtual PA (also known as a virtual assistant) is great for your business. It's worth noting that we outsource our admin to our own remote team, doing just what we recommend to our clients and reaping the same benefits.
Here are the top reasons working with a VA is an efficient solution for your business.
Value for money
One of the most important aspects of any business is the bottom line, and employees can be expensive. However, business owners who work with VAs don't have to cover sick pay or annual leave. They don't have to provide facilities like a kitchen or staff room. The VA uses their own desk, phone contract and internet connection to deliver the work you need. For an employer, this translates into dramatic savings which can be ploughed back into the business.
Find out more about the financial advantages of working with a VA here.
Only use a VA when you need to
Depending on the size of your business, you may not need your virtual PA to work full-time hours. Of course, you could employ someone in-house on a part-time basis, but even if you experience a very busy or a very quiet week, you're still committed to the hours in their contract.
However, an advantage of working with a remote VA is that they only work the hours you need them to. Your VA is as flexible as you are! They can do more or less work as your business demands.
A long-term solution
While some businesses outsource their admin to Get Ahead while they're in the start-up phase, many continue to use our services even when their business is fully established. This is because it's a scalable solution, and your virtual assistant can increase their hours and responsibilities in line with the needs of your business.
The best person for the job
People embark on admin jobs for a variety of reasons. For example, some people only apply to be administrators because they want to get a start in your industry, hopeful that they'll carve out a career for themselves in future.
But our admin assistants are different. They are all expert administrators, choosing to do the tasks they love. Instead of being industry-focused in their career development, they choose to develop their expertise, becoming masters at diary management, databases, email automation and other responsibilities. This means that Get Ahead's VAs are some of the most efficient administrators and personal assistants you'll ever meet, consistently delivering work of a very high standard.
Admin support for small businesses
We love helping businesses reach their goals. To find out more about how VAs from Get Ahead can help you stay on top of your admin and save your business money, explore our site today – you can give us a call whenever you're ready!
Find out more about our services or call 01483 332 220 to discuss in more detail.
---
---