Use awareness days, promotions and holidays to market your small business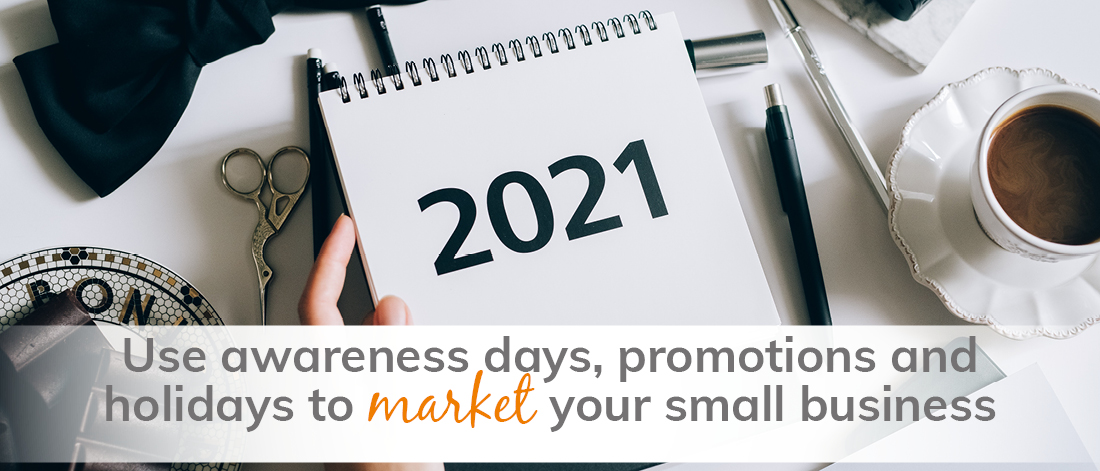 Awareness days, holidays and promotional days all present great marketing opportunities. You can join in with hashtags on social media, or leverage the enthusiasm generated by Google's doodles. Offline, you can take advantage of the general holiday atmosphere and market your business in line with Christmas or Halloween.
Here are some ideas!
Awareness days
There are loads of awareness days throughout the year. They have usually been created by a particular charity or industry to highlight a particular issue. Some carry a serious, far-reaching message, like Mental Health Awareness Day, while others are more light-hearted, like National Curry Week.
Depending on your industry, you might find some awareness days are more relevant than others. Businesses across all sectors mark Mental Health Awareness Day, as our knowledge of mental health issues increases. Many of us want to reflect this knowledge in our marketing, demonstrating to customers, clients and employees that we are open-minded, flexible and caring.
National Curry Week, on the other hand, will probably only be relevant to those in catering, food supply, hospitality and perhaps travel. Its relatively narrow reach is not a reason not to celebrate it, however – you might even get more engagement because you're part of a smaller group.
There are lots of ways to join in with an awareness day, but the most effective ones are usually digital. You could share posts on social media (we are getting behind #thislittlegirlisme at the moment), or write a blog discussing the topic and why it's important to your business.
Join in with promotional days
The two main retail promotions of the year are Black Friday and Cyber Monday, which take place at the end of November. Many retailers offer incredible discounts and many consumers wait for Black Friday and Cyber Monday if they're planning a big purchase.
B2B businesses can take advantage too. Of course, there's the option to run Black Friday promotions on the goods and services they offer. But the retail sector will need its B2B support more than ever during the pre-Christmas shopping frenzy, so B2B businesses should consider marketing their services to align with that need.
Market your business at Christmas and Halloween
Halloween and Christmas both fall within the last quarter of the year, and present some great opportunities for marketing and promotions. It's important to harness the power of holidays in the right way for your business. Retail businesses can sell seasonal items, but businesses across all industries can jump in too, sharing photos online of their decorated offices and crazy costumes.
Christmas is a busy time for the retails and hospitality sectors, but those who support those sectors will also be busy. At Get Ahead, for example, our marketing team are busy creating graphics for clients' Christmas promotions, and composing newsletters to encourage Christmas bookings for our hospitality contacts.
Marketing support for small businesses
If you know you should be tapping into awareness days and doing more to promote your business, we can help. Our experienced marketing experts can find the right angle for your business, and create exciting content to help you connect with customers and clients. To find out more, have a look at our marketing page here.
Find out more about our services or call 01483 332 220 to discuss in more detail.
---
---