Update your CV with LinkedIn Resume Assistant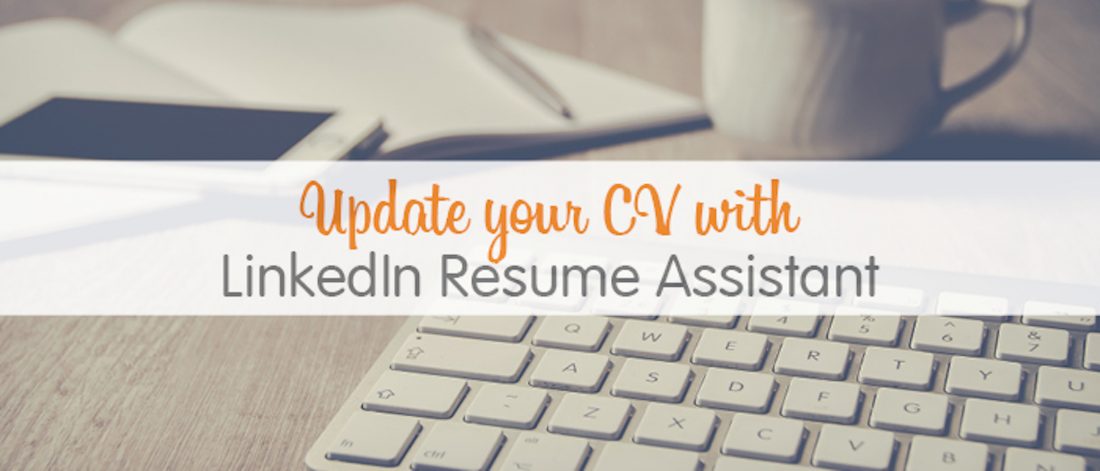 Last year, LinkedIn launched a new program in collaboration with Microsoft Word: Resume Assistant. This gives you a new way to look at LinkedIn Jobs, through a Word document, so that you can check job recommendations and profile information whilst editing your CV or job posting.
Although the Resume Assistant has not yet been rolled out in all countries, once it arrives in the UK it will be a useful tool for anybody who regularly uses the Jobs section of LinkedIn, whether to apply for new positions, to find candidates for jobs, or to research skills and qualifications. Interested in learning more? Here's all you need to know about LinkedIn Resume Assistant, so you can be ready when it arrives.
What does Resume Assistant do?
Resume Assistant collates information from thousands of public LinkedIn profiles and displays it in Microsoft Word, to help you craft a relevant CV for your field and to customise your CV to suit specific jobs or employers. If you are an employer, you can use Resume Assistant to help you write job postings and get them noticed. Through Resume Assistant you can search by job title and see the skills and work experience most commonly associated with that job role, so you will know what to include in your CV or job posting. The Assistant can also suggest available jobs you might wish to apply for based on your searches, and you can view detailed job descriptions, let recruiters know you're looking for work, and even share your career goals on LinkedIn.
How do I use Resume Assistant?
If Resume Assistant is available to you (more on this below), you can access it on the 'Review' panel of Microsoft Word. When you run the Assistant it will appear as a sidebar next to your document, so you can carry out your searches without losing sight of what you're working on. All the information in the Assistant comes from public LinkedIn profiles, but it is anonymous, so you won't be able to identify individuals from what you see. Similarly, any information on your public LinkedIn profile will automatically be included, but you can opt out of this if you wish.
How do I get Resume Assistant?
Resume Assistant is only compatible with Word 2016 for Windows, and you must have an Office 365 subscription and the latest version of Office to use it. Your location will also make a difference to whether you can access the program. Currently Resume Assistant is not available in the UK, but it should be rolled out to this market soon. It is available in other English-speaking countries, including Australia, Canada, New Zealand and the United States (you can read the full list of compatible countries on the Microsoft Office help page).
---
In the meantime, if you need assistance with writing a CV or job posting, we have virtual assistants who can help. Please give Get Ahead VA a call on 01483 332220 or email us at office@getaheadva.com. We pride ourselves on being the staff you don't see, but the difference you do.
Find out more about our services or call 01483 332 220 to discuss in more detail.
---
---