Three reasons why video should be part of your business's marketing strategy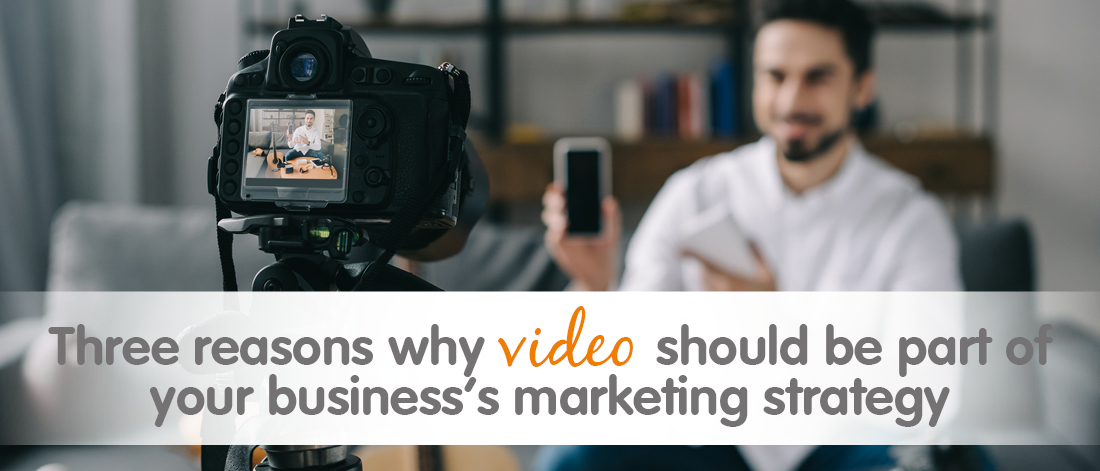 Video is a great marketing tool with many different applications. The human brain naturally absorbs information from watching and listening, as demonstrated by the incredible statistics we see for social media posts that feature video.
In this blog, we look at the three key reasons your business should be recording and sharing videos.
Join the successful trend for video
Video is a trend that's here to stay, but don't just take our word for it. In a recent roundup of social media marketing statistics, HubSpot identified a number of surprisingly successful video statistics. For example, did you know that video drives the most ad clicks on Facebook? Did you know that videos see 21% more interaction on Instagram, compared to single photos? And did you know that, after Google, YouTube is the largest search engine?
These are trends you should be taking advantage of. When you start sharing videos, you could well see an improvement in your online campaigns. Your interactions are likely to increase and could drive more conversions.
Variety of style and content
There are lots of ways of making a video for your business. One of the most successful is to set up a camera in your office and talk professionally about your expertise. Keep these videos running smoothly by using an app like Teleprompter. But the opposite can be very successful as well – just whip your phone out and record your feelings about your industry, or even how it's affected by current affairs. The formal and informal approaches appeal to different people, depending on whether they relate better to professionalism or authenticity.
You can make videos about a lot of different things, and in a number of different formats. Virtual meetings software is opening up the possibility of making videos out of Zoom recordings – the ideal way to present an interview. Business owners can make fun videos for Christmas or informative ones about the latest industry developments, share back-to-basics tips or showcase a new product, service or venue. You can even create subtitles using rev.com. The possibilities are endless – it's easy to see why video is the most popular medium for online communication.
 The ideal format for engaging users
If you've ever tried to read a book when the TV is on, you'll know that video is a more powerful medium than the written word. Research shows that viewers retain 95% of information when it was conveyed to them via video, compared to just 10% of the information they read. So if you want your potential clients to engage with your content, listen to what you have to say and turn into paying customers, video is the answer.
We've seen some great success with our videos on social media recently, and we hope you will too! We are adding to our YouTube page all the time – please consider subscribing so you can keep up to date with our content!
Find out more about our services or call 01483 332 220 to discuss in more detail.
---
---