Onboarding – getting started with a new virtual assistant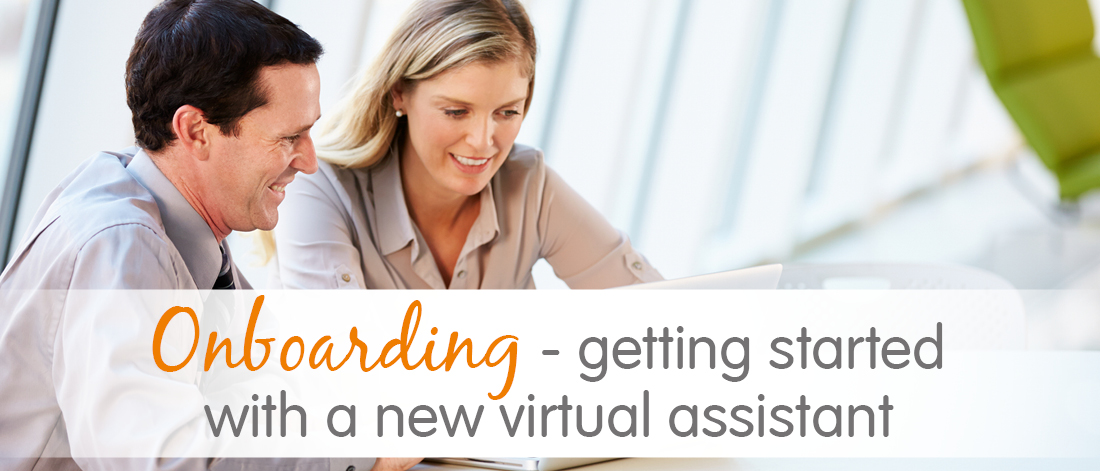 We are great believers in outsourcing, but how do you get from knowing you need to outsource something, to actually having someone else complete that task for you? How does the outsourcing process work?
Contact your local regional director to discuss your needs
The first step is to get in touch with us. If you know you're struggling to keep on top of things, but you're not quite sure what you need, that is absolutely fine. Our experienced regional directors (RDs) can help you unpick the challenges you're facing, and help you find ways to address them. For example, if your files are in a mess, you might need a virtual assistant to organise them on a regular basis, providing an hour each week to keep you up to date. Alternatively, the better solution might to change your system so it's easier for you to use yourself – that would be a one-off project for a virtual assistant. The RD can help you decide.
Equally, you might know exactly what support you need. If that's the case, a phone call to one of the regional directors will start the ball rolling, and you could have your support in place within the week, or even within one day.
If you decide to go ahead and use the services of one of our virtual assistants or virtual experts, the RD you're working with will send you a contract for you to sign and return.
In the meantime, the RD will be contacting the team of VAs to find out who is available to work with you. Sometimes, the RD has a particular VA in mind and will contact them directly. If you are outsourcing a task that the RD has no direct experience in, they will also ask the team member for their professional opinion. For example, the RD might ask a graphic designer how many hours it would take to design a four-page brochure.
These conversations behind the scenes mean that, as soon as you sign the contract, the VA is ready to start work.
In most cases, clients meet their new VA either face to face or via a telephone or Zoom call. However, some clients prefer to work through the regional director and not to deal directly with the VA at all. There are advantages of both methods and the RD will help you find the one that is right for you.
Your call or meeting is your opportunity to tell your VA exactly what you need from them. This is called a "discovery call" and depending on the job, you will discuss time frames, the amount of work The VAs are all very experienced and can ask you questions to help you order your thoughts and pinpoint exactly how you would like the tasks to be done. The VAs are also very good at slotting into new teams and aligning themselves with your company ethos.
If you have engaged with all of the first steps, working with your new VA should go smoothly. All our VAs are excellent communicators – they are all used to swapping between teams and are confident about using their initiative and asking questions! Please don't be afraid to give feedback as it helps the VA to work better and provide the right support to help your business grow.
If, for any reason, you feel the VA is wrong for your business, please just let your RD know. We can easily find a different person within our team, with the same skills, who might be a better fit.
We have been matching virtual assistants and virtual experts with businesses for over a decade. Whether you know exactly what you want to outsource, or you just know you need help, please get in touch so our VAs can help you get back on track.
Find out more about our services or call 01483 332 220 to discuss in more detail.
---
---