Long term remote working – five ways to make it work for your business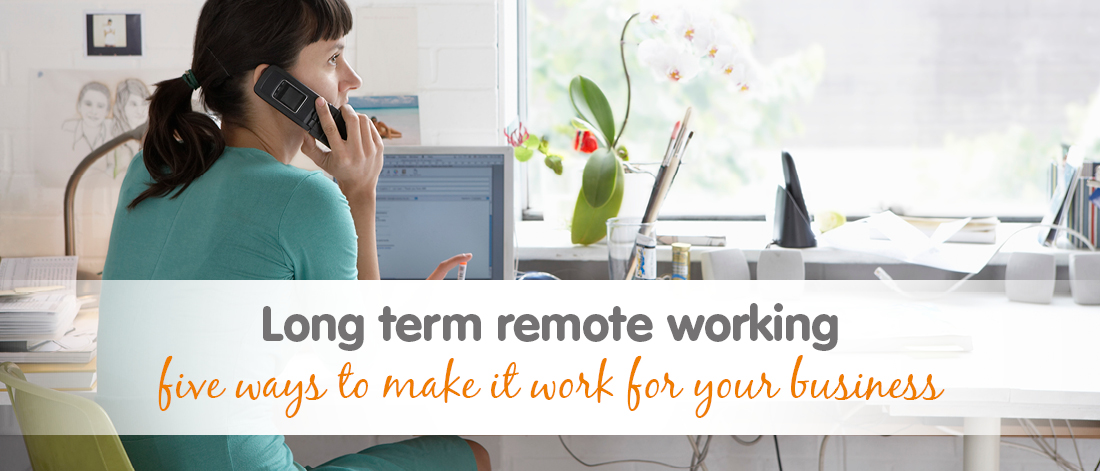 We're all starting to acknowledge that Lockdown 3.0 is different from the other two. Last year, we were winging it; now, we're accepting a new normal. Many workers are finding working from home has improved their quality of life, saving them a commute and allowing them to see more of their families. And as we've spent nearly a year in and out of covid-19 restrictions, homeworking seems to be the solution to a number of different problems.
In this blog, we look at how you can make homeworking work for your business.
Be positive and proactive about homeworking
While most homeworkers have enjoyed their newfound freedom, line managers have been under pressure to solve problems that have never arisen before. These might be cultural issues like communication and team work, or practical ones like cybersecurity across countless addresses. However, these shouldn't be seen as barriers to homeworking. This because firstly, these kinds of problems only arise once, when people first start homeworking. Secondly, as homeworking is here to stay, we must embrace it as a norm instead of seeing it as a stopgap.
Homeworking isn't just about Zoom or Microsoft Teams. We all know by now that we haven't just taken our workplace and put it all online – it's more subtle and more people-led than that. Your business needs the right people to take it to the next level, and acknowledging who those people are and how they work is vital to overall success. The human spark, the relationships between team members, are key to getting projects finished even when we are in different locations. For more ideas on how to manage a team of remote workers, check out our blog here.
Give your remote workers the right tech support
Your team of homeworkers may be using different technology from what they're used to. If you were using an emergency IT solution but you've changed to a permanent one, it's important that all your staff are fully trained in how to use it and get the best from it. It's also important to get the right level of cybersecurity in place, as team members using their own devices to work from home can create vulnerabilities in your network.
Attract the right homeworking staff members
We have now been living with pandemic restrictions for about ten months, and teh chances are you'll have experienced some staff turnover. Good staff are essential to the success of your business, so you want to attract strong team members. It's important to establish an attractive homeworking package, including the right software and support, to make sure the best people in your industry apply to work with you.
Remote working affects your clients too
Your clients have a different experience of your business when the team is working from home. Studies show that many customers and clients have changed who they do business with since the start of the pandemic. This is to do with the overall experience: a company that gives a seamless service even with a team of homeworkers is going to have better client retention than one that falls apart. Businesses who are winning at homeworking are going to out-compete those that are not.
The Get Ahead team have been homeworking for ten years, not ten months, and we can honestly say it works for us! To find out how we can help your business, get in touch today on 01483 332 220.
Find out more about our services or call 01483 332 220 to discuss in more detail.
---
---