Landing pages and automated newsletters – how a VA can help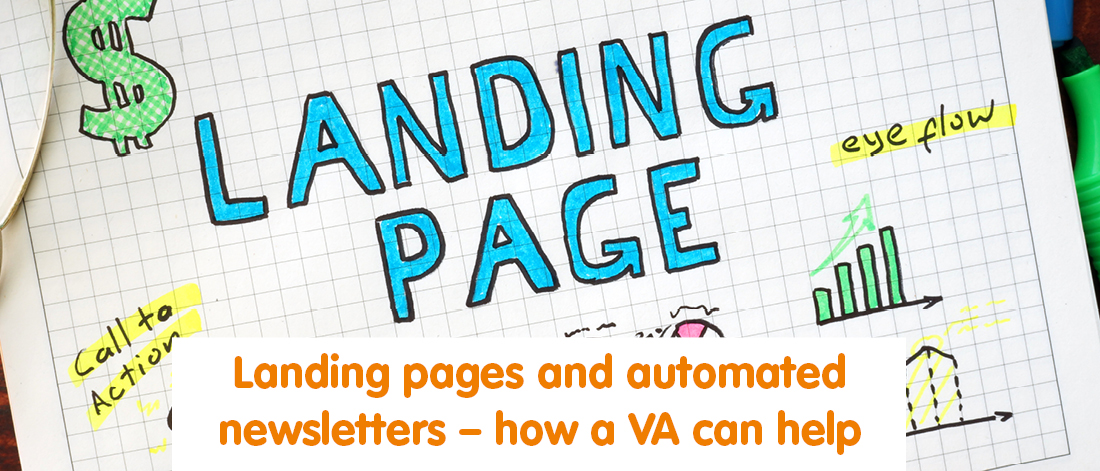 Our West Yorkshire franchise has recently had a number of requests for support with landing pages and newsletter automation. Landing pages are great for increasing conversions, and newsletters are a great communication tool. Best of all, once your automation is set up, it's easy for you, your team or your virtual assistant to run email marketing campaigns without having to start from scratch each time.
In this blog, we look more at landing pages and automated newsletters, and how virtual assistants can help you.
What is a landing page and how does it support email marketing?
A landing page is a page of your website where visitors can be directed from search engines and social media. As a business owner, you can choose whether you want Google to direct users to the wealth of information on your homepage, or to a focused, campaign-specific landing page. This will often depend on what search term a person keyed in. For example, if you are keen to expand the consultancy side of your business, you might create a landing page that will appear when people search for consultancy services in your industry, rather than when they search for your products. Once someone has arrived at your landing page, they will be invited to sign up for your consultancy newsletter, which won't go out to your retail clients.
The landing page can be designed so that when someone fills in their details, those details automatically get picked up by your newsletter software (e.g. Mailchimp).
How can a VA help with landing pages and automated newsletters?
Have you ever found yourself presented with a "solution" that, for you, is as time consuming as the problem? For example, you might have assembled your mailing list from your collection of business cards, and spent time manually typing them into the "to" bar on Outlook. You know you should automate it, but you don't know how, and what is more, learning how will take you longer than doing it manually.
That's where VAs come in. We have experts in landing page design, using platforms such as Leadpages, as well as VAs who specialise in automatic mailouts and know Mailchimp inside and out. Outsource your landing page design and newsletter automation to us then get back to your core business.
There are many great jobs to outsource to a VA and this is one of them – the initial set-up will take some time, but once it's established, it's a small job to upload the wording of your newsletter to the email software every week. Because VAs can do as much or as little as you need them to, they're the ideal solution for this pattern of work.
To find out how virtual assistants can support your business with landing pages, automated newsletters or any other aspect of office work, get in touch today on 01483 332 220.
Find out more about our services or call 01483 332 220 to discuss in more detail.
---
---