How to work out what to charge for services – some do's and don'ts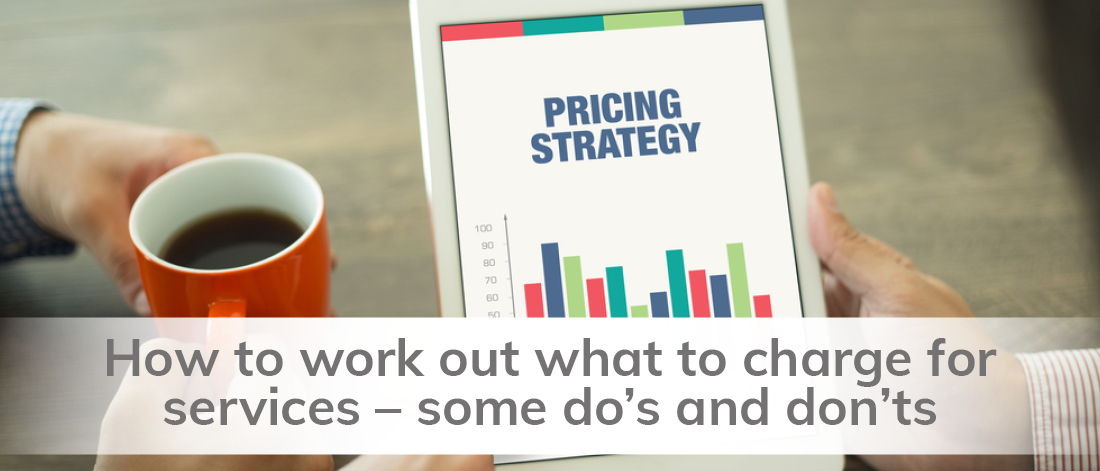 If you've just set up your business, or you're offering a new service, it can be difficult to know how to price your offering. You don't want to rip off your customers…but you don't want to rip yourself off either. Working out what to charge for services can be very complex, so we've put together some do's and don'ts to point you in the right direction.
Do your maths
Many people set up on their own in the same field they worked in as an employee. To keep the same salary (or earn a bit more!) divide by 52 to get your week's rate. Your industry might be one of day rates or hourly rates, or you might charge per project. Use your week's rate to guide you.
Don't just divide your weekly rate by 40
In our experience, simply dividing your week's rate by 40 to get your hourly rate can leave you out of pocket. This is because most of us don't actually work forty hours a week – real life tends to get in the way. This isn't noticeable when you are paid a salary, but if you're keeping a time sheet, it will be shockingly clear! Instead, consider dividing by 25.
Do charge the going rate for your sector
While it can be tempting to test whether someone would pay you above the usual rate for your accounting, business coaching or event organising skills, it's a gamble. Most people who are calling in a new service do their homework and get several quotes before they commit. If you are going to charge an above-average rate, be prepared to defend it and explain what else you do that makes it worth the extra.
Don't undersell yourself
On the other hand, it's important not to be too cheap. This is because cheapness can set alarm bells ringing – what corners are you cutting? What's the catch?
In addition, you might be undermining others in your industry. If you let your clients think that a rock-bottom rate is acceptable, they might balk at paying a decent rate to your fellow professionals in future.
Mates' rates are also a bad idea, and can hold up projects. With the best will in the world, no one prioritises the work that doesn't pay properly. If you must work for friends, do a good job and charge for services at your usual rate – the job will get finished and your friendship is more likely to survive too.
Do remember other factors when you charge for services
Your rate might not be just about your time. You might have expenses like software licenses, premises, travel and equipment. Remember to add these to your basic rate so you meet all your overheads.
Consider too your experience and knowledge. If you're an expert in your field, reflect that in your price.
Lastly, consider what value your expertise has to your customers and clients. For example, if you're an employment lawyer, your clients want to feel confident they're getting the right advice. For that reason, they'd rather pay more to know they won't find themselves in an industrial tribunal. Similarly, if your client springs a tight time frame on you, you could charge more for working at speed to enable them to meet their deadline.
Support for small businesses
We love supporting small businesses, whether you're just starting out or you're highly experienced. To find out more about outsourcing to us, visit our business services page here.
And if you want to work for yourself but not by yourself, you could be our next franchisee! Find out more here.
Find out more about our services or call 01483 332 220 to discuss in more detail.
---
---