Four barriers to delegation…and how to overcome them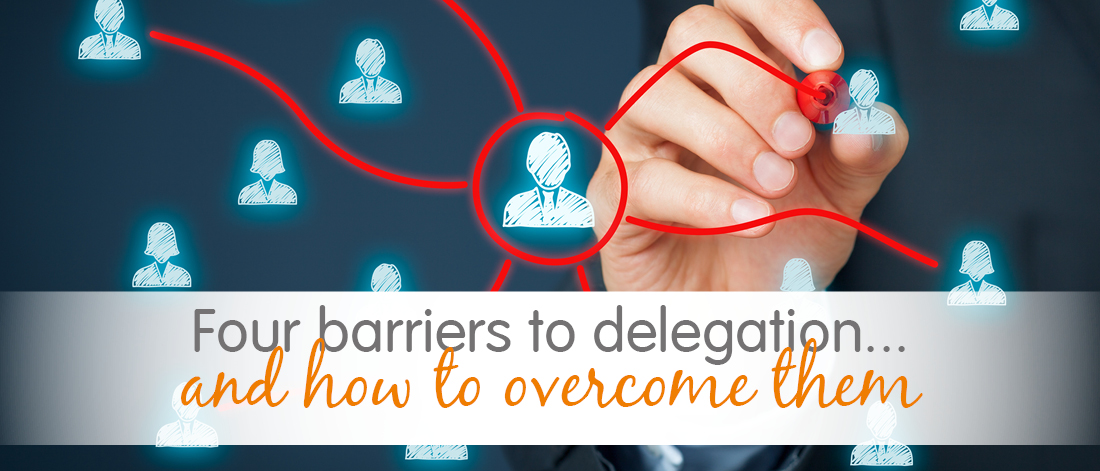 Delegating is the key to working smarter and building a business. Without delegating, we can only go so far. Some business owners delegate to a colleague, but we are firm believers that delegating to a virtual assistant can also achieve great results for any business.
Over the years, we've learned that some business owners struggle with delegation. Fortunately, we've also come to understand the barriers to outsourcing and delegation. In this blog, we identify those barriers and share our ideas for how business owners can change their mindsets and use delegation to move their organisations forward.
A common challenge faced by business owners is learning to trust others. For many, their business is their baby, and they can't imagine that other people will give it the care and attention they would themselves.
While drive and passion are important for any successful business, we must keep them in proportion in order to be successful. We need to understand that although other people might not feel exactly as we do about our business, that doesn't mean they won't produce good work.
A great way to begin to trust others is to think of ourselves influencing rather than controlling them. We can influence the quality of the work by educating the person we're delegating to, and sharing information so that they can find the answers they need. Because this information comes from us, it will be right – ultimately, we can trust the person we've delegated to, to work to the standard we'd expect.
Believing it's quicker to do it ourselves
Educating another person to carry out a task often seems like a waste of time, but keeping the task to ourselves can be false economy. In the long run, educating others, sharing information or writing a brief is a sound investment of time because it enables us to delegate. When we delegate, we pass on tasks so we can win back time, either to focus on an important aspect of the business, or to recharge our batteries.
In the long run, we usually see a good return on our time investment when we've shown someone else how to do the filing, accounts or website updates.
Difficulties finding the right skill set
If a business owner has, say, three tasks to delegate and each one takes an hour per week, it would make sense to pay someone to work half a day a week for the company. However, these tasks might be accounts, social media and cold calling – it will be difficult to find someone who is good at all three. This means that these responsibilities tend to remain on the business owner's desk.
Fortunately, a virtual assistant agency can solve the problem. A business owner might outsource each task to a different person, each an expert in their field, and managed by the agency. Best of all, agency clients only pay for the hours they need, so nothing could be simpler than increasing or decreasing the hours as required.
The delegated work won't be good enough
We are all loyal to our own businesses because we set them up. We work hard for them and give them everything we've got. The downside to this is that some business owners struggle to see that someone else would want to work to the same standard, even without that inbuilt company loyalty.
Let us reassure you that they will!
It's important to remember that freelancers have to produce outstanding work, because they have to create their own job security by building client trust. This means that, while they are coming at the job from a different angle, they are no less motivated than the owner of the business is. Find out more about virtual assistants and why they produce higher quality work here.
If you're feeling ready to delegate, we'd love to hear from you! Our experienced team are skilled at slotting into working life with a new business, while our expert regional directors match skills and personalities to ensure the right fit for our clients. To find out more, get in touch on 01483 332 220.
Find out more about our services or call 01483 332 220 to discuss in more detail.
---
---