Flexibility helps small businesses explore new horizons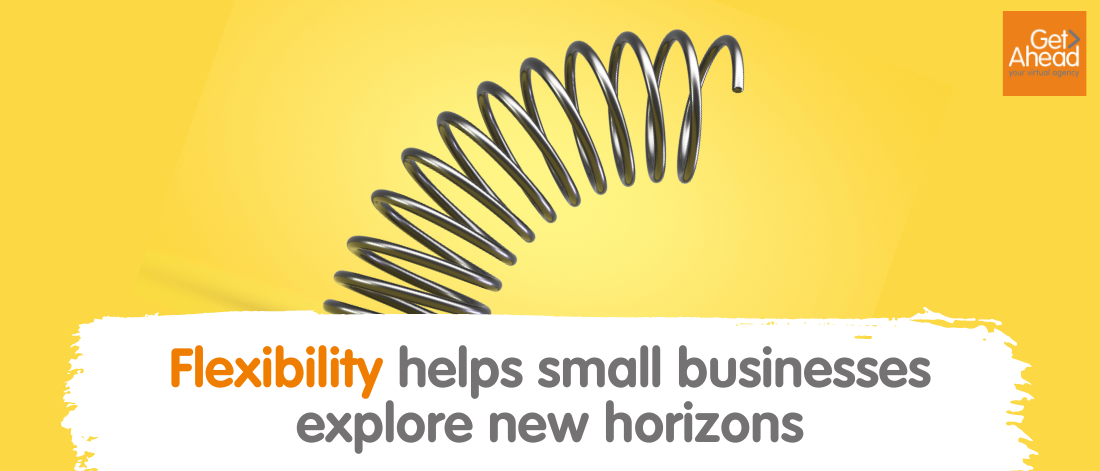 Every business carries an element of risk. If your small business is seeing opportunities to scale up and break into new markets, you might feel cautious about committing to a new product or department. Above all, you'll need a cost-effective method to minimise the gamble you take. However, we believe outsourcing could the solution you're looking for!
In this blog, we explore how flexible outsourcing can help you seize opportunities to take your business in new directions.
Flexible outsourcing helps you launch new products
If you started off selling one product and now you'd like to expand your range, outsourcing can help. When you choose a flexible outsourcing option like Get Ahead, you can dip a toe in the water without feeling forced to commit to expansion.
For example, you might have started off selling handmade goods and now you're thinking about selling craft kits too. Our graphic designers and copywriters can help you create instruction booklets, and our marketing experts can help you launch the product. Our social media managers can shout about your new craft kits in all the relevant Facebook groups and our finance experts can help you budget for the development and take payments for it.
If the new venture is a success, that's great! The outsourced support can grow with your business (find out more about that here).
On the other hand, if it doesn't go to plan, it's still important that you tried it – it's a valuable experience. That said, experience isn't everything and you don't want to pay over the odds for something that didn't get off the ground.
Fortunately, when your new product team is made up of Get Ahead virtual experts, they can simply stop work or change direction as required. This is because you aren't tied into a long contract. And with so many virtual experts in our wider team, nothing could be simpler than changing the personnel to get the outcome you need.
Flexible outsourcing helps you connect with new audiences
If you're planning to reach out to customers and clients in a different geographical area, or you feel your products could have appeal beyond your current market, Get Ahead can support you while you experiment.
We can help you tweak your marketing messages to have a different appeal, and share them in different places where your new audience is more likely to see them.
Best of all, you retain that all-important flexibility while you're testing the waters. We can create a package for you that suits your plans and your budget, and adjust it according to the direction your business travels in.
Flexible outsourcing helps you explore new channels and software
Many business owners start off with basic software or even just a notebook! But as your business grows, you might like to explore more powerful tools to make working life easier.
Our virtual experts can draw on their experience to help you choose the right tools to take your business to the next level. Developers have created software for accounting, social media, customer care, email marketing and more. Our virtual experts can research software as a one-off project, or stick around and use it on your behalf.
This flexible support means you can invest in the right software for your needs, avoiding an expensive mistake. And once you've got the hang of your new application, you'll have the freedom to choose whether to run it yourself or give it to one of our virtual experts to manage.
Flexible support for small businesses
When you're near the beginning of your business journey, you need affordable support than can flex around your changing needs. Get Ahead can help with admin, business development, marketing, social media, event organising and more. Explore our site to find out what we offer, or contact one of our friendly regional directors for an informal chat.
Find out more about our services or call 01483 332 220 to discuss in more detail.
---
---