Five social media hacks for small businesses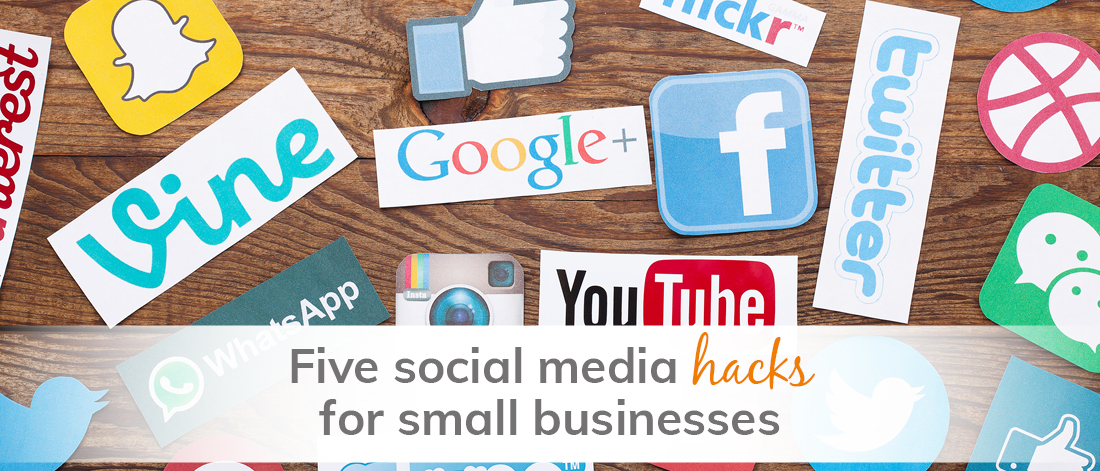 Social media is something we all know we should be using, but many of us don't have time, or don't really see the point. But help is at hand! We have put together some quick ideas to help you see social media differently. We hope this will lead to you using your social media time better, or help you see the possibilities of digital marketing. Read on and good luck!
Think "quality, not quantity" when you create posts
Social media can be overwhelming. All too often, it's a bombardment of success, moaning, advice, advertising and life quotes (both inspiring and nauseating). And when we feel overwhelmed by social media, it can be hard to feel positive about what we're posting.
That's why it's important to be more purposeful in what we share. When we're planning posts, it's important to think about quality, not quantity. It's better to post once a week and share information that really helps your audience, than rattle something off every day just for the sake of it. Low quality posts will make the scheduler look full, but it's important to consider whether they're having any positive effect.
Automate your social media wisely
Using a scheduling tool to automate your social media has really opened up digital marketing for small businesses. Block off time once a month to prepare all your posts, then upload them into your scheduling platform to be posted in a timely fashion.
However, it's important to keep automation in balance and remember to go back and check any interactions. This doesn't mean you have to be on social media all day, replying to every comment as it appears. Instead, allocate a time that works for you to type your replies and interact with other people's posts.
Use short form video
Love it or loathe it, Tik Tok and Instagram reels have changed the way we use video to communicate our messages. Some bloggers are even calling these soundbites "snackable content" (although that makes it sound unhealthy!).
Internet attention spans are short, but that doesn't mean video content can't be highly effective. Examples of short video content include sharing a reaction to something, a quick tip, or a teaser that leaves your audience wanting more. Think about which ones would work for your business.
Recent research indicates that videos uploaded directly to the platform perform best, over and above links to YouTube videos.
Create a social community
Everyone loves to be loved. We all have a tribal instinct – we might show it through supporting a football team, joining a craft group or supporting fellow parents online.
Tapping into this instinct, you can create more engaging social media content by making your audience feel like part of a family. Use a hashtag for your community, and create a sense that it's a group worth belonging to. Ask your "family" for help with ideas, invite them to share their experiences, and encourage them to use your services with special competitions and discount codes.
Measure your performance
Posting on social media is only worthwhile if it's moving your business forward. It's important to look at your stats regularly and keep aspiring to do better. A good start is looking at where you are now, and what kind of posts are most engaging for your audience. Armed with that information, you will know what "better" could look like, and have some idea of how to connect with more people.
Social media packages for small businesses
Social media continues to be one of our most popular services. Whether you need help getting started, or you struggle to post consistently, we can help. We've divided our services into packages to make it even easier for you – find out more here.
Find out more about our services or call 01483 332 220 to discuss in more detail.
---
---