Expert Showcase: Grammarly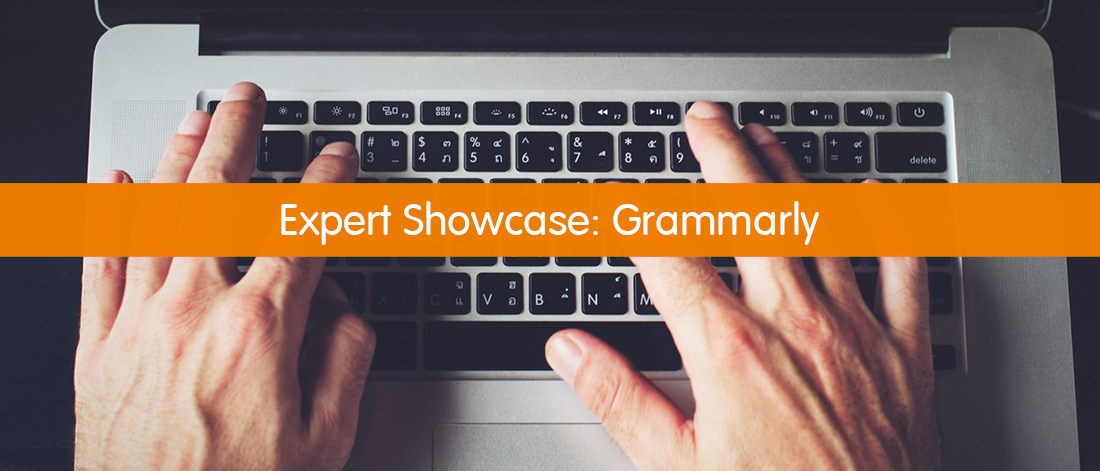 At Get Ahead VA, we're always on the lookout for exciting tools that can make running a business just a little bit easier – that's why, earlier this year, we blogged about some of our favourite apps for business.
Today we're taking a closer look at one of those apps, Grammarly. We'll show you how it can help with your spelling and grammar across multiple platforms, and why our VAs love it!
What is Grammarly?
Grammarly is a spelling and grammar checker that can be used on all your devices; it can be added as an extension to your web browser, or as an app on your phone. It will check everything from missing words and misused commas to repetition and subject–verb agreement, in order to polish your writing and make it even more professional. Corrections are highlighted with a red line and a pop up that suggests the change that needs to be made. The program works nearly everywhere you write online, including on Gmail, Facebook, Twitter and LinkedIn, and it will even send you regular progress reports that will help you to improve your writing over time.
What our VAs think
Quite a few of our virtual assistants use Grammarly. This is what they have to say about it:
"I use it and I love how it works across all platforms, like catching mistakes when I am scheduling in social media updates on Buffer." — Jenny
"I love it for catching really obvious mistakes often down to mistyping when I'm in a rush. I also like the fact that it works across all platforms that wouldn't normally have a spellchecker." — Carrie
Tips for using it
Of course, as with every automated spelling and grammar checker, some care does need to be taken so that it won't introduce any new mistakes. Two of our virtual assistants have some advice for getting the most out of Grammarly.
"My best tip for using Grammarly is to use your judgement. It's really handy for picking up on repeated words or silly grammatical errors, but the free version uses US grammar and spelling conventions, so if you're not careful it can change your writing a bit too much. I wouldn't rely on it for writing content, but it's very handy for idiot-proofing emails and social media posts." — Laura
"It's a good servant but a bad master. Proofreading recently, I came across a grammatically correct (but utterly nonsensical!) sentence about curating furniture. I could not work out what point my client was trying to make … until I realised that Grammarly had corrected a typo to 'curate' when it should have been 'create'. What a good job my client outsourced his proofreading to a human being!" — Charlotte
If you do plan to use Grammarly for bigger writing projects, it's always a good idea to check over the work yourself. Content writing certainly requires a more human touch, but for brushing up emails and social media posts, Grammarly can be an invaluable tool.
Want to learn more about Grammarly? You can find further information on their website.
---
If you need help with content writing and social media for your business, or you simply need someone to take on the tasks you don't have the time or the skills for, Get Ahead VA is happy to help. Our team of highly experienced virtual assistants offer a wide range of business and marketing services, from researching customer prospects through to delivering social media campaigns or simply taking on your admin. Please give us a call on 01483 332220 or email us at office@getaheadva.com. We pride ourselves on being the staff you don't see, but the difference you do.
Find out more about our services or call 01483 332 220 to discuss in more detail.
---
---