E-books and toolkits – content creation for coaches and small businesses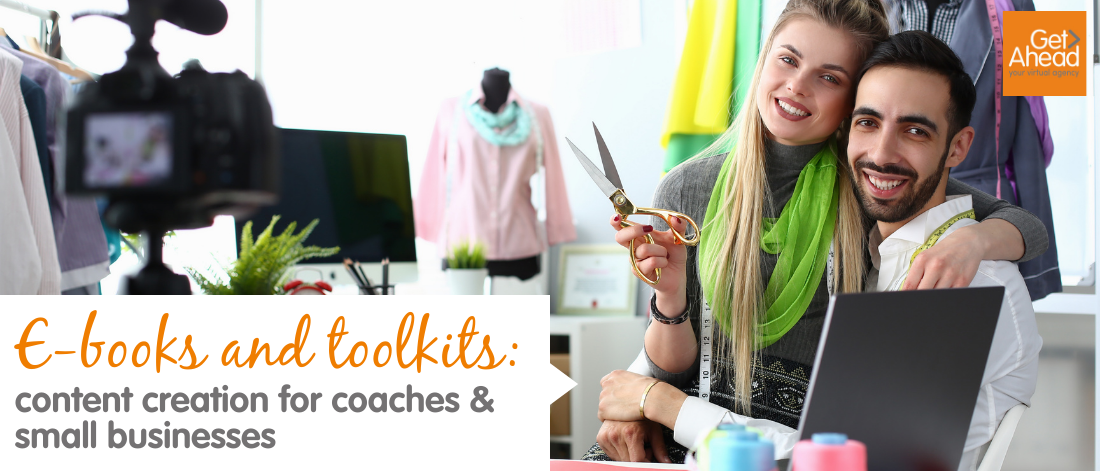 Regular followers of Get Ahead's updates may have noticed that we've been diversifying our content recently. The team has collaborated to write and design two e-books, while our founder, Rebecca Newenham, has written her own book on franchising and flexibility, called Virtually Yours.
We've created the books not only because we have information to share, but also to showcase the skills and experience of our copywriters and graphic designers. We've noticed that e-book experience is in increasing demand, as more clients decide to make their knowledge available to their own business family.
Why should you write a business e-book?
An e-book is a great addition to your content marketing. You can use it to convey more information than you can in a social media post or even a blog. Because e-books are downloadable, people read them in a different way from how they might look at social media. Having downloaded the e-book to a smartphone or e-reader, readers can peruse it on the train or over a coffee. Reading an e-book is different from surfing the internet or scrolling on a phone – instead, it's time to sit quietly and absorb the information in a useful way.
Sharing a significant amount of quality information is also a step towards establishing yourself as a thought leader. This can enhance your professional reputation and strengthen your brand.
E-books are also handy tools for lead-generation. They're a great reason for a website pop-up! Some businesses make e-books available in return for contact details, encouraging potential clients to enter the sales funnel via helpful information.
For businesses like coaches, consultants and trainers, an e-book can also be a practical tool that enables them to deliver their work. An e-book can serve as a textbook for client; it's also a great reference tool that adds value to the coaching they've received.
What other long-form content could I consider?
Whitepapers
E-books can be useful but they don't answer every purpose. If your business features very technical information that your clients and customers need to understand, it's worth considering writing a whitepaper. These are traditionally more serious in tone than an e-book. They are usually seen as an investment of time and money – they may take some time to complete but the results will be worth it. Once written, they can be shared with clients to help them make essential decisions about your products and services.
Toolkits
Many of Get Ahead's coaching clients like to produce toolkits. The toolkit might break down the steps of a particular course or approach that the coach offers. Sometimes coaches make them available for free to encourage potential clients to convert. On the other hand, they can also be a useful paid-for download and an additional revenue stream.
Outsource ghost writing, e-books, white papers and toolkits to Get Ahead
Our experienced copywriters and designers produce a wide range of long-form content for Get Ahead's coaching clients. Flexibility is our watchword and we can work in whatever way suits you. Our team can edit and improve content you've written yourself, develop a short blog into an e-book, draw information from videos and podcasts or start from scratch. It all depends on how you like to work and what resources you have already created.
Your local regional director will identify the best virtual expert for your needs and introduce you to each other. Work moves at your own pace – discuss your aims with the virtual expert who will use your information to create a unique resource for your own clients.
To get an idea of what we can create for you, visit our Resources page here.
Find out more about our services or call 01483 332 220 to discuss in more detail.
---
---