Business resolutions – three ways to shake off negativity and embrace the new year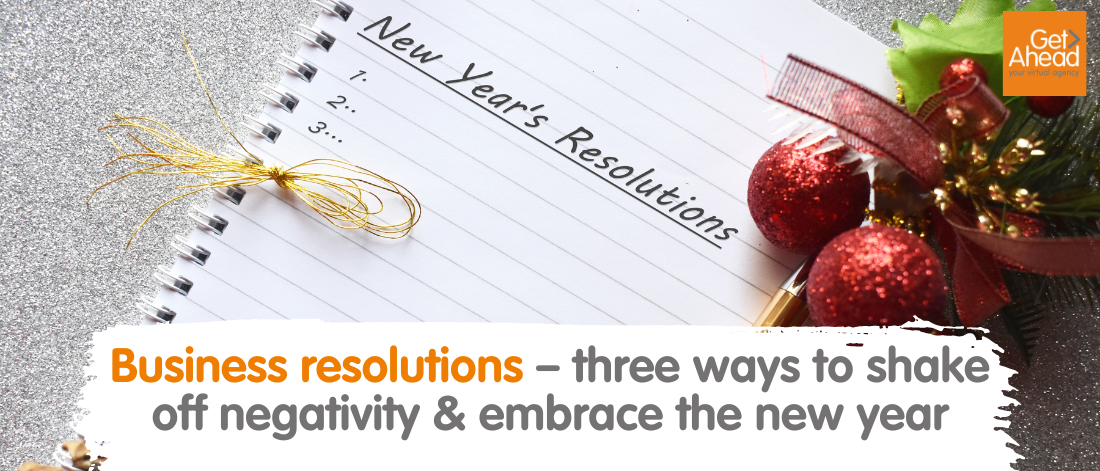 2022 has been quite a year! With war in Ukraine, price rises, loads of industrial action and three prime ministers, very few businesses will have experienced completely plain sailing. But sweet are the uses of adversity. Here at Get Ahead, we've learned a lot about ourselves and our business. We've seen interesting opportunities arise and we're already feeling positive about what 2023 has to offer.
In this blog, we look at how businesses can learn from mistakes and find exciting opportunities to take them into the new year.
Celebrate successes
What is it about difficult situations that make them obscure the good ones? When something bad happens, whether it was within our control or not, it can take over our thoughts and tell us that the whole day, month or even year was bad. But that's not true. Every year has good and bad elements to it. Remember to celebrate the good ones!
Looking ahead, why not create a good news diary for you and your team? Write down the successes so you've got something to review this time next year.
In addition to celebrating, consider what you did that drove that success, why it was effective and how you could repeat it next year.
Learn from mistakes
We're all human and we all make mistakes sometimes. But mistakes are often better learning points than successes are. And if we truly learn from the mistake, changing our processes and tightening up protective measures, the mistake might prove to be a blessing in disguise.
Sometimes, a business has a particular area where no team member feels very confident, like finance or marketing. If many of your mistakes are concentrated in one area, consider training an existing team member or outsourcing it to an expert.
Seize new opportunities
Some of the problems businesses have faced this year have been beyond our control, such as rising prices. But problems like this come with opportunities too. At Get Ahead, we've seen our flexible, no-strings outsourcing model widen its appeal, providing a commitment-free service to businesses with variable incomes.
Other sectors are finding ways to up their game and break into new markets. Price rises have had an effect on retail and service industries, with customers now looking for a better all-round experience when choosing where to spend. This has created exciting opportunities in customer service, as well as the chance for businesses to improve their offering and gain advantage over the competition.
Outsource to Get Ahead
If you feel 2023 could be the year you take your business to the next level, we'd love to help. Outsourcing is often a more cost-effective solution than employing someone full time. And our flexible service means you can access the support you need and can afford, without being locked into an expensive contract.
To find out more, contact your local regional director – we'd love to hear from you.
Find out more about our services or call 01483 332 220 to discuss in more detail.
---
---