After the expo – top tips for effective follow-ups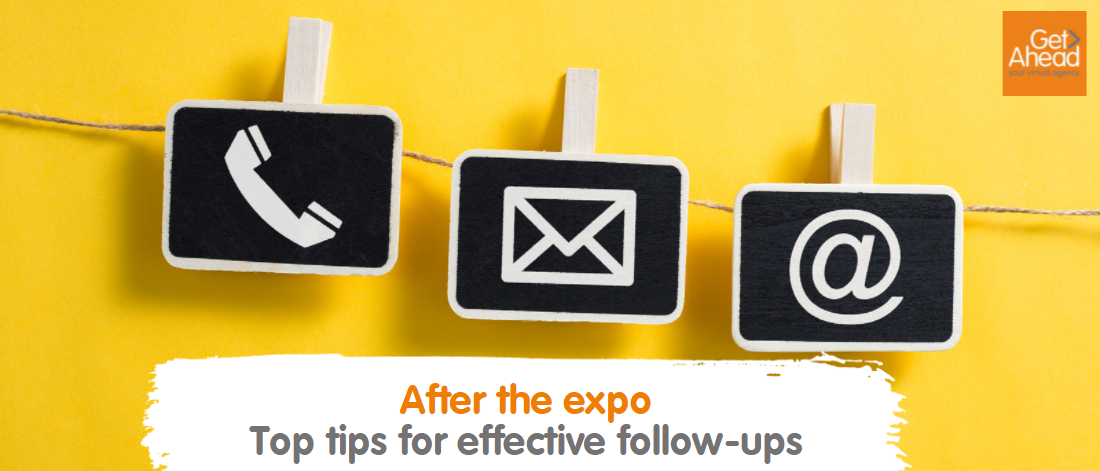 Busy expos are tiring, but the work doesn't finish when you take your stand down. It's important to keep the momentum going by following up with the people you met at the expo as soon as you can. If you don't follow up, some of your work at the expo will be wasted – a real shame when you consider how much you've invested in the event.
Here are our top tips for effective follow ups:
Feel confident about your new connection
Talking to other business owners, we have encountered some who don't feel confident about emailing new connections. If that's you, we urge you to be strong and reach out. Remember, the people you need to email have already shown an interest in your product or service. They have given you their contact details and are probably expecting to hear from you. The worst that will happen is that they won't reply; the best is that they'll turn into a paying client.
Follow up within forty-eight hours
It's important to act quickly after an expo. If the event has been very busy, you'll also be competing with other exhibitors in the follow-up. Don't wait until your new connection is sick of expo emails!
To speed things up, and give you less to do when you're tired after the expo, draft some of the email in advance. Sentences like, "it was lovely to meet you at expo yesterday," and a reminder of what your business does can feature in every email you send, even if you personalise your message too (see below).
You can also save time by using copy from your website to repeat what you do. A paragraph from your "about" page may work well, but remember to check it works in the different context.
Combine standard wording with a personalised message
We've already suggested drafting some of the follow up email in advance, to save time. However, personalised emails are much more likely to get results. So, to create an effective, time-efficient email, you might like to use standard opening and closing paragraphs, and tailor the middle section to the person you're contacting.
In the middle section, we like to refer to the chat we had with the new contact. For example, "I was very interested to hear about your business expansion – it sounds like an exciting time for you." Make it personal – use "I" and "you." Remember to refer to what they said to you – don't just bombard them with your sales pitch.
It's also a good idea to pick out products or services that you offer to address their specific needs. For example, if we meet a business owner who is struggling with time management, we use the follow up email to explain more about our diary management services (our other packages can wait!).
Another way to connect on a more personal level is to include a picture of yourself at your stand. This will jog your new contact's memory, while the photo of you will give them a visual way to connect with you.
Let Get Ahead support you at your next expo
We love supporting businesses before, during and after expos. We've created an ebook with lots of tips and ideas – download yours here.
Find out more about our services or call 01483 332 220 to discuss in more detail.
---
---