5 easy ways to make your business more environmentally friendly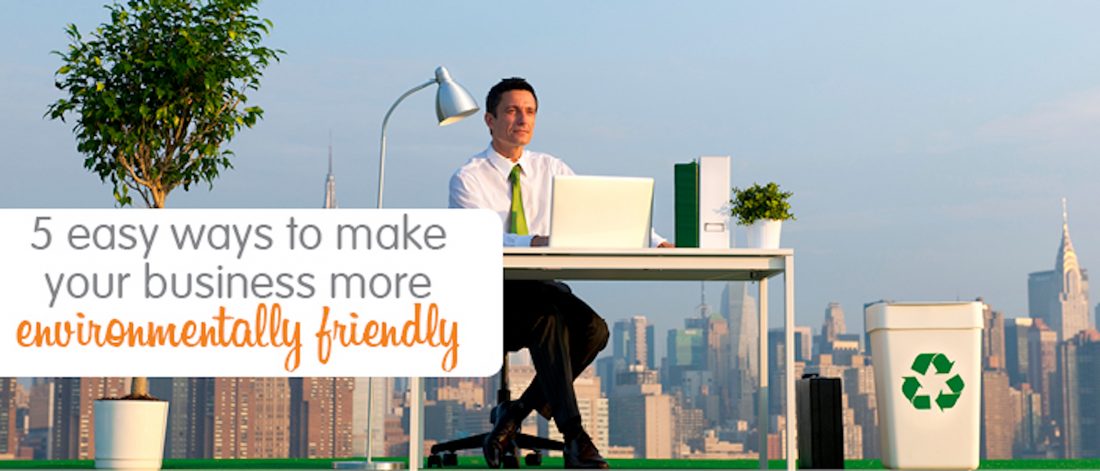 We all know how important it is to protect the planet, and with World Environment Day taking place on Tuesday 5th June, there's never been a better time to think about the eco-friendliness of your business.
Going green isn't just good for the environment – it can be good for business too. Not only can environmentally friendly alternatives save you money, they can also attract customers. In 2017, a global study by Unilever found that one-third of consumers prefer to buy from sustainable companies.
Interested? If you want to boost your business' eco credentials, here are 5 easy steps you can take today.
Go paperless
Paperless offices are not a new idea, but there are now so many ways you can make them a reality. From online calendars, to digital invoicing, to Cloud storage, to conferencing software, it's possible to communicate and work across multiple locations without having to use a single piece of paper. And even if you can't eliminate it entirely, having a policy that cuts down on unnecessary paper use is a great way to make your business more eco-friendly.
Make recycling simple
When you're busy or stressed, it can be easy for recycling to slide to the bottom of your to-do list, so combat this by making the process as simple as possible. Put your recycling bins somewhere easily accessible and label them clearly so that the waste won't have to be sorted again later. As an extra measure, you can remove the bins at each person's desk so that nobody will be tempted to throw away something that could be recycled.
Change your lightbulbs
New lightbulb technologies are making traditional incandescent bulbs redundant. Not long ago LED bulbs were prohibitively expensive, but now they can be bought for not much more than a regular lightbulb. What are the eco advantages? LED bulbs can last up to 25 times longer than incandescent ones, and use 75% less energy to run. That means switching to LEDs will not only help the environment but your bank account too!
Choose eco products
It's now easier than ever to find eco-friendly alternatives to everyday office supplies. Rather than plastic or disposable pens, use wooden or reusable ones. Choose eco-friendly envelopes, and printer ink cartridges that can be recycled and refilled. Order your stationery from companies that use minimal or no plastic packaging. A little research is all it takes to turn your regular purchases green.
Use green web hosting
Web hosting typically consumes a lot of energy because the servers used for hosting must be on all the time. 'Green' web hosting companies offset the carbon footprint of their services by using renewable energy sources, and some even put renewable energy back into the grid. Opting for green web hosting is a great way to ensure your business is operating in a way that helps the environment.
You can find even more eco-friendly tips for businesses in the World Environment Day Business Toolkit.
---
Do you need a little extra help with your business? At Get Ahead VA, our assistants offer professional services in all aspects of business management and marketing, so please give us a call on 01483 332220 or email us at office@getaheadva.com. We pride ourselves on being the staff you don't see, but the difference you do.
Find out more about our services or call 01483 332 220 to discuss in more detail.
---
---