Social media for small businesses – long-term solutions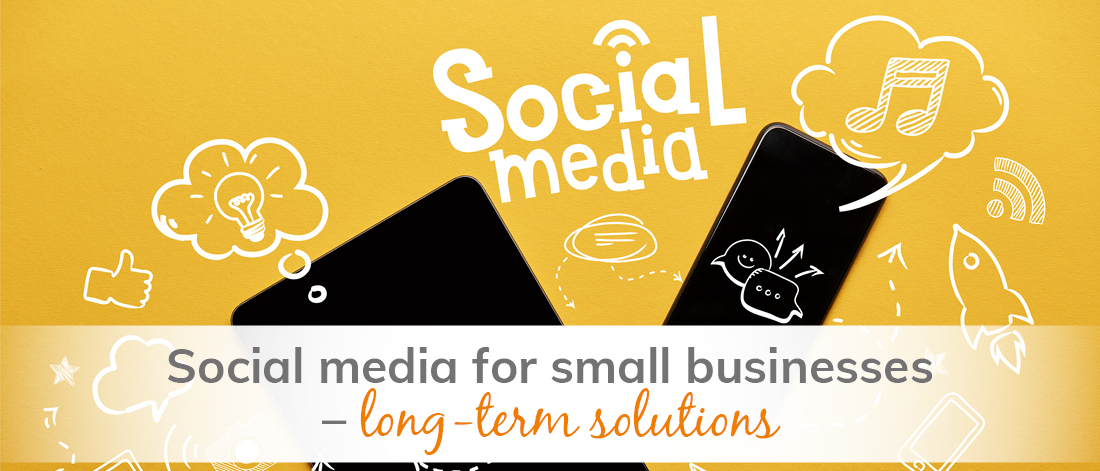 Social media management is one of our most popular services. Why? Because so many small businesses struggle to keep up with social media for the long term. Many business owners start off with excellent resolutions and invest in high-powered scheduling tools, but little by little, the social media tails off and ceases to be a priority.
So, to make life a bit easier, we thought we'd share some of our ideas for keeping on top of social media. Here they are:
Approach social media strategically
The internet has increased the pace of life significantly. It's all too easy to rush at social media in a panic, thinking, "I've got to post daily!" "I've got to be on every platform!" But the truth is, you'll see better results if you think strategically. Ask yourself what you want to get out of this. Consider what successful social media looks like for you and your industry.
When you've answered these questions, it's much easier to feel positive about your social media. Knowing what direction you're trying to steer in will make you feel more focused. It's also easier to plan posts when you have a strategy to guide you.
Now you know what results you want to see on your Facebook page, think about how to achieve them. What gets your small businesses like yours the best traction? Special offers? Life quotes? Videos? Conversations? Write down the answers.
Now write down other ideas. What can you mix your content up with? Consider sharing a link to your own blog, or a Facebook memory, or an article from elsewhere in your sector. The BBC website is a good, not-for-profit resource for external content, free to read and watch and generally "trusted."
It's a lot easier to think of several posts at once rather than starting from scratch every time. Put yourself in the right frame of mind and you'll be surprised how many ideas you can come up with.
We'd all love to be posting three times a week, but that can be a tall order. On balance, it's better to post less frequently but keep it up, than post daily for a month then crash and burn. Consider scheduling just one post a week to start with – if your planning exercise gave you twelve ideas, that's three months' worth of content! You can always flesh out your weekly social media schedule with spontaneous phone photos uploaded to Instagram, or a "today our team did this…" post on LinkedIn. But even if you don't get time for extras, your weekly post will roll out as scheduled and no more than seven days will elapse before the next one.
Outsource your social media
Of course, if social media just doesn't feel like a priority to you, the best solution is to outsource it. Let one of Get Ahead's social media experts manage your online presence with regular, on-brand posts. To make it even easier, we have put together a series of social media packages. We offer a range of options from a basic starter package, to an in-depth programme with follower management and regular blog writing.
If that sounds good to you, check out our social media packages here and simply get in touch when you're ready to get ahead.
PS – if you found this blog useful, you might also like Ten realistic social media ideas for small businesses – Get Ahead VA
Find out more about our services or call 01483 332 220 to discuss in more detail.
---
---