Looking back on 2021 – a great year for Get Ahead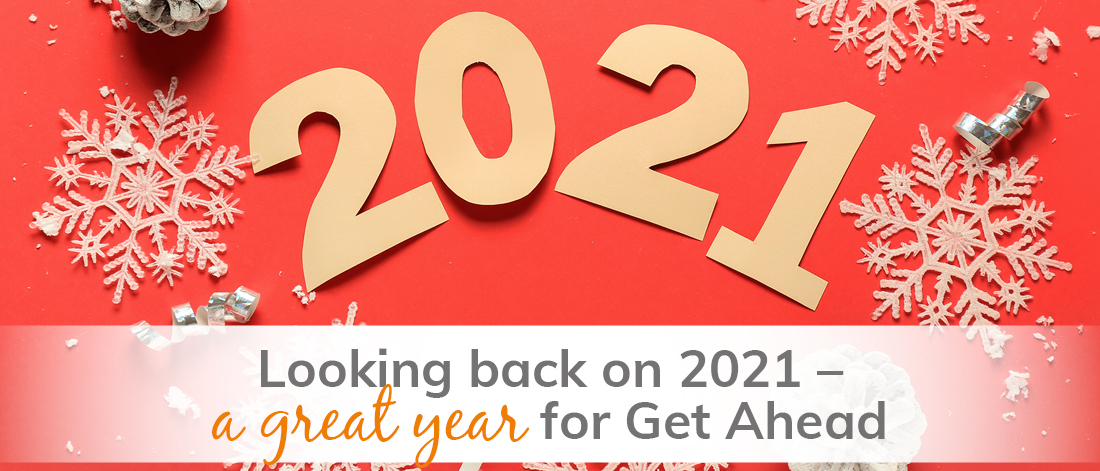 How's 2021 been for your business? We hope it's been a good one! This was the year we thought things would be "back to normal." In fact, we're back to a "new normal," but here at Get Ahead, we're proud to say we've made it work for us. We've had an amazing year – here are some highlights:
We never realised how much we got out of business expos until the pandemic forced them all online. Since the summer, however, Get Ahead has exhibited ten times. In addition to major expos like the International Franchise Show in November, our regional directors have also been exhibiting at local events.
Get Ahead's founder, Rebecca Newenham, has been accepting speaking opportunities at a number of the expos. She has both made presentations and taken part in panel discussions. In addition to educating her audience and expanding her own knowledge, being a speaker at an expo has increased awareness of the Get Ahead brand. If you are offered similar opportunities, we recommend you take them – they've been highly effective for us and they might work for you too!
If you're interested, the team have pooled their expo expertise and written an ebook about it – click here to find out more.
After welcoming our first franchisee in 2017, our team of regional directors has now grown to ten! This year, three highly experienced managers have joined Get Ahead. Jo McGowan is now leading the Surrey region, freeing up Get Ahead's founder Rebecca to concentrate on developing the business in new directions. Vicky McKenna has joined our team too, allowing Get Ahead to expand into Oxford.
We are especially excited about the opening of our first international franchise as we welcome Taryn Wynne, regional director for Australia and New Zealand. Expanding into the southern hemisphere was not without its challenges, but we're so glad we decided to face them. We've learned so much about being an international business, and developed so many new connections along the way. The result is that we are now an international operation and are now able to support businesses in Australia and New Zealand as well in the UK – an achievement to be proud of.
Get Ahead – an award winning virtual agency
For any business owner, it's important to have a realistic view of our own success. Confidence is important, but so is humility, and it's easy to go too far down one road or the other. For this reason, we have come to value business awards very highly. It's healthy for us as a business to have our success recognised by an independent body, and this year, we have!
We have been shortlisted and even won a number of industry awards during 2021. However, the one that really stands out for us is from the British Franchise Association. The BFA have been a great support to us on our franchise journey – if you are planning to offer franchises of your business, we recommend joining them. At their most recent award ceremony, Rebecca Newenham won the Franchise Balance award, in recognition of the flexibility she offers her franchisees. Rebecca has always been a champion of flexibility – she started Get Ahead to bring more flexibility into her own life – and this award validates all her hard work.
We hope your 2021 has been as memorable as ours. Of course, it hasn't all been plain sailing, for us or anyone else. In addition to our successes, we've had some challenges too. However, our flexible working model has made meeting these challenges easier for our team. And, as generally happens, all the difficult bits were short lived and all the glorious bits are here for the long-term, enabling us to look ahead with optimism.
Thank you to all our clients and the businesses we collaborate with for an amazing 2021. We're already looking forward to 2022 – we hope next year will be a good one for all of us.
---
---