Buy a Get Ahead franchise – your business in a box!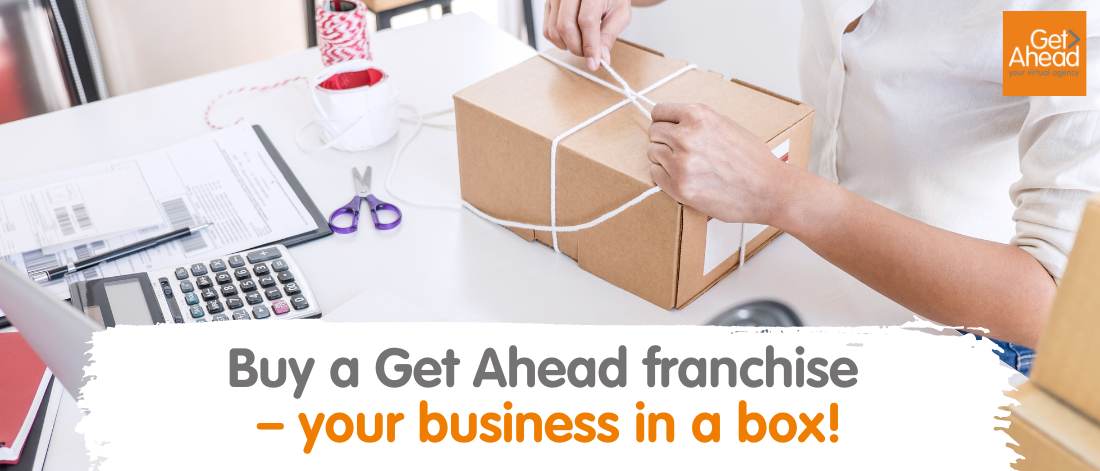 If you're reading this, you might well be doing your research before buying a franchise. Something that we feel sets us apart from other franchised businesses is that we offer a "business in a box" with many of the elements ready-made so you can hit the ground running.
In this blog, we look more closely at what our franchise package includes, so you can make an informed choice about your next career move.
What do we mean by "business in a box?"
When we go to business expos and networking events, we've describe a Get Ahead franchise as a "business in a box." This is because we've put together many of the elements you'll need to get your business off the ground, so you can get up and running straight away.
Unlike some other franchises, and completely different from starting a business from scratch, our business in a box gives you a solid foundation, even if you choose to mould it in your own way in future.
What's included in Get Ahead's business box?
An established brand
Rebecca Newenham founded Get Ahead in 2010. It's now one of the best-known brands among outsourced support agencies, with a reputation for commitment, flexibility and all-round excellence (check out our Google reviews!). When you buy a Get Ahead franchise, you'll benefit from becoming part of an established brand.
Your own defined territory
We use mapping software to define regional territories so our franchisees can feel confident that there is enough entrepreneurship in the area to make the business viable. Because each franchisee has their own area, they don't compete for business and franchisees can support each other instead.
Comprehensive, tailored training
As well as supporting franchisees to learn about Get Ahead and its business model, we also provide training in any area where you need a bit more help. For example, if you have a finance background but you're less confident about social media, we can focus the training on digital marketing.
A strong team to deliver client work
Long-term, our franchisees establish their own teams of local experts to deliver client work. But when you start off, you can tap into the expertise of our established team. We have over fifty virtual experts and virtual assistants, ready to deliver admin, bookkeeping, marketing, data management and more to your clients. This means you can start accepting work straightaway, confident that a skilled professional is standing by to deliver it.
Regular, on-brand marketing material
Throughout your time as a Get Ahead franchisee, you'll receive regular marketing collateral to share with your own clients and leads. Each month, we produce four blogs and one infographic, and create case studies and ebooks as often as we can. You can also mine our archives – we have over a decade's worth of blogs and lots of great printed resources for expos.
A supportive team
The culture at Get Ahead is one of mutual support. The franchisees give each other help and insights, with the long-established ones providing experience and the new ones bringing a fresh perspective. Rebecca is always able to answer questions and share her own experience, remaining as much part of Get Ahead as when she founded it in 2010.
Become a Get Ahead franchisee
Our "business in a box" package means you can start developing your role as a Get Ahead franchisee almost as soon as you sign up. To find out more, contact Rebecca Newenham and the team on 01483 332 220 – we'd love to be your next career move!
---
---