What are hybrid events and how does Get Ahead support them?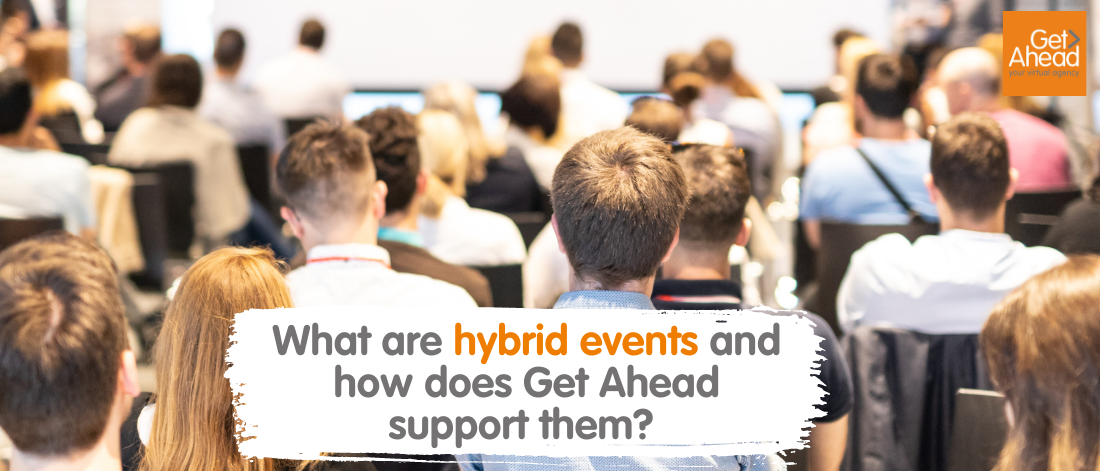 A hybrid conference or meeting is one which is held both in person and virtually. More conference organisers are choosing this approach since the pandemic showed us all the possibilities of remote and hybrid working. Get Ahead have been offering Zoom services since the 2020 lockdown, continually refining our approaches to provide a streamlined service and successful outcomes.
Let's take a closer look….
What does a hybrid meeting or conference look like?
During a hybrid meeting, some people will be present in the room, while other delegates attend virtually. Virtual participation might include people's images appearing on wall-mounted screens. Alternatively, delegates might be able to tune in during or after the event for a one-way experience, watching talks as though they were watching online videos.
Why are more organisers choosing hybrid events?
The majority of people love the energy of getting together for an in-person event. In addition to listening to the keynote speakers and attending the formal elements of the meeting, in-person events are a great way to meet new people and grow your network.
However, in-person events have their limitations. Only a finite number of people can attend. They can only go if the event fits in with their schedule. Travelling to these events can be expensive and time-consuming, and can have a negative environmental impact. However, attending events virtually solves all these problems, particularly if the talks and webinars are available at a later date.
By offering a hybrid event, organisers can reach a great number of people and offer a wider choice of options.
How does Get Ahead support hybrid events?
The behind-the-scenes support for hybrid events can be complex. Fortunately, our virtual experts are here to support you. When you outsource to Get Ahead, we'll help you combine outstanding client care with real-time tech support.
Before your event, Get Ahead can manage all your communications, from marketing the event to liaising with organisers and speakers to ensure everything is ready well in advance.
We've learned that it's also important for our Zoom support experts to communicate with speakers and delegates during the conference, meeting or event. This helps us to solve their tech issues and keep the event running smoothly.
Our Zoom experts will keep the virtual element of your event running on time. The last thing you want is technical hitches holding everything up! However, Get Ahead's Zoom experts will take responsibility for bringing speakers in at the right time. We can also record and save the talks so that anyone who wants to listen at a later date can do so.
A particular challenge of Zoom is that many of its facilities, including breakout rooms, can only be managed in real time. This means that speakers and conference organisers often struggle to make their own contribution at the same time as running the technical side – an even greater challenge when you have a room full of people waiting to hear the next talk! A great solution to this problem is to outsource the virtual side of your event – you'll feel confident that an expert in Zoom facilitation will have everything in hand.
Of course, our virtual experts can do all this and more. They'll listen to all your requirements, and tailor their expertise to your needs and to the ethos of the event. They're used to being flexible, and can support events on a variety of platforms, delivered in a variety of ways. And if you don't know where to start, they can suggest practical solutions they've used in the past, helping you to achieve a successful event for both in-person and virtual attendees.
Zoom facilitation for hybrid events
We love the flexibility hybrid events offer – they're a technological advance that's here to stay. We also love supporting clients to deliver events that give real value to people who attend virtually as well as those who attend in person. To find out more about our online event management, visit our page here or get in touch to discuss your next event.
Find out more about our services or call 01483 332 220 to discuss in more detail.
---
---