Understanding eye health at work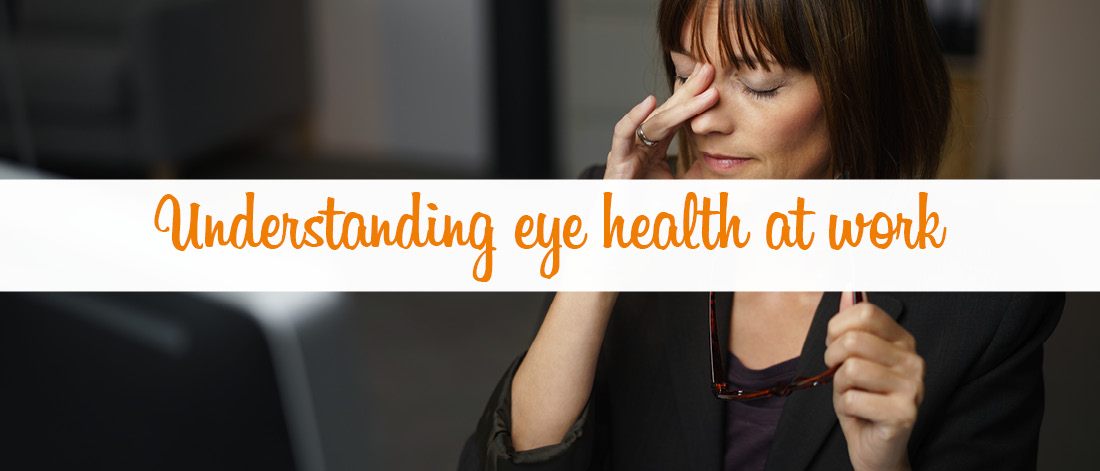 This week is National Eye Health Week, a vital campaign which aims to "promote the importance of eye health and the need for regular sight tests for all."
Eye health is a hugely important issue in the UK, and yet many people still don't understand how to look after their sight. So, to celebrate this event, we've rounded up the latest expert advice to help you understand eye health and show you how to take care of your vision.
The realities of sight loss
For many of us, the thought of losing our sight is terrifying. In fact, research by the RNIB has found that 44% of UK adults fear losing their sight more than other health conditions such as Alzheimer's, Parkinson's or heart disease. However, sight loss is on the rise: in 2008 there were around 1.8 million people living with sight loss in the UK, and this number is projected to double by 2050.
So what's behind this worrying trend? Modern lifestyles – and especially modern workplaces – are often cited as a contributing factor. Consultant ophthalmic surgeon Mr Ali Mearza says, "Looking at a screen requires your eyes to focus on something up close for long periods of time, and this can lead to eyestrain and headaches. Increased exposure to screens can contribute to the development of some eye conditions that intensify with age."
How to protect your eyes
The good news is that 50% of sight loss is avoidable, so by taking certain steps you can prevent unnecessary damage to your eyes. Here are the measures that vision experts, including Mr Mearza, recommend you take to maintain good eye health.
The 20-20-20 Rule: For every 20 minutes of screen time, stare into the distance (i.e. more than 20 feet) for 20 seconds. Mr Mearza says, "This allows the eye muscles to fully relax and gives them a much-needed break, thereby preventing digital eye strain and reducing headaches and fatigue."
Check your work space: If you're going to be working at a computer all day, it's important to minimise the risks of eye strain. You should sit at least 20 inches away from your screen, and the top of the screen should be just below your eye level. Make sure light from windows and desk lamps is not reflected in the screen as harmful glare.
Eat and drink well: Eating a balanced diet including fruit, vegetables, whole grains and fish can help to maintain healthy eyes, while drinking plenty of water can keep the eyes lubricated and functioning well.
Exercise: Many eye diseases are associated with other problems such as high blood pressure or cholesterol, so exercising regularly may help to reduce the health risks to your eyes.
Have regular eye tests: It is recommended that you have your eyes tested every two years (although certain risk factors may require you to be tested more often). You could be entitled to a free test on the NHS, so click here to find out if you're eligible.
How to promote eye health awareness
If you want to do more to promote this good cause, why not start by raising awareness in your workplace? Talk to your colleagues and employees about eye health, give them tips for looking after their eyes at work, or even organise an eye health quiz with a free eye test as the prize! There are plenty of printable resources you can use on the National Eye Health Week website. And if you want to get involved with the conversation, you can follow National Eye Health Week on Twitter and use the hashtag #EyeWeek on social media.
---
Do you need a professional assistant to take some of the strain off you and your business? Get Ahead VA is happy to help! Our team of highly experienced virtual assistants offers a wide range of business and marketing services, from researching customer prospects through to delivering social media campaigns or simply taking on your admin. Please give us a call on 01483 332220 or email us at office@getaheadva.com. We pride ourselves on being the staff you don't see, but the difference you do.
Find out more about our services or call 01483 332 220 to discuss in more detail.
---
---